FADE IN: INT. ART GALLERY – DAY
Mar 03 -
May 19 2016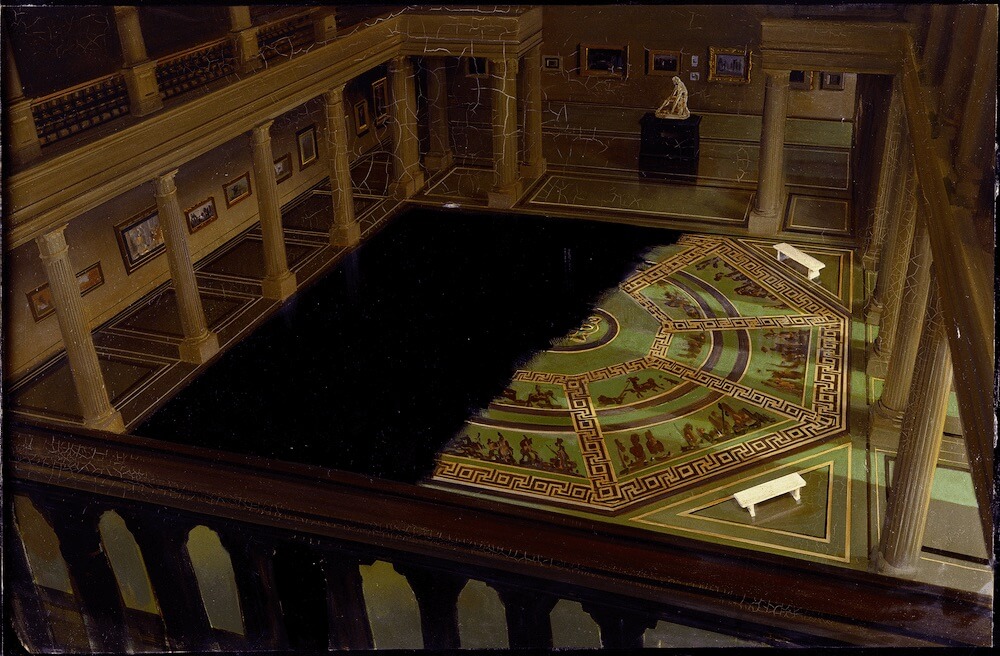 Danai Anesiadou, Nairy Baghramian, Michael Bell-Smith, Dora Budor, Heman Chong, Mike Cooter, Brice Dellsperger, Casey Jane Ellison, GALA Committee, Mario García Torres, Mathis Gasser, Alex Israel, Jamian Juliano-Villani, Bertrand Lavier, William Leavitt, Christian Marclay, Rodrigo Matheus, Allan McCollum, Henrique Medina, Carissa Rodriguez, Cindy Sherman, Amie Siegel, Scott Stark, Thirteen Black Cats, Albert Whitlock
Recasting the gallery as a set for dramatic scenes, FADE IN: INT. ART GALLERY – DAY explores the role that art plays in narrative film and television. FADE IN features the work of 25 artists and considers a history of art as seen in classic movies, soap operas, science fiction, pornography and musicals. These works have been sourced, reproduced and created in response to artworks that have been made to appear on-screen, whether as props, set dressings, plot devices, or character cues.
The nature of the exhibition is such that sculptures, paintings and installations transition from prop to image to art object, staging an enquiry into whether these fictional depictions in mass media ultimately have greater influence in defining a collective understanding of art than art itself does. Certain preoccupations with artworks are established early on in cinematic history: the preciousness of art objects anchors their roles as plot drivers, and anxieties intensify regarding the vitality of artworks and their perceived abilities to wield power over viewers or to capture spirits. Such themes were famously explored in the 1945 film adaptation of Oscar Wilde's The Picture of Dorian Gray, from which Cindy Sherman has sourced the original portrait painted for the production. Across genres, the character of the artist is habitually portrayed as a volatile, mercurial figure with license to subvert societal norms, who is thereby ridiculed, feared and revered. From many such narratives, FADE IN draws out the art objects, granting them the status only previously achieved on-screen, whilst pointing to moments in which one form of media wrangles with the power of another.
The exhibition includes new commissions from Danai Anesiadou, Michael Bell-Smith, Dora Budor, Heman Chong, Mike Cooter, Brice Dellsperger, Mathis Gasser, Jamian Juliano-Villani, Bertrand Lavier, Christian Marclay, Rodrigo Matheus, Carissa Rodriguez and Amie Siegel, as well as newly commissioned performances and public programs from Alex Israel, Casey Jane-Ellison and Thirteen Black Cats. Source material ranges widely from The Maltese Falcon (1941) and Teorema (1968) through 9 ½ Weeks (1986) and The Princess Diaries (2001), to the The Twilight Zone (1959-64), Melrose Place (1992-99) and The X-Files (1993-2002).
***
SWISS INSTITUTE PROGRAMMING IS MADE POSSIBLE IN PART WITH PUBLIC FUNDS FROM PRO HELVETIA, SWISS ARTS COUNCIL, THE NEW YORK STATE COUNCIL ON THE ARTS, WITH THE SUPPORT OF GOVERNOR ANDREW CUOMO AND THE NEW YORK STATE LEGISLATURE, AND THE NEW YORK CITY DEPARTMENT OF CULTURAL AFFAIRS IN PARTNERSHIP WITH THE CITY COUNCIL. MAIN SPONSORS INCLUDE LUMA FOUNDATION, THE ANDY WARHOL FOUNDATION FOR THE VISUAL ARTS, AND FRIENDS OF SWISS INSTITUTE (FOSI), LEADING PARTNERS INCLUDE UBS AND VICTORINOX. SWISS INSTITUTE GRATEFULLY ACKNOWLEDGES STELLA ARTOIS AS BENEFACTOR, SWISS RE AS PUBLIC PROGRAMS SPONSOR, AND SWISS AS TRAVEL PARTNER. SPECIAL THANKS FOR SUPPORT FROM THE FADE IN EXHIBITION CIRCLE: RIBORDY CONTEMPORARY, KURIMANZUTTO, GALERIA FORTES VILAÇA, AND FOXY PRODUCTIONS. SWISS INSTITUTE THANKS CHISWELL LANGHORNE FOR THE OPENING SCENE SCREENPLAY; NEW GALERIE, PARIS FOR PRODUCTION SUPPORT; AND THE LENDERS TO THE EXHIBITION: WERNER DOHMEN, GRAPHICSTUDIO AND UNIVERSITY OF SOUTH FLORIDA, MICHAEL HEINS, NBCUNIVERSAL ARCHIVES & COLLECTIONS, MARGRETHE AND ANDREAS SCHMEER, GABY AND WILHELM SCHÜRMAN, MARC SELWYN FINE ART.
SPECIAL THANKS TO SURI BIELER, ECLECTIC/ENCORE PROPERTIES, INC, NEW YORK; JOHN M. CAHOON, SEAVER CENTRE FOR WESTERN HISTORY RESEARCH, NATURAL HISTORY MUSEUM OF LOS ANGELES COUNTY; EDWARD COMSTOCK, USC SCHOOL OF CINEMATIC ARTS, LOS ANGELES; TONY DYKES, BRITISH FILM INSTITUTE, LONDON; JULIE GRAHAM, UCLA LIBRARY SPECIAL COLLECTIONS, LOS ANGELES; ROBERT GREENFIELD, WARNER BROS. PROPERTY DEPT. WARNER BROTHERS, LOS ANGELES; JESSICA HEYMAN, ART FOR FILM, NEW YORK; LOUISE HILTON, FAYE THOMPSON, MARGARET HERRICK LIBRARY, ACADEMY OF MOTION PICTURES ARTS AND SCIENCES, LOS ANGELES; STEVEN JACOBS; ROSEMARIE KNOPKA, ART DIRECTORS GUILD, LOS ANGELES; ROBERT M. RUBIN; BRETT SERVICE, USC SCHOOL OF CINEMATIC ARTS – WARNER BROTHERS ARCHIVES, LOS ANGELES; DEIDRE THIEMAN, NBC UNIVERSAL PRODUCTION ARCHIVES, LOS ANGELES; ALLESE THOMSON, UTA; RANDALL THROPP, PARAMOUNT PRODUCTION ARCHIVES, LOS ANGELES; BETTY UYEDA, SEAVER CENTRE FOR WESTERN HISTORY RESEARCH, NATURAL HISTORY MUSEUM OF LOS ANGELES COUNTY; EMILY WITTENBERG AT LOUIS B. MAYER LIBRARY, AMERICAN FILM INSTITUTE, LOS ANGELES.
Media Contact: Dan Tanzilli / Peter Kaiser, Third Eye
dan@hellothirdeye.com / peter@hellothirdeye.com, +1 646-593-8713
Image Credit: Albert Whitlock, Museen Ze Berlin Matte Painting, Torn Curtain, directed by Alfred Hitchcock, Universal Pictures, 1966.
Related
Heman Chong, I WANT TO BELIEVE, 2016
Related Events
Press