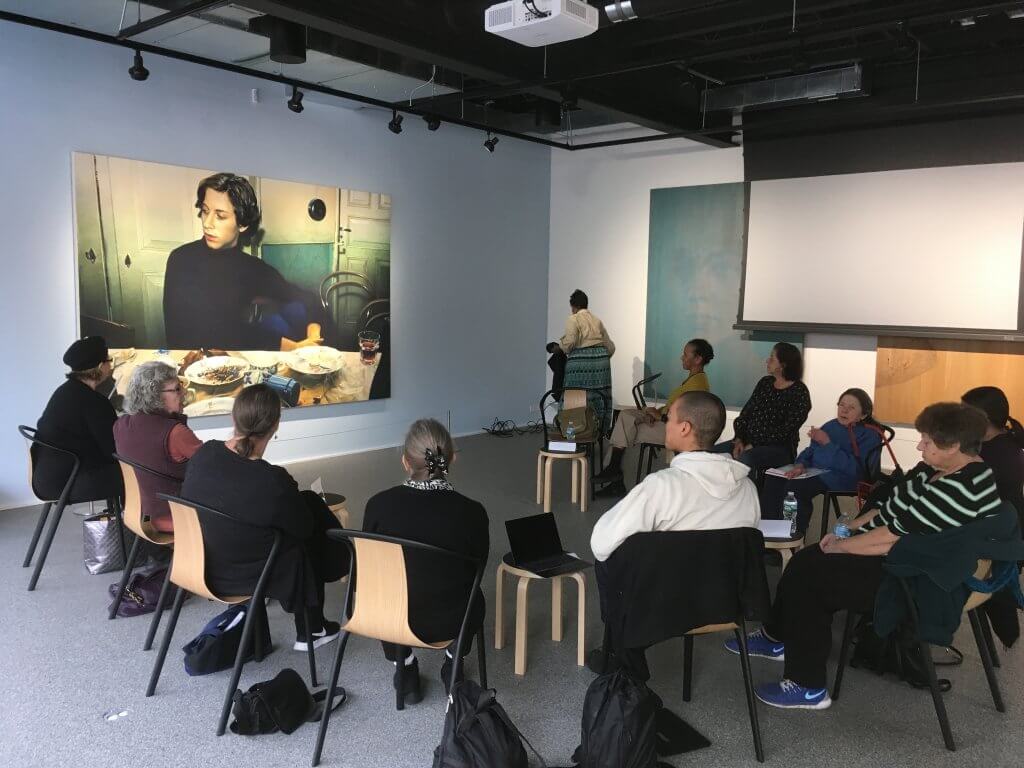 SI's multigenerational class, Contemporary Art Topics (CAT), began in 2018 in partnership with the Educational Alliance Sirovich Center, a nearby center for older adults in the East Village. During the pandemic, SI embarked upon a new opportunity to engage adults of all ages, and connect the older adult students from Sirovich to a wider community through multigenerational classes.
Open to adults of all ages, SI's Contemporary Art Topics program is a unique discussion-based course designed to investigate current themes and issues being explored by living artists today. Thematically-based and artist-led, these two-hour classes introduce concepts and ideas in contemporary art through lectures, guest artist talks, class discussions, "slow looking" at art, individual and group activities, as well as opportunities to share student artwork.
Past program topics have included: the four elements in contemporary art, contemporary artists creating urban space interventions, regenerative life cycles in art making, materials and processes, use of color in contemporary art practice, history of color materiality, wandering as art, craft and folk arts, and ritual in art.
Fall 2023 Contemporary Art Topics Class: Soil as Art/Art as Soil
We walk on ancient grounds, with origins so old they are beyond the comprehension of human thought. These grounds go by many names: Soil; earth; land; and stone are among them. Since the beginning of human history, with the most recently identified date of 200,000 years ago, art has been created with soil. From ceramics, painting, sculpture, and more, soil holds endless potential as a material for art making, both through its suggested meanings and through its tactile qualities. The concern of soil health is also more pertinent than ever. How might artists contribute to the discourse of climate justice? In this course we will look deeply at the use of soil by artists throughout the ages, with a particular focus on contemporary artists who consider and work with it today.
Artists will include Ali Cherri, Ana Mendieta, Gabriel Chaile, Senga Nengudi, Michelle Stuart, Kate Paterson, Delcy Morelos, Heidi Gustafson, and many more. Additionally, we will delve into our own experimentation within the course theme through class activities and optional weekly readings and assignments, which may serve as inspiration for students' individual art practices.
This 10-session course aims to center BIPOC, LGBTQ, and multigenerational artists from various backgrounds and mediums.
7 sessions will be virtual, plus 3 additional in-person field trip days in NYC for local students: Oct 12, Oct 19, Oct 22 (trip), Oct 26, Oct 29 (trip), Nov 2, Nov 16, Nov 30, Dec 14, Dec 17 (trip).
This class is facilitated by SI Lead Educator, Julia Norton.
CAT is always free!
Registration is currently full. To be added to the waitlist, please fill out this form.
If you have any questions, please email education@swissinstitute.net.