Swiss Institute offers four residencies per year in an effort to support artists beyond the parameters of commissions and exhibition making. For three months, residents are provided with an apartment with studio space two blocks away from Swiss Institute's galleries in the heart of the East Village. Through weekly meetings with our curatorial team, artists can consult on various aspects of their practice, conduct research and develop new work. The residency is unique in that there are no deadlines and no production requirements. With Swiss Institute serving as a liaison between the artist and the city, residents are given a rare opportunity to live, learn and work in an independent and generative environment. Swiss Institute currently hosts residencies supported by ProHelvetia, Balkan Projects and Clarice Oliveira Tavares. Artists include: Heman Chong, Lidija Delić, Guillaume Dénervaud, Gina Folly, Jan Kiefer, Miriam Laura Leonardi, Lorenza Longhi, Noé Martínez & María Sosa, Christof Nüssli, Ceylan Öztrük, Abigail Reyes, Sabrina Röthlisberger, Alan Schmalz, Dardan Zhegrova and Julia Znoj.
ProHelvetia Residency
Each year, Swiss Institute hosts two residents from Switzerland in a program funded by ProHelvetia. Aimed at promoting artistic exchange between Switzerland and New York, the residency embodies a core element of Swiss Institute's mission. To learn more about ProHelvetia residencies and how to apply, please click here.
Ceylan Öztrük (May 2022 – August 2022)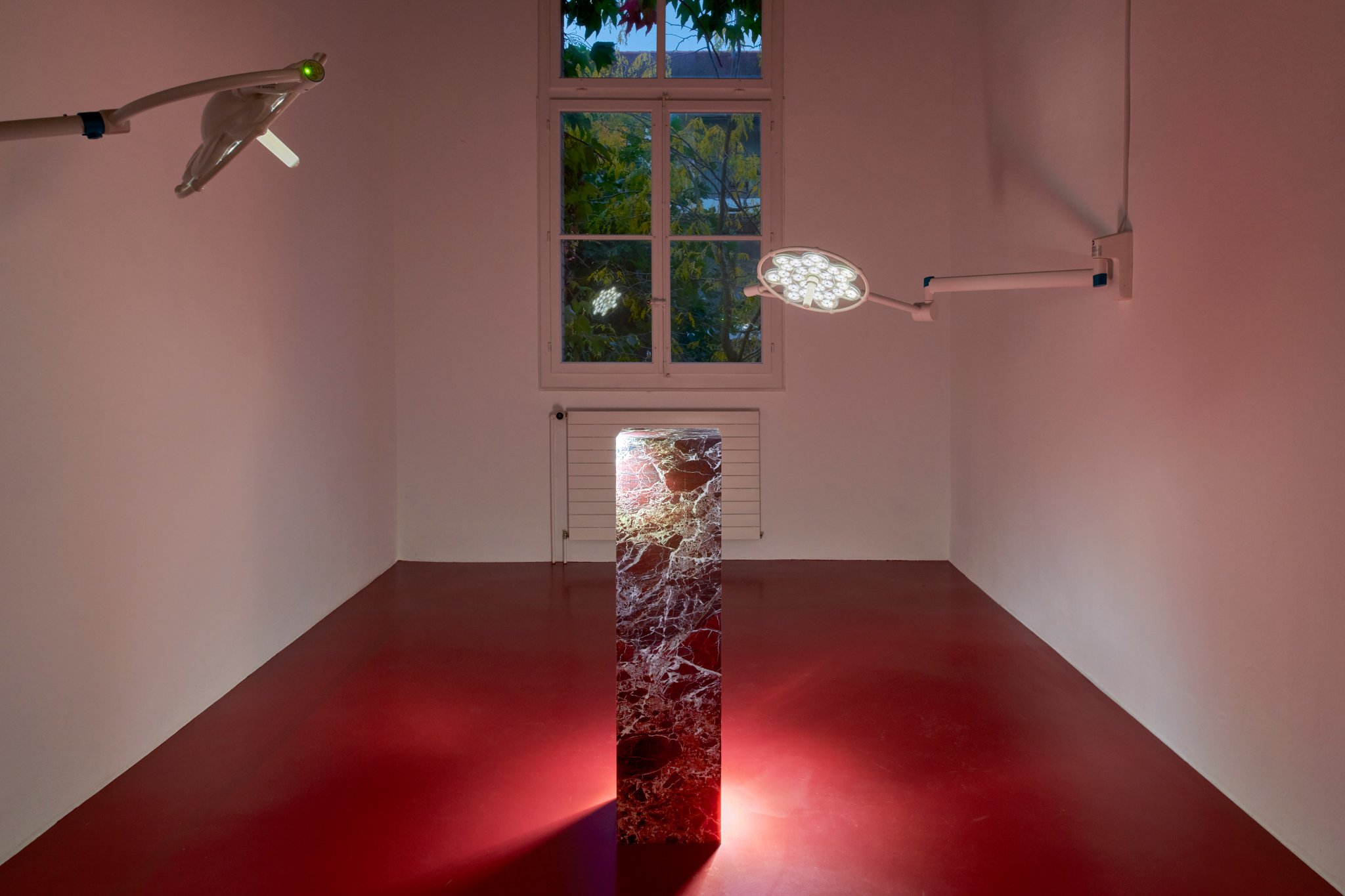 Lives and works in Zürich, CH.

Ceylan Öztrük investigates the normative aspects of knowledge production. Through her multidisciplinary artistic work, she creates narratives with the specific information that transforms knowledge into tools of power. Her autotheory writings find bodies not only in proses but also in sculptures, installations and performances. She completed her practice-based PhD (2016) in Mimar Sinan Fine Arts University (Istanbul) that she initiated her subject in Vienna in Academy of Fine Arts on Post Conceptual Art Practices in 2014. She received her graduate (MFA-2011) and undergraduate (BFA-2006) degrees from the Fine Arts Faculty, Sculpture Department at Anadolu University. Some of her exhibitions and performances are Self-specular, a moment, Galerie PhilippZollinger, Zürich (2022); Matter of non, FriArt Fribourg Kunsthalle, Fribourg (2021); Orientalien, Gessnerallee Theatre, Zürich (2020); Am a Mollusk, too; re/producing tangents, Longtang, Zürich (2020), IV. Berliner Herbstsalon, Berlin (2019); Oriental Demo, My Wild Flag Festival, Stockholm (2019); Speculative Domestics: Ai (Artificial Intimacy) Showroom, Alienze, Lausanne (2019); Call me Venus, Mars, Istanbul (2016).

Image: Matter of non, Installation View, FriArt Fribourg Kunsthalle, Fribourg (2021)
Julia Znoj (May 2022 – August 2022)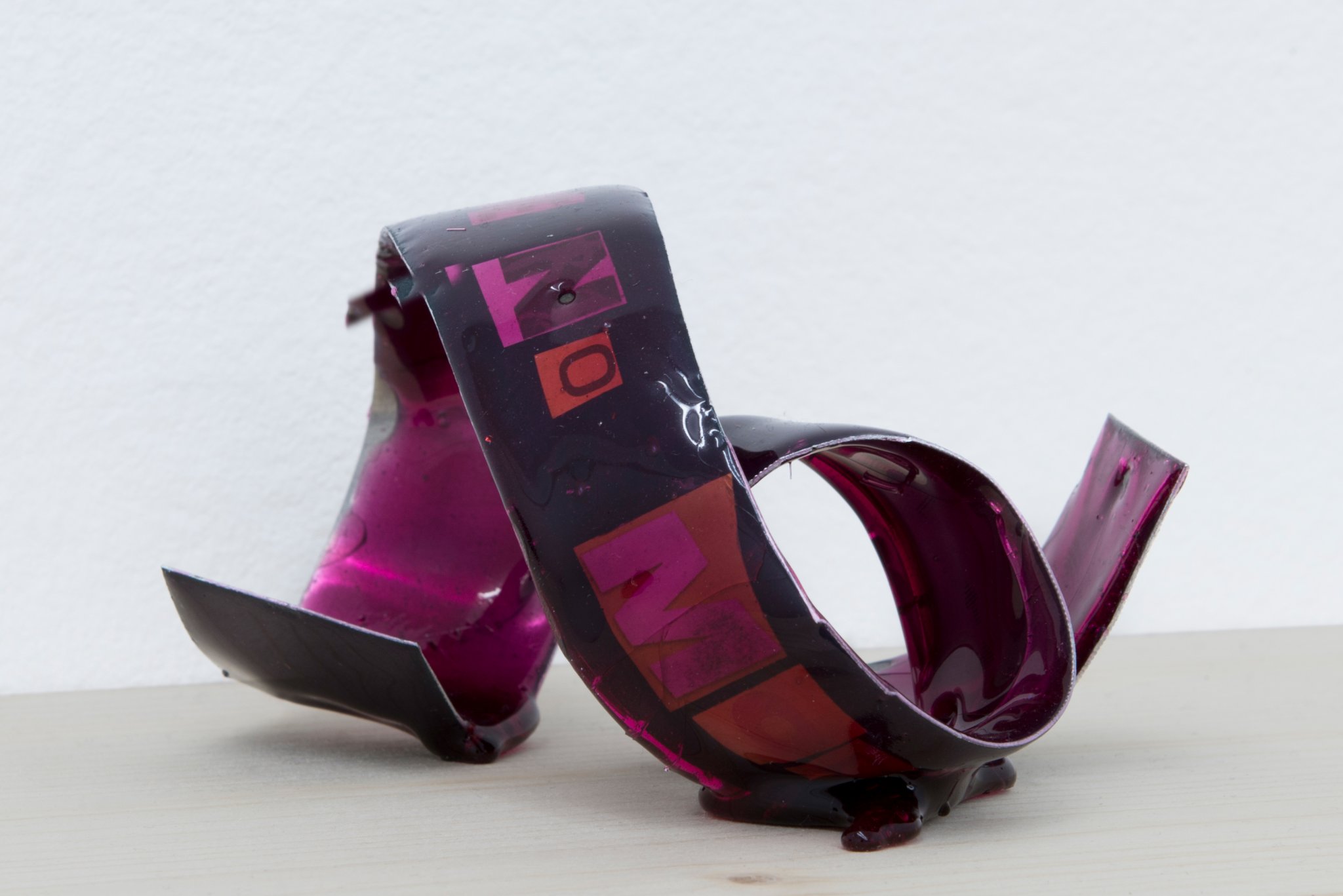 b. 1990 in Bern, CH. Lives and works in Vienna, AU.
Julia Znoj studied textual sculpture at the Academy of Fine Arts in Vienna and Zurich University of the Arts. She works with sculpture, text, video and music. She is part of the curatorial duo handbag with Julija Zaharijević and was co-founder of Gärtnergasse, an artist-run space in Vienna (2016-2020). She has exhibited at Unanimous Consent, Zurich; Louis Reed, New York; Sharp Projects, Copenhagen; Vin Vin, Vienna; Taylor Macklin Zurich; Riverside Space, Berne; upcoming solo at Galerie der Stadt Schwaz. Her work is in the Art collection of the canton of Zurich and Artothek of the federal government at Belvedere 21, AU.
Image: Give Away (series), 2019, scratched metal, sugar, food colouring, newspaper, glitter ca. 30 x 13 x 10 cm.
Miriam Laura Leonardi (November 2021 – February 2022)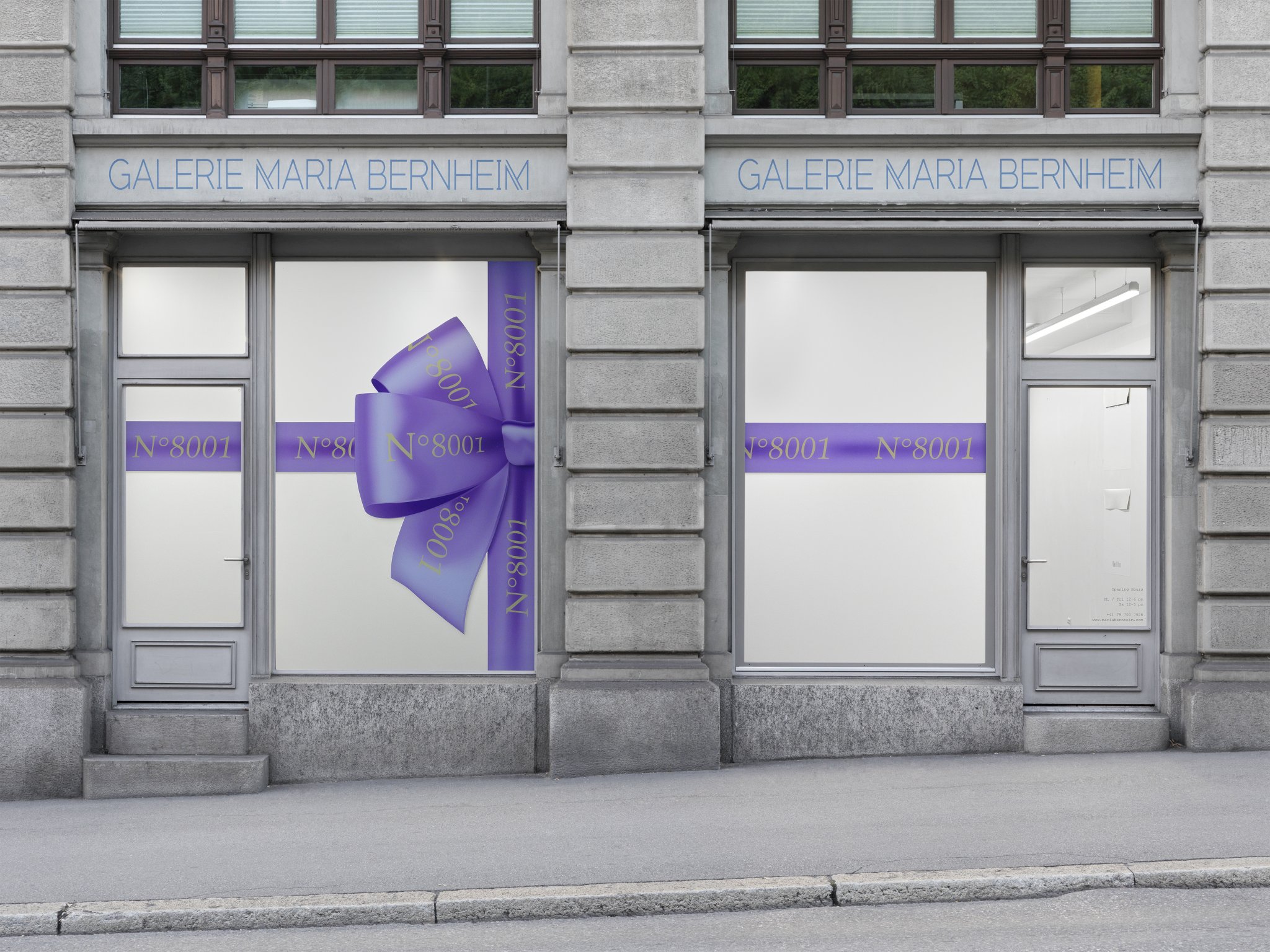 b. 1985 in Lörrach, Germany. Lives and works in Zurich, CH.
Miriam Laura Leonardi studied photography at Gobelins, l'École de l'Image, Paris and received her MFA at University of the Arts, Zurich. Her work has been presented in numerous solo and group exhibitions internationally and has been awarded several prizes. She runs the project Photography Exhibit! and teaches a class on video art in the BFA at ECAL, University of the Arts in Lausanne, Switzerland.
Image: The Zurich Story (Bow N°8001), 2021, installation view.
Lorenza Longhi (October 2021 – January 2022)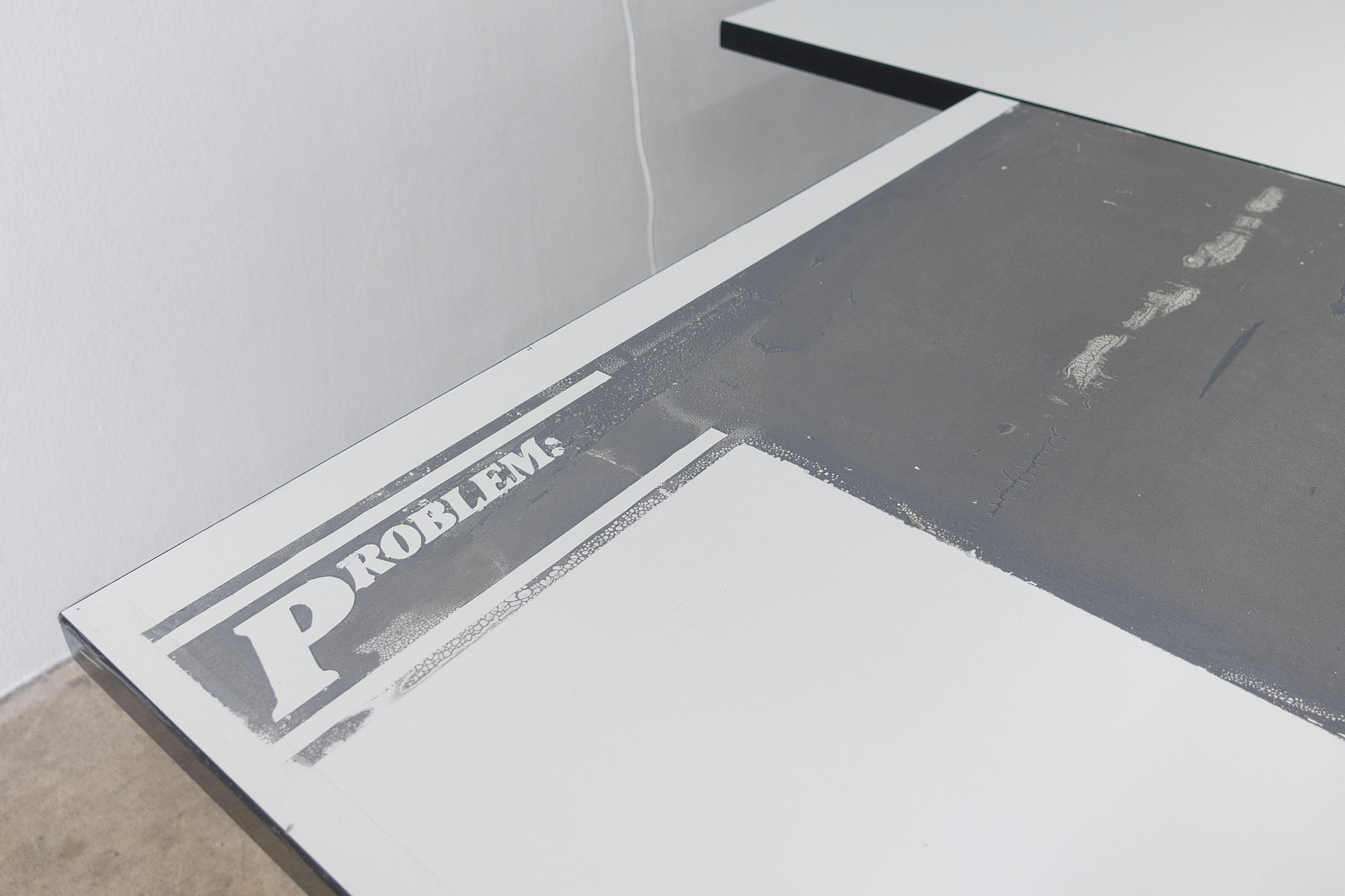 b. 1991 in Lecco, Italy. Lives and works in Zurich, CH.
Lorenza Longhi studied at Brera Academy of Fine Arts and the Cantonal Art School in Lausanne. She has exhibited widely throughout Europe, including solo shows at Bungalow, Berlin, Fanta MLN, Milan, La Plage, Paris, and Plymouth Rock, Zürich. She participated in the Kunsthalle Zürich 2020 exhibition Summer of Suspense. In Milan, she was a co-founder of Armada (2014-2018), an artist and art workers-run space. In 2020, she won both the Shizuko Yoshikawa Advanced Award for Young Women Artists and the Swiss Emerging Artist Prize from Société Générale. Her work is currently included in the 2020 Art Quadriennale, FUORI, curated by Sarah Cosulich and Stefano Collicelli Cagol, at Palazzo delle Esposizioni, Rome.
Image: Untitled (Tables), 2020, detail. Silk-screen and adhesive tape on tables, dimensions variable.
Alan Schmalz (May – August 2021)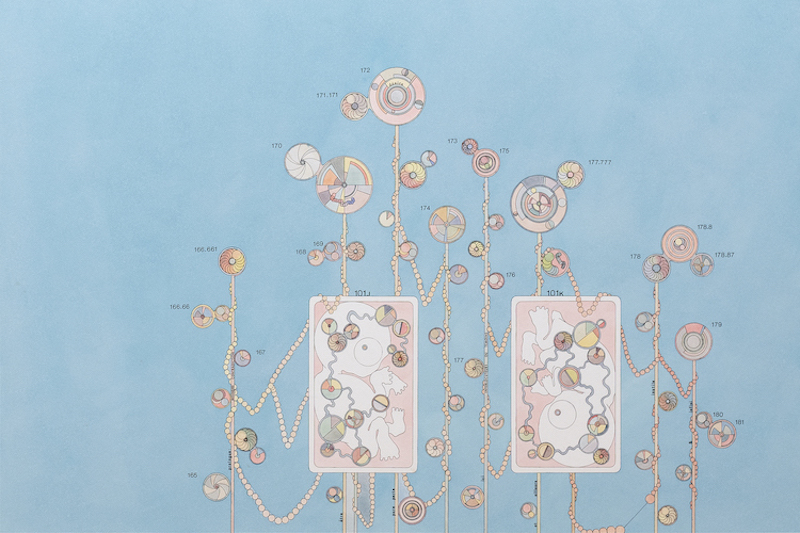 b. 1987 in Geneva, Switzerland. Lives and works in Marseilles, FR.
Alan Schmalz works across painting, drawing, video, performance, sculpture and installation. He has exhibited his work at Sentiment, Zurich; Centre d'Art Contemporain, Geneva; Centre d'art Neuchâtel; The Box, Los Angeles; Truth & Consequences, Geneva; SALTS, Basel; New Jerseyy, Basel; Forde, Geneva; La Rada, Locarno. In addition to SI, Schmalz has had residencies at Astérides, Marseille and Cité internationale des arts, Paris. In 2017 and 2019, he received the Prix Kiefer Hablitzel and Prix Hirzel, respectively.
Image: être (moindre contradiction), 2021, watercolor, ink, oil and Letraset on paper mounted on aluminium, 105 x 70 cm.
Guillaume Dénervaud (May-August 2021)
b. 1987 in Fribourg, Switzerland. Lives and works in Paris, FR.

Guillaume Dénervaud studied illustration at the École des arts appliqués in Geneva as well as the Work.master program at HEAD, also in Geneva. He has exhibited work at Centre D'édition Contemporary (CEC), Geneva; Balice Hertling, Paris ; Musée Cantonal des Beaux-Arts and Circuit in Lausanne, Lausanne; Hard Hat, Geneva ; BQ gallery, Berlin ; High Art, Paris ; Fri Art in Fribourg. In addition to his residency at SI, Dénervaud has participated in a residency offered by the Hermès company at the Cristallerie Saint-Louis. His work is in the collections of the MAMCO, Geneva; and the collection of the Paris Museum of Modern Art.
Image: Installation view of Surv'Eye, 2021. Centre d'édition contemporaine, Geneva.
Jan Kiefer (September-December 2019)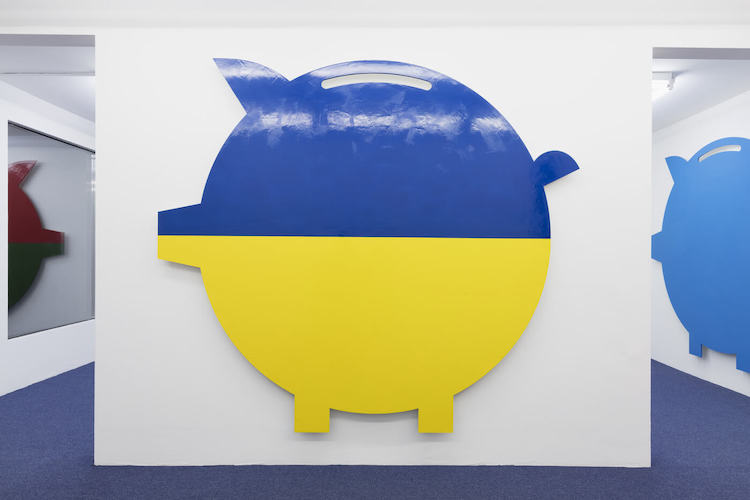 b. 1979 in Trier, Germany. Lives and works in Basel, CH
Since completing his master's degree in Fine Arts at the Academy of Arts and Design in Basel in 2012, Kiefer has exhibited widely, in Switzerland and internationally, including at Museum Haus Konstruktiv, Zürich, Glasgow international, Scotland; Kai Matsumiya, SALTS, Basel; Sculpture Park Cologne; White Columns, New York; Kunsthalle Basel; Kunsthaus Baselland; Kunstverein Wiesen; Kunsthalle Athena, Athens; Kunsthalle Exnergasse, Vienna. He's currently a lecturer at the Art Academy in Basel.
Image: Installation view of HONEYBAKED at SALTS, Basel, 2017.
Sabrina Röthlisberger (December-March 2019)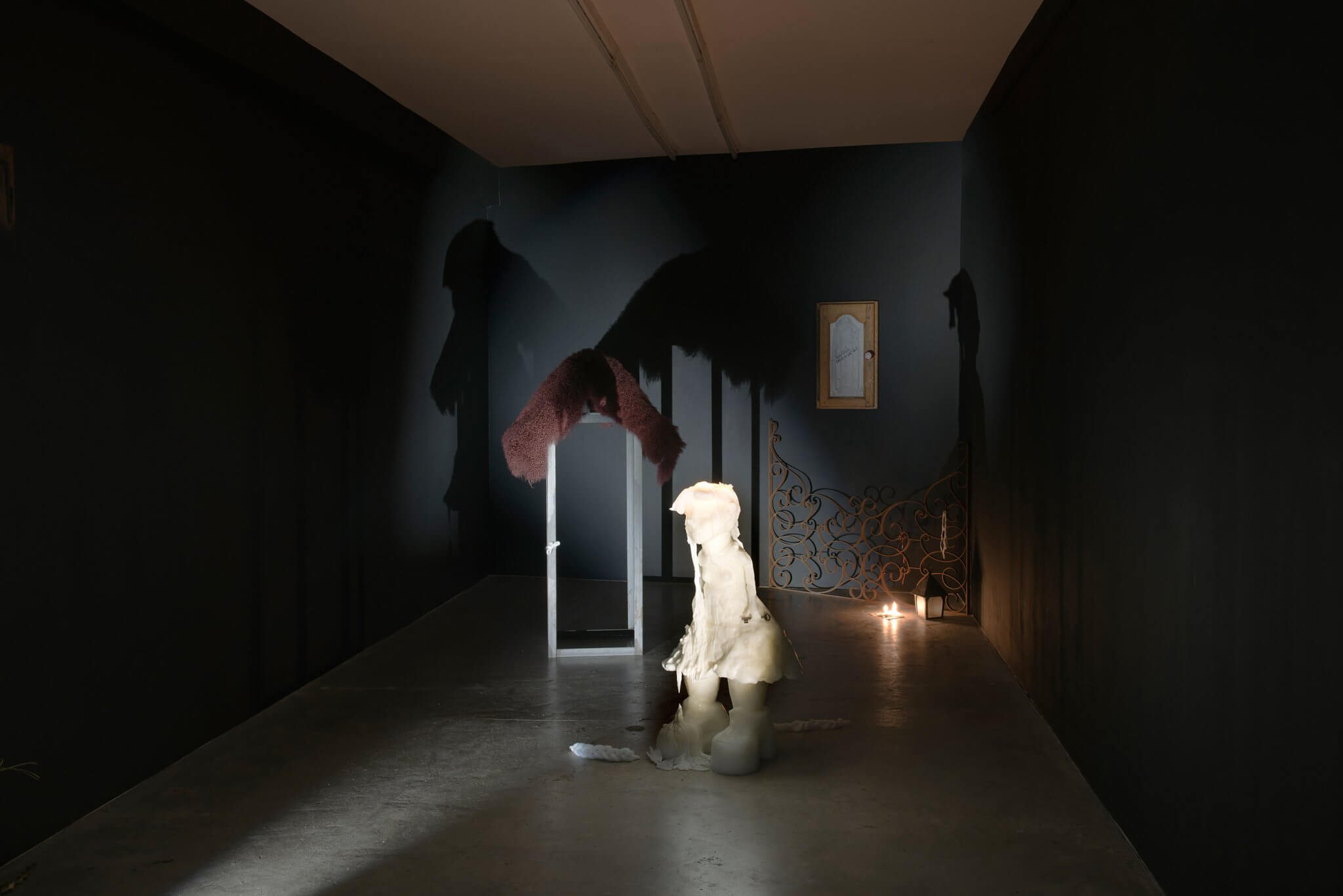 b. 1988 in Bern, CH. Lives and works in Geneva, CH
Sabrina Röthlisberger has exhibited work at Centre de Art Contemporain, Geneva; Alienze, Lausanne; Milieu, Bern and Deborah Bowmann, Brussels, Off Sprint, Milan. She studied at HEAD – Geneva where she was awarded a BNP Paribas Foundation Art Award as part of the New Heads initiative. She pervious worked as a member of the collective LGG$B and has organized a number of performances and exhibitions independently. During her time in New York, Röthlisberger staged a series of collaborative exhibitions entitled Les heures sacrées.

Image: Installation view of Indépendante at Milieu, Bern, 2018.
Christof Nüssli (May-July 2018)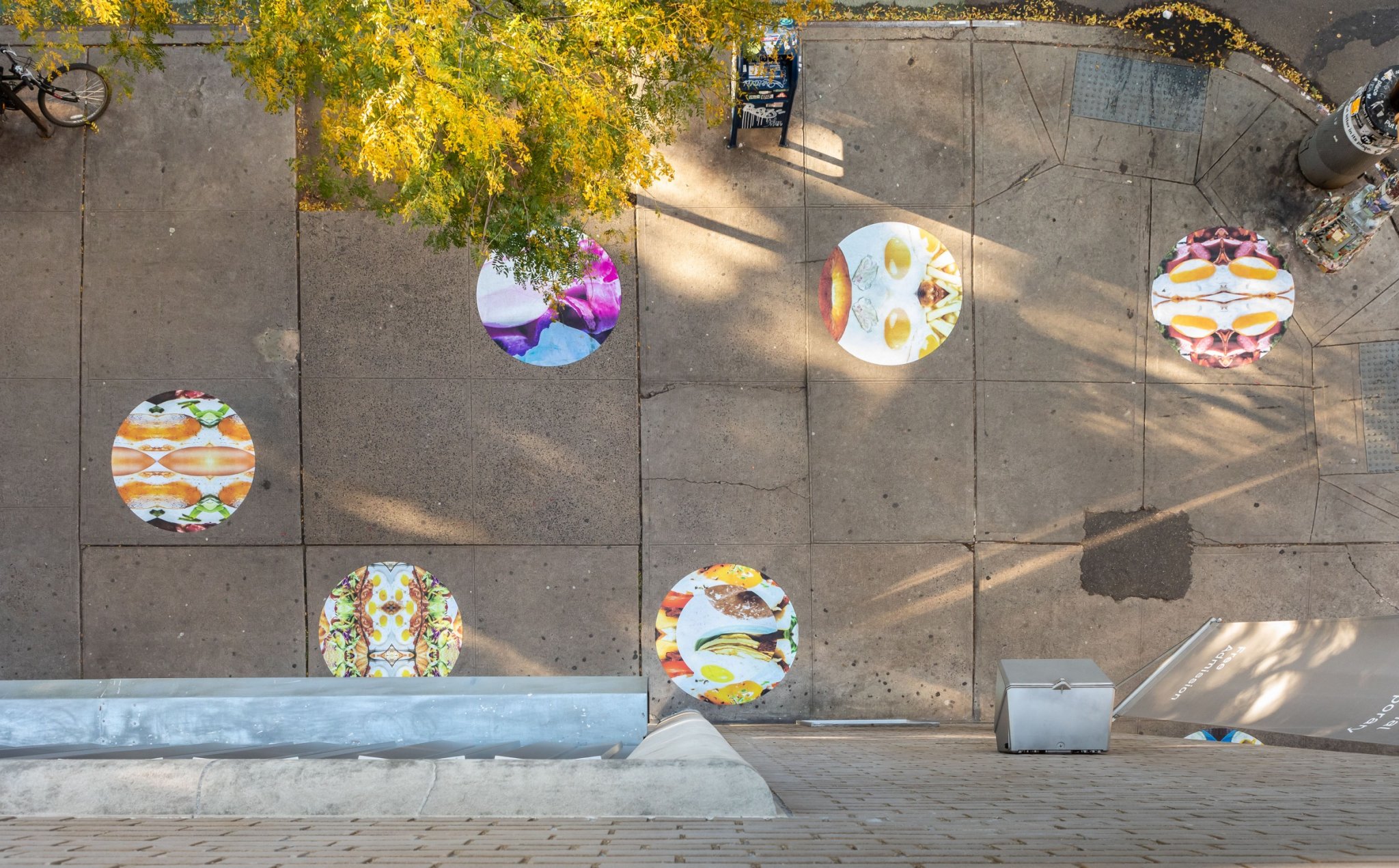 b. 1986 in Zürich, CH. Lives and works in Glasgow, UK
Christof Nüssli is a visual artist, whose interdisciplinary approach involves photography, video, sculpture, installation, text and artist books. His work has been exhibited in various institutions and project spaces. Nüssli authored three artist books (Miklos Klaus Rozsa, Withheld due to:, googly eyes) which won international prizes. Since 2014, Nüssli and Christoph Oeschger have run the publishing project cpress, focusing on artist books. In addition to his residency at Swiss Institute, Nüssli was an artist in residence at the Andreas Zuest Library in 2018 and at the Istituto Svizzero di Roma in 2016. In 2013, Nüssli received a Master of Design from Werkplaats Typografie. He is currently enrolled in the Master of Fine Arts program at the Glasgow School of Arts.
Image: Untitled (googly eyes), 2019. Inkjet on vinyl. Installed on the corner of St. Marks Pl and 2nd Avenue as part of SI ONSITE.

Gina Folly (March-May 2018)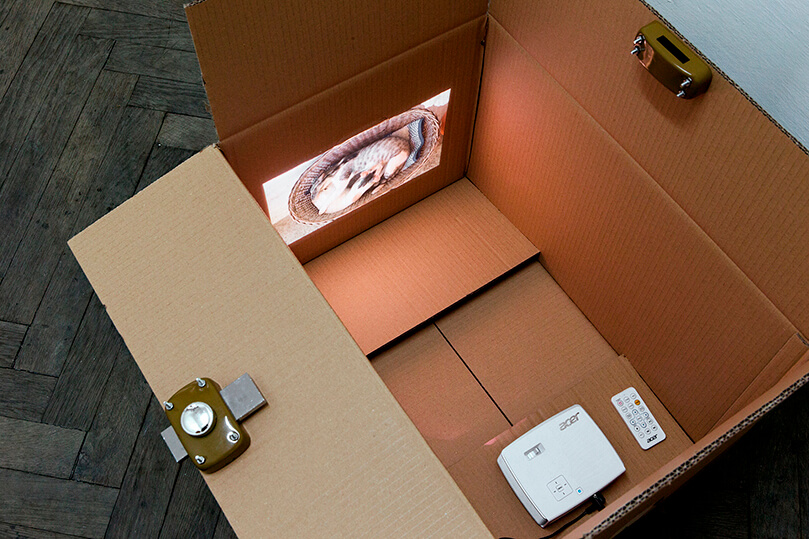 b. 1983. Lives and works in Basel, CH and Berlin, DE
Gina Folly's work investigates the effects of political, cultural and social changes on everyday realities, habits and self-conceptions of the individual. Her research plays around the concept of manipulation and seduction within the sphere of daily life. As a result, everyday objects and situations play a crucial role in her works as motifs or found materials, often searching for a confrontation between humans and their private and public surroundings. These relations and exchanges are emphasized in the way Folly uses, alters and mixes industrial production processes with artisanal or even homemade techniques. Since 2013 Folly has run Taylor Macklin in Zürich together with Adam Cruces, Selina Grüter, Michèle Graf and Thomas Julier. Folly's work has been shown at Ermes Ermes, Kunsthalle Basel, ML Artspace, Kunsthaus Glarus, SALTS, Spreez, Plymouth Rock, Kunsthaus Baselland, New Jerseyy, CentrePasquArt, Ellis King, Istituto Svizzero among others.
Image: Installation view of Basic Needs I, cardboard box, door lock, air filter, mini projector, video 2:07 min, looped.
Balkan Projects Residency
Open to artists currently living and working in the Balkans, this residency is supported by Balkan Projects, an organization dedicated to the promotion of Balkan contemporary art throughout the world. Balkan Projects was founded in 2017 by Serbian philanthropist and actress Marija Karan.
Selection committee: Dora Budor, Aleksandra Domanović, Zoran Erić, Siniša Ilić, Bojan Sarcević
Dardan Zhegrova (February-April 2020)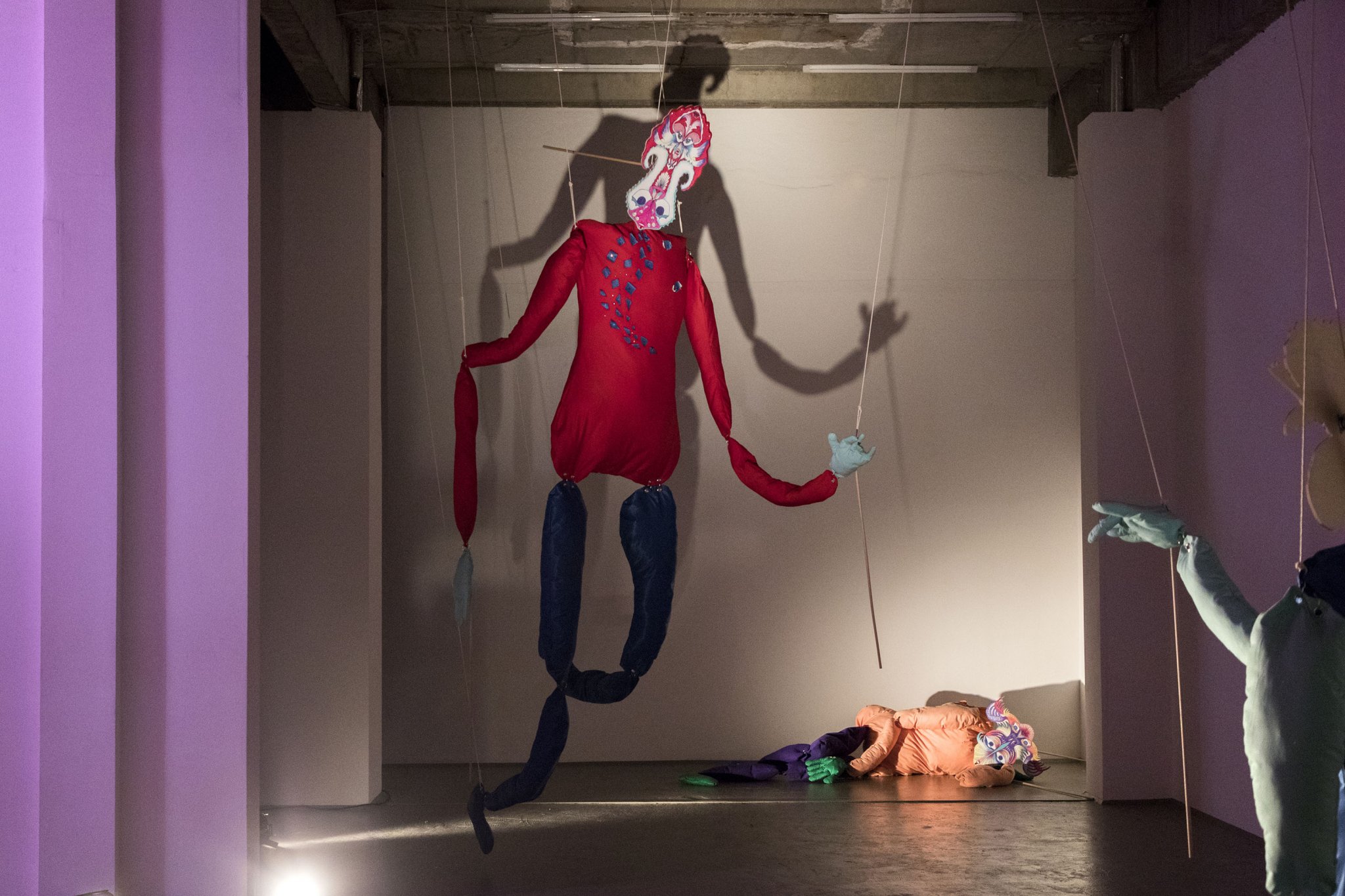 b. 1991 in Prishtina, XK. Lives and works in Prishtina, XK.
Dardan Zhegrova's interdisciplinary practice melds poetry, performance, drawing and soft sculpture to explore memory, intimacy and the construction of identity. Recently, the artist has made a series of large-scale puppets and dolls inspired by the artist's childhood during the Yugoslavian wars of the 1990s. Selected solo exhibitions and performances include: I DREAMT OF A HYBRID OF PAST AND NOW, Fragile, Berlin (2020); We all run around the backyard, Bazement, Prishtina (2019); Lucky Pierre: Crush at the other table, Pogo Bar at KW Institute for Contemporary Art, Berlin (2018); and You look like you know how to treat a body, with trio Heinz Herbert, Gessneralle Theater, Zurich (2015). Forthcoming projects include a solo exhibition at PET Projects, Athens.
Image: I am meeting a hybrid of past and now, exhibition view at FRAGILE, Berlin. 2020.
Lidija Delić (March-July 2019)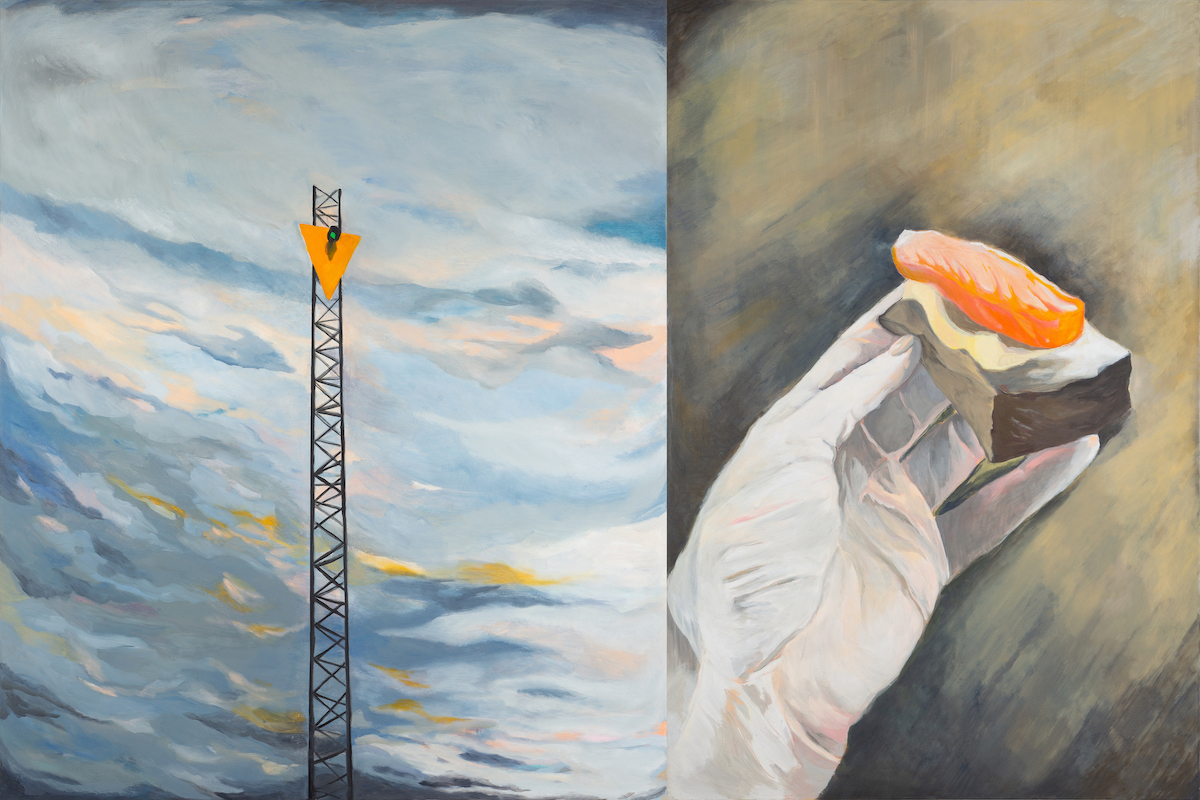 b. 1986 in Nikšić, Montenegro. Lives and works in Belgrade, Serbia
Delić graduated in Painting from the Faculty of Fine Arts, Belgrade in 2010, and earned a PhD in the Multimedia Art Department from the University of Arts, Belgrade in 2015. She is co-founder and member of artist-run U10 Art Space in Belgrade. In 2017 she was selected to represent Serbia at the Biennale des jeunes créateurs de l'Europe et de la Méditerranée (BJCEM) in Tirana, Albania. Lidija was a finalist in the 2017 D.B. Mangelos Award, and in 2018 she exhibited at the 57th October Salon, Belgrade.
Image: With luck, there'll be no more dreams I, 2021. Oil on canvas. 270 x 180 cm.
Clarice Oliveira Tavares Residency
Led by a selection committee of some of today's leading figures of contemporary Latin American art, the residency provides artists currently living and working in Latin America with an opportunity to live and work in one of New York's City's most vital cultural hubs. Brazilian philanthropist Clarice Oliveira Tavares began supporting this residency in Spring 2019.
2020 Selection committee: Fernando Bryce, Alejandro Cesarco, Federico Herrero, Regina José Gallindo, Claudia Joskowicz, Jessica Lagunas, Jac Leirner, Tania Pérez Cordova, Abigail Reyes, Oscar Santillán, Javier Tellez
Noé Martínez and María Sosa (September-December 2020)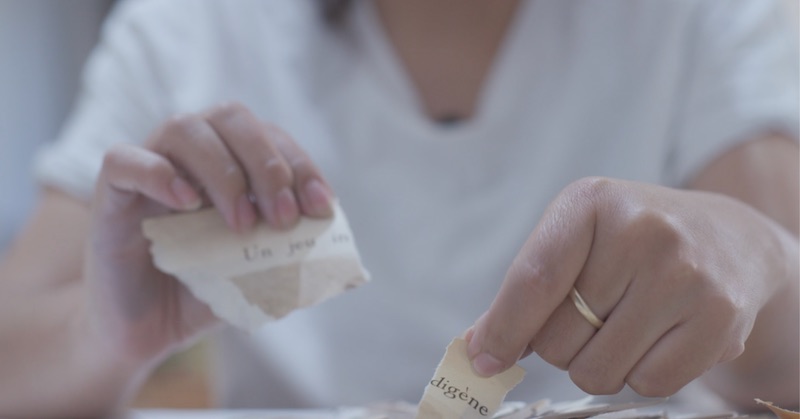 Due to the impact of COVID-19, the residency is conducted virtually, with the potential for residents to travel to the US once restrictions are lifted. Over the course of three months, Martínez and Sosa will be in dialogue with the SI curatorial team as they develop new collaborative work.
Noé Martínez, b. 1986. Lives and works in Mexico City, MX.
Martínez is a visual artist and filmmaker who graduated from Escuela Nacional de Pintura, Escultura y Grabado ("La Esmeralda"), Mexico City. His work functions as a case study that emerges from personal history, making use of ethnographic methodologies and research of the various histories of indigenous communities of the American continent. His work has been screened at The Museum of Contemporary Art, Chicago, 2019; 21 Bienal de Arte contemporáneo SESC Videobrasil, Sao Paulo, 2019; FilmFront, Chicago, 2019; Native Crossroad Film Festival,Oklahoma, 2018; Festival Internacional de Cine, Morelia, 2018 (Winner of Eye to the Best Short Film of Michoacán); and at the International Performance Art Week, Venice, 2016.
María Sosa, b. 1985. Lives and works in Mexico City, MX.
Sosa holds a Bachelor of Arts degree from the Universidad Michoacana de San Nicolas de Hidalgo. Her work develops from research about colonial pasts and how they shape contemporary racial, sexual and social dynamics in the American continent.Throughout her practice, Sosa pays particular attention to the eradication of knowledge surrounding non-western ways of life and prehispanic cultures. Her work has been exhibited in La Désse Verte Collection, Lasécu Artothèque, Lille, 2019; FilmFront, Chicago, 2018 & 2019; Native Crossroad Film Festival Oklahoma, 2018; Festival Internacional de Cine, Morelia, 2018 (Winner of Eye to the Best Short Film of Michoacán); and at the International Performance Art Week, Venice, 2016.

Image: Noé Martínez and María Sosa, still from Curar es existir, 2021. Courtesy of the artists.
Abigail Reyes (July-September 2019)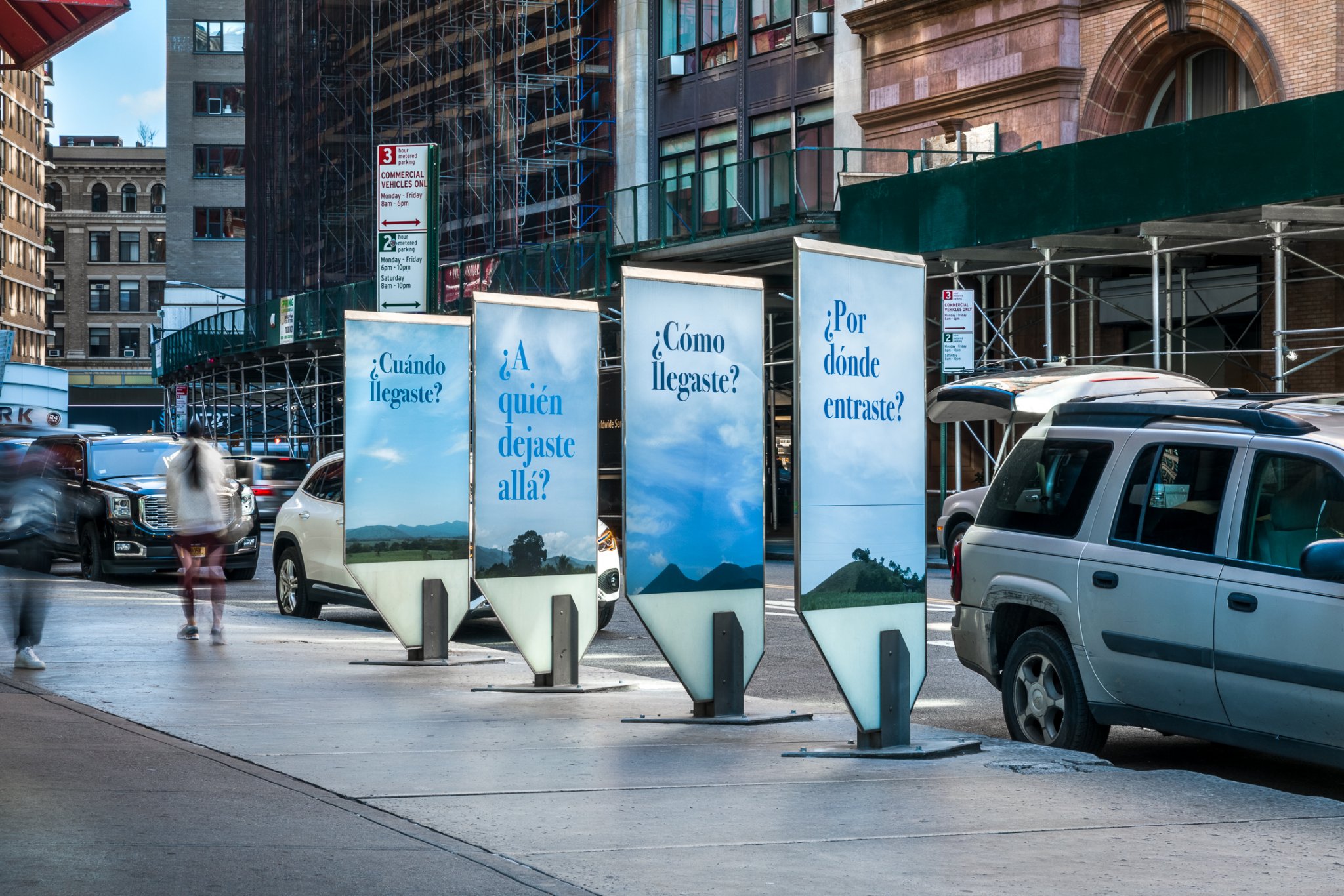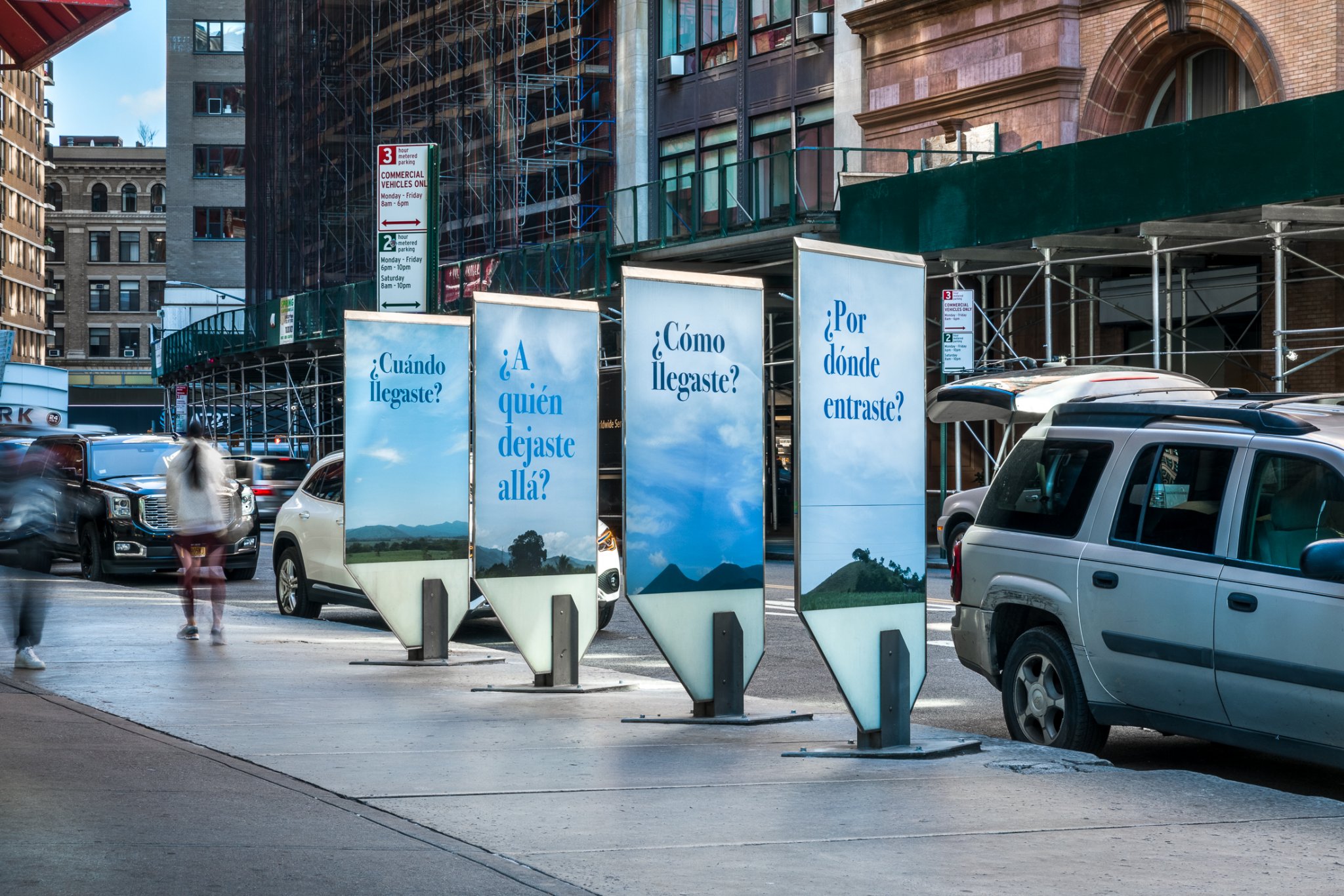 b. 1984 in San Salvador, El Salvador. Lives and works in La Libertad, El Salvador.
Reyes has had solo exhibitions at MARTE Museum, El Salvador; Poporopo Alternative Project, Guatemala; Extra Gallery, Guatemala; Manzanita Hall Gallery CSUN, United States; Museum of Art and Design, Costa Rica, among others. She has had participated in group exhibitions at Museo Jumex, Mexico; Palais de Tokyo, France; Städtisches Galerie Wolfsburg, Germany; Taimiao Art Gallery, China; Cinema Tonalá, Colombia; Poporopo Space, Guatemala; Teoretica, Costa Rica; National Room, El Salvador; Cultural Center of Spain, El Salvador. She has previously participated in artist residencies in Nicaragua, El Salvador and Brazil.
Image: Installation view of Questions, 2021. Installed in Astor Place, New York.
Please note: Swiss Institute does not accept residency applications. Both Balkan Projects and Clarice O. Tavares Residencies operate through an artist-led selection committee. For more information on the ProHelvetia Residency, please click here. For further inquiries regarding Swiss Institute Residencies, please contact Daniel Merritt at daniel@swissinstitute.net.