Swiss In situ | Frank Heath: Blue Room
Feb 17 -
Mar 19 2017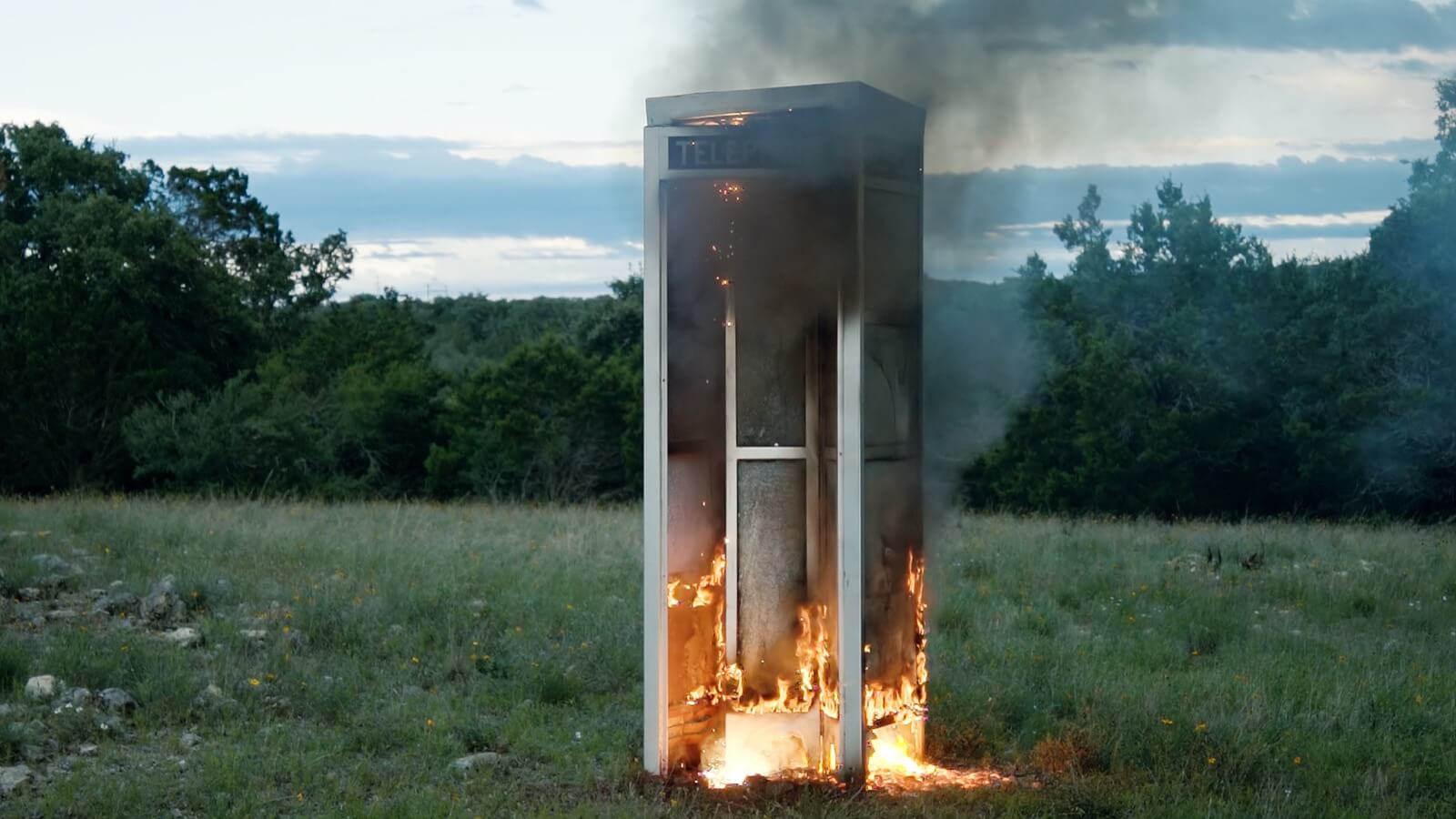 Opening Reception: February 16, 6-8PM
Blue Room, the first institutional solo exhibition by New York-based artist Frank Heath, is a synchronized installation of video works connected by an ominous humor, shadowed by references to surveillance and espionage. Blue Room takes its title from two types of space which employ ambient lighting as a system of control: a dimly lit command center used to monitor airspace during the Cold War, and a calm room used to pacify prisoners in solitary confinement.
Heath's work typically plots an idiosyncratic line through historical material, employing outmoded systems of communication and infrastructure to throw the conditions of the present into relief. A number of recent videos have featured recordings of phone calls to businesses or services in which an anonymous character describes impossible situations and apocryphal stories with a tone of disclosure.
The Long Lines Building at 33 Thomas Street – a windowless skyscraper owned by AT&T – features prominently in Heath's video The Hollow Coin (2016). The building, located steps away from Swiss Institute's current location at 102 Franklin Street, is a bunkerlike relic of New York City's telecommunications infrastructure, which nonetheless speaks to current anxieties regarding government monitoring and data collection (some months after the completion of this work, it was revealed that the building is a hub for NSA surveillance activities). Inspired by a Cold War-era Soviet spy who used a fake coin to conceal microfilm, The Hollow Coin depicts a phone call made using a similar device.
The second video, War Pigeon (2017), created on the occasion of Blue Room, invokes another evocative detail in the history of espionage: the use of trained pigeons as aerial photographers during World War II. In this phone call to the customer service department of a bank, the speaker describes an unnerving encounter with a suspicious bird, which has led him to question his trust in the bank's very existence. In both videos, as speakers engage with technical processes and bureaucratic systems, human vulnerability is gently drawn out, suffusing the works with an atmosphere of existential comedy, wrought from a present governed by opaque systems of control.
Frank Heath (b. 1982, St. Joseph, MO) lives and works in New York. Recent exhibitions include Backup, Simone Subal (2014); A Tale of Two Islands, The High Line, New York (2014); and Matter out of Place, The Kitchen, New York (2012). The Hollow Coin, a video work featured in Blue Room, is scheduled to play at several film festivals, including International Film Festival Rotterdam (2017), True/False, Columbia, Missouri (2017), IndieLisboa (2017), and Festival International du Film de La Roche-sur-Yon (2017). Heath is the Editor of the feature film Donald Cried, dir. Kris Avedisian (The Orchard, 2017).
***
Swiss Institute has temporarily relocated to a 5,000 sq ft project space at 102 Franklin Street in Tribeca, where we are presenting programming under the name Swiss In situ. Prior to moving to our new building at 38 St. Marks Place in 2017, exhibitions and public programs are focused on temporary structures – including publishing formats, social experiments and architectural forms – set against the fast-mutating landscape of downtown Manhattan. Expanding upon the success of Swiss Institute's ONE FOR ALL series, which offered emerging artists a first institutional exhibition in the US, Swiss In situ presents new systems of research and production to New York audiences. 
SWISS INSTITUTE PROGRAMMING IS MADE POSSIBLE IN PART WITH PUBLIC FUNDS FROM PRO HELVETIA, SWISS ARTS COUNCIL, THE NEW YORK STATE COUNCIL ON THE ARTS, WITH THE SUPPORT OF GOVERNOR ANDREW CUOMO AND THE NEW YORK STATE LEGISLATURE, AND THE NEW YORK CITY DEPARTMENT OF CULTURAL AFFAIRS IN PARTNERSHIP WITH THE CITY COUNCIL. MAIN SPONSORS INCLUDE LUMA FOUNDATION, THE ANDY WARHOL FOUNDATION FOR THE VISUAL ARTS, AND FRIENDS OF SI, 30th ANNIVERSARY LEADING PARTNERS INCLUDE UBS AND VICTORINOX. SWISS INSTITUTE GRATEFULLY ACKNOWLEDGES STELLA ARTOIS AS BENEFACTOR, SWISS RE AS PUBLIC PROGRAMS SPONSOR, VITRA AS DESIGN PARTNER, SWISS AS TRAVEL PARTNER AND UOVO FINE ART AS RELOCATION PARTNER.
Image: Still from, The Hollow Coin, 2016. Courtesy of the artist and Simone Subal.
Related Events
Press