Work Hard: Selections by Valentin Carron
Mar 04 -
May 24 2015
"Work Hard," the graffiti message enhancing this Lausanne public sculpture from 1945 by Pierre Blanc is the title of Swiss Institute's latest exhibition and curatorial debut of celebrated artist Valentin Carron. Carron, who represented Switzerland at the 2013 Venice Biennale, selects an exceptional range of seminal artworks combining his key homegrown influences and inspiring contemporaries. In a display of idiosyncratic experience, this exhibition presents a creative discourse between artworks through Carron's perspective, revealing shared concerns and principles of his native country's art. His focus on the poetics of vernacular invokes a quirky Swiss-ness while conjuring mythologies of labor. Furthermore, this exhibition sheds light on the aesthetic universe of Carron, providing foundations for his visual and conceptual vocabulary and allowing insight into a practice that combines strategies of appropriation with sculptural bravado. Through an individual lens, Work Hard suggests an imaginary time and place in art history as past, present and future converge in a narrative of national identity and art production. Participating artists include Edmond Bille, Vittorio Brodmann, Marguerite Burnat-Provins, Luciano Castelli, Claudia Comte, Sylvain Croci Torti, Latifa Echakhch, Frédéric Gabioud, Mathis Gasser, Fabrice Gygi, Andreas Hochuli, Trix and Robert Haussmann, David Hominal, Bernhard Luginbühl, Urs Lüthi, Fabian Marti, Méret Oppenheim, Simon Paccaud, Mai-Thu Perret, Ugo Rondinone, Denis Savary, Daniel Spoerri, and Jean Tinguely.
Valentin Carron lives and works in Martigny, Switzerland, where he was born in 1977. In 2013 he represented Switzerland at the 55th Venice Biennale. Major presentations of his works were realized at Kunsthalle Bern (2014), Palais de Tokyo Paris (2010), Kunsthalle Zürich (2007), Swiss Institute New York (2006), Centre d'Art Contemporain Geneva (2004), Chisenhale Gallery London (2006) and Mamco Geneva (2001). Catalogues were published on the occasion of Carron's exhibition at the Swiss Pavilion 55th International Venice Biennale (JRP/Ringier) and his recent solo exhibition at Kunsthalle Bern. A monograph of the artist's work was published by JRP/Ringier in 2011.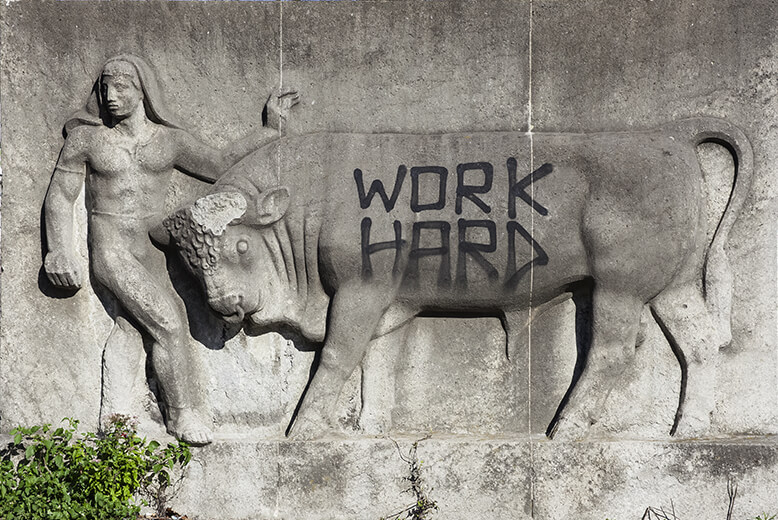 Pierre Blanc, Taureau et Berger, 1945. Photo courtesy Kevin Seisdedos, © FAP.
***
Media Contact: Dan Tanzilli / Mathilde Campergue, Third Eye dan@hellothirdeye.com / mathilde@hellothirdeye.com, +1 646-593-8713 Swiss Institute thanks each of the lenders to the exhibition: Phil Aarons and Shelley Fox Aarons; The Albright-Knox Art Gallery, Buffalo; Collection de l'Art Brut, Lausanne; Galerie Eva Presenhuber, Zürich; Galerie Gregor Staiger, Zürich; Galerie Kamel Mennour; Galerie Peter Kilchmann, Zürich; Galerie Von Bartha, Basel; Andreas Illien; FCAC, Republic and Canton of Geneva; Kaufmann Repetto, Milano; Liz O'Brien Gallery, New York; MAMCO (Musée d'art moderne et contemporain), Geneva; Marciano Art Collection, Los Angeles.
SWISS INSTITUTE PROGRAMMING IS MADE POSSIBLE WITH PUBLIC FUNDS FROM PRO HELVETIA, SWISS ARTS COUNCIL, AND IN PART BY PUBLIC FUNDS FROM THE NEW YORK CITY DEPARTMENT OF CULTURAL AFFAIRS AND THE NEW YORK STATE COUNCIL ON THE ARTS, WITH THE SUPPORT OF GOVERNOR ANDREW CUOMO AND THE NEW YORK STATE LEGISLATURE. MAIN SPONSORS INCLUDE LUMA FOUNDATION, FRIENDS OF THE SWISS INSTITUTE (FOSI), AND UBS. SWISS INSTITUTE GRATEFULLY ACKNOWLEDGES SWISS AS TRAVEL PARTNER, AND CHELSEA HOTELS AS HOSPITALITY PARTNER, AS WELL AS AGNÈS B. SPECIAL THANKS FOR SUPPORT FOR THE EXHIBITION FROM 303 GALLERY, DAVID KORDANSKY GALLERY, KAMEL MENNOUR, AND GALERIE EVA PRESENHUBER.
Related Events
Press