Tobias Spichtig: Good OK Great Fantastic Perfect Grand Thank You
Sep 09 2021 -
Jan 09 2022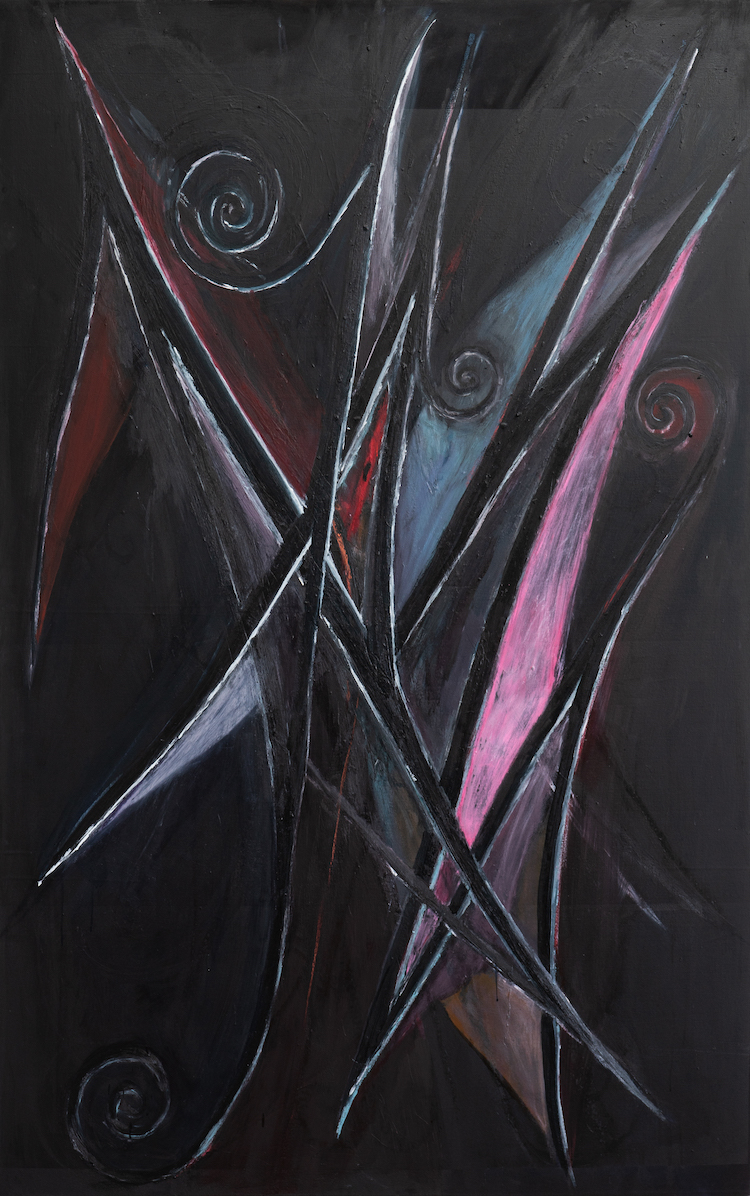 Download Press Release
Download Checklist
Good OK Great Fantastic Perfect Grand Thank You is the first institutional solo exhibition in the US by Tobias Spichtig (b. 1982, Sempach, Switzerland). The exhibition features new paintings on mirrored walls, partially obstructed by a glut of pre-used, empty retail display cases from shuttered stores. Two of the artist's humanoid sculptures – hollow, elongated figures made from garments – preside over the scene.
The exhibition unites many of the concerns of Spichtig's recent work, including the formation of icons, the superfluity of ornamentation, aggregations of everyday objects by typology, and reflections on voids and emptiness. At the center of the installation is a crowd of second-hand display cases, the kind designed for presenting accessories such as jewelry and sunglasses that call to mind the recent mass closures of New York retail stores, as well as Yves Klein's exhibition of an empty cabinet, usually known as Le Vide (1958). As vitrines with glass and mirrored surfaces designed to guide the eye across a range of merchandise, they nonetheless obstruct and direct the view of Spichtig's paintings, which hang on acrylic mirrors, lining the walls as they might in a fitness studio. Some of these paintings feature pairs of sunglasses which gaze out vacantly from the center of the canvas, while others are jagged ornamental abstractions with decorative embellishments that bear resemblances to those found in tattoos, street art and haute couture.
The installation creates a play of gazes among mirrors, shields, voids and obstacles. This focus on the act of looking is partly rooted in the artist's interest in the theory of divine and limited perspectives developed by the German Medieval theologian Nicholas of Cusa (1401-64) in reference to painted icons. The divine sight that looks out from an icon has no vanishing point: limited perspective is for mortals. Within these refractions, however, is an interest in style, ornamentation and surface that blossoms around a vacuum. The sculptural figures constructed entirely of clothes are empty husks, the sunglasses do not sit on a face but a painted color field, and the statements that form the exhibition's title – Good OK Great Fantastic Perfect Grand Thank You – are an excessive collection of affirmatives that evokes someone who is simply trying to wrap up a phone call.  
This exhibition is made possible in part through the generous support of Mato Perić. Tobias Spichtig wishes to thank: Caroline Busta; Simon Castets; Alison Coplan; Tobias Czudej; Darren Flook; Tim Hecker; Calla Henkel; Karl Holmqvist; Nik Künzler; Ben Lalier; Klara Liden; Elisa Linn; Laura McLean-Ferris; Theresa Patzschke; Mato Perić; Max Pitegoff; Delf Reumann; Fabian Schöneich; Pauline Seguin; Theres and Sepp Spichtig; Galerie Bernhard, Zurich; Jan Kaps, Cologne; CFA, Berlin.
This exhibition is organized by Laura McLean-Ferris, Chief Curator, and Alison Coplan, Curator.
About Tobias Spichtig
Tobias Spichtig lives and works in Berlin and Zürich. He has had recent solo exhibitions at Kaleidoscope, Spazio Maiocchi, Milan (2020); Centre d'art contemporain – la synagogue de Delme, Delme (2019); SALTS, Basel (2019); and Museum Folkwang, Essen (2019). His work was recently included in group exhibitions at Forde, Geneva (2021); Le Commun, Geneva (2021); Berghain, Berlin (2020); Avant-Garde Institute, Warsaw (2020); Fellbach Small Sculpture Triennial 2019, Fellbach (2019); and Volksbühne, Berlin (2019).
Edition
On the occasion of Good OK Great Fantastic Perfect Grand Thank You, Tobias Spichtig has made a new edition entitled Looks great! (2021). To view and purchase the edition, please click here.
Related Events
Press