Nov 03 2021
Conversation and Livestream | Tobias Spichtig with Caroline Busta and Lil Internet
Wed | 2:30PM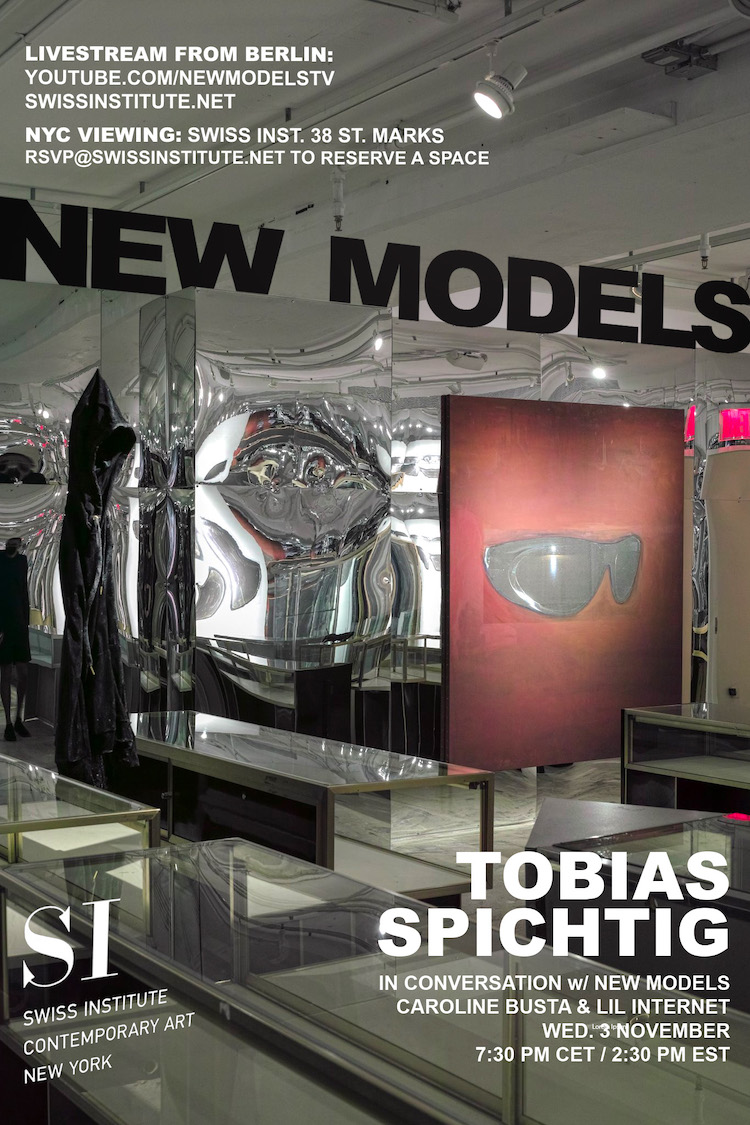 On the occasion of Tobias Spichtig's solo exhibition Good OK Great Fantastic Perfect Grand Thank You, please join SI for a livestreamed conversation between the artist and New Models founders Caroline Busta and Lil Internet. Broadcasting live from Berlin, the discussion will expand upon Spichtig's exhibition at SI and consider the artist's interest in icons, ornamentation, adornment and emptiness. At Swiss Institute, a monitor displaying the livestream will be stationed on one of the jewelry cases that populate the gallery. A webcam will capture live footage of the exhibition, giving those who visit a chance to participate in person.
To view the livestream, please visit youtube.com/newmodelstv.
If you plan to visit the gallery in person, please RSVP to rsvp@swissinstitute.net.
Tobias Spichtig lives and works in Berlin and Zürich. He has had recent solo exhibitions at Kaleidoscope, Spazio Maiocchi, Milan (2020); Centre d'art contemporain – la synagogue de Delme, Delme (2019); SALTS, Basel (2019); and Museum Folkwang, Essen (2019). His work was recently included in group exhibitions at Forde, Geneva (2021); Le Commun, Geneva (2021); Berghain, Berlin (2020); Avant-Garde Institute, Warsaw (2020); Fellbach Small Sculpture Triennial 2019, Fellbach (2019); and Volksbühne, Berlin (2019).
Caroline Busta and Lil Internet are co-founders of New Models, a media platform and community addressing the emergent effects of networked technology on art, tech, politics, and pop-culture. Busta is a former editor-in-chief of the critical art journal Texte zur Kunst (2014-17) and associate editor of Artforum (2008-14). Lil Internet has directed music videos for Beyoncé, Diplo, and Iggy Azalea; and produced the tracks "Heavy Metal and Reflective" and "Yung Rapunxel" for Azealia Banks. Their writing appears in recent issues of Document, Index, Kaleidoscope, and 032c.
Related Exhibitions