Niele Toroni
Jun 03 -
Sep 06 2015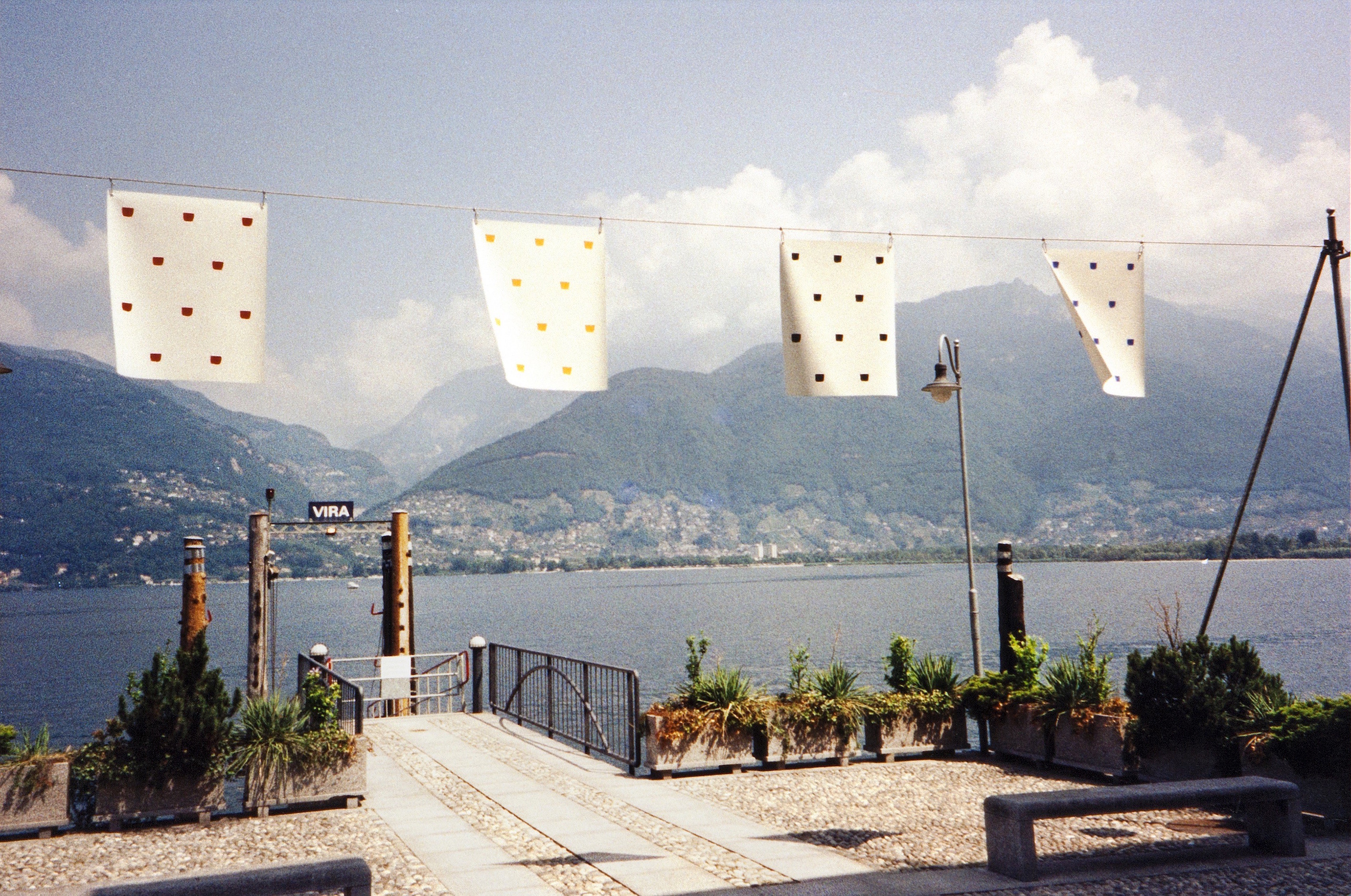 Since 1966, Niele Toroni (b. 1937, Muralto, Switzerland, lives and works in Paris) has applied imprints of a number 50 brush at regular intervals of 30 cm on a variety of surfaces and supports. For his first ever institutional solo show in NY and his first in the US in over 25 years, Swiss Institute presents an exhibition that spans close to 5 decades of the artist's work, featuring imprints on waxed fabric, canvas, and paper, as well as new, site-specific works created for this show.
Throughout the years, Niele Toroni has remained steadfast in his practice of "Travail-Peinture," in which the working method of applying paint in imprints of regular intervals delineates what is put on view. In a challenge to figurative painting, Toroni's imprints subtly evidence human touch in the same moment that they obliterate the brushstroke as an emotive or psychological record. His works are metonymic interventions in the sense that the painted surface activates a space where the demarcation between container and contained is abolished. What is given to the viewer is an imprint of a number 50 paintbrush at regular intervals of 30 cm. No more, no less.
Explicitly emphasizing the elementary definition of painting, this simple application of pigment to surface marks a milestone in the history of conceptual art. Throughout his career, Niele Toroni has systematically questioned established methods of art-making, while irreverently challenging accepted notions of authorship and gently mocking the figure of the artist. Through his commitment to a systematic working process, he humbly attempts at liberating painting from its own representation.
Echoing Italian poet and novelist Cesare Pavese's idea that the only joy in the world is to begin, Toroni's work repeats itself in an eternal recommencement. Thus what may appear as a monolithic entity is actually a multitude of infinite variations. When confronted with the question of why continue to repeat his imprints, Toroni invariably responds: "You can look at the ocean everyday, but it is never the same sea."
The Niele Toroni exhibition is curated by Clément Delépine, Assistant Curator.
Niele Toroni's numerous international solo exhibitions include those at Villa Pisani Bonetti, Bagnolo di Lonigo, Vicenza, Italy (2012); Museo Civico di Belle Arti, Lugano, Switzerland (2005); Museum Kurhaus Kleve, Kleve, Germany (2002); Musée d`art moderne de la Ville de Paris, Paris, France (2001); CAPC musée d'art contemporain de Bordeaux, Bordeaux, France (1997); The Douglas Hyde Gallery, Dublin, Ireland (1995); Stedelijk Museum, Amsterdam, Netherlands (1994); Musée National d'Art Moderne-Centre Georges Pompidou, Paris, France (1991); The Renaissance Society at University of Chicago, Chicago, USA (1990); Le Consortium, Dijon, Frank (1990); and Portikus, Frankfurt am Main, Germany (1988). His work is featured in prominent museum collections and permanent displays such as: The Museum of Modern Art, New York, USA; Musée national d'art moderne, Paris, France; Hamburger Bahnhof, Berlin, Germany; Migros Museum für Gegenwartskunst, Zürich, Switzerland; Museum Kurhaus Kleve, Kleve, Germany; The Strasbourg Museum of Modern and Contemporary Art, Strasbourg, France; The Kupferstichkabinett, Berlin, Germany; CAPC musée d'art contemporain de Bordeaux, Bordeaux, France; and The Kunstmuseum, Luzern, Switzerland. Niele Toroni is the recipient of the 2012 Meret Oppenheim Prize awarded by the Swiss Federal Office of Culture, the 2003 Wolfgang-Hahn Prize awarded by the Museum Ludwig Cologne, and a French Vermeil Medal awarded by the City of Paris in 2001.
Swiss Institute thanks the lenders to the exhibition: The Museum of Modern Art, New York and Galerie Pietro Sparta, Paris.
SWISS INSTITUTE PROGRAMMING IS MADE POSSIBLE WITH PUBLIC FUNDS FROM PRO HELVETIA, SWISS ARTS COUNCIL, AND IN PART BY PUBLIC FUNDS FROM THE NEW YORK CITY DEPARTMENT OF CULTURAL AFFAIRS AND THE NEW YORK STATE COUNCIL ON THE ARTS, WITH THE SUPPORT OF GOVERNOR ANDREW CUOMO AND THE NEW YORK STATE LEGISLATURE. MAIN SPONSORS INCLUDE LUMA FOUNDATION, FRIENDS OF SWISS INSTITUTE (FOSI), UBS AND VICTORINOX. SWISS INSTITUTE GRATEFULLY ACKNOWLEDGES SWISS AS TRAVEL PARTNER, AND CHELSEA HOTELS AS HOSPITALITY PARTNER. SPECIAL THANKS FOR SUPPORT FOR THE EXHIBITION FROM THE NIELE TORONI EXHIBITION CIRCLE: THE REPUBLIC AND CANTON OF TICINO – FONDO SWISSLOS, MARIAN GOODMAN GALLERY, HERMAN DALED, SYLVIE WINCKLER, AND THOSE WHO WISH TO REMAIN ANONYMOUS.
Media Contact: Dan Tanzilli / Mathilde Campergue, Third Eye
dan@hellothirdeye.com / mathilde@hellothirdeye.com, +1 646-593-8713
Related Events
Press