SI ONSITE | Megan Marrin: 340 E. 9th Street
Jan 21 2022 -
Jan 14 2023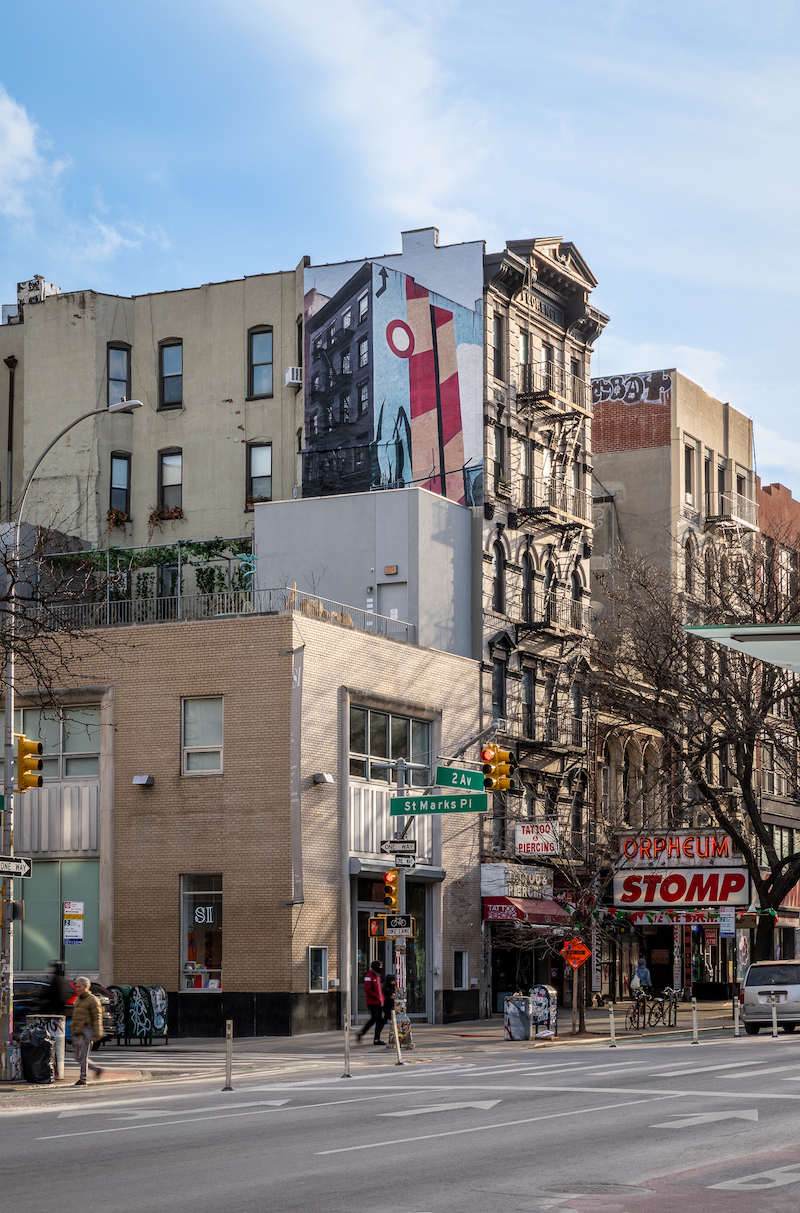 Swiss Institute is honored to present 340 E. 9th Street by East Village-based artist Megan Marrin, the first in a series of mural commissions on the uptown-facing exterior of SI's neighboring building at 128 2nd Avenue. 340 E. 9th Street is a painting of a photograph that accompanies an article published in the April 29, 1968 issue of New York Magazine about the spread of public art across New York City. In the image, the building located at the titular address is shown in profile, adorned on its windowless side with a mural by pop-surrealist Allan D'Arcangelo (1930-1998).
D'Arcangelo's untitled mural, completed in 1967, led to the formation of City Walls: a non-profit, artist-led, city-spanning public arts initiative established in New York later that year. Facilitated by urban planner David Bromberg, City Walls murals came to fruition through direct conversations with building owners, who supplied participating artists with paint and access to walls. The resultant murals, made by artists including Richard Anuszkiewicz, Tania, Jason Crum and Knox Martin, in addition to D'Arcangelo and several others, share a vibrant color palette across playful, occasionally psychedelic, abstractions. As of January 2022, one mural produced by City Walls remains intact.[1]
Marrin is interested in the shifting intentions behind public murals in New York City, often questioning for whom these images and messages are created. D'Arcangelo's 1967 commission, a vertical roadway featuring plants, clouds and directional signage, is a quiet yet consequential entry into this history of public art.  In 340 E. 9th Street, Marrin resurrects and recasts D'Arcangelo's work as a hybrid of what she considers the two predominant modes of contemporary mural making to now be: memorials and advertisements.
For over twenty years, Marrin has lived in the East Village on St. Mark's Place. Her reflection on the City Walls murals highlights cycles of erasure and replacement of the neighborhood's establishments and imagery; these changes accumulate in the memories of those who live and have lived in the East Village. In Marrin's practice as a painter, meaning is extracted from cultural and historical relics. Found images of obsolete or unfamiliar equipment used for exercise, hygiene, containment and punishment serve as material to create stark, careful studies of such objects. In 340 E. 9th Street, Marrin's first public artwork, the readymade image from New York Magazine is outsourced to Colossal Media, the largest hand-painted outdoor advertising company in the world, rendered a block away from the original location of D'Arcangelo's dreamscape. As such, 340 E. 9th Street frames an artwork of the East Village layered over by time and maintained in memory and documentation.
Megan Marrin wishes to thank everyone who worked on this project, with special thanks to Emanuel Rossetti, Daniel Merritt, Sarah Schulman, David Godlis, and Enchantments.
340 E. 9th Street is organized by Daniel Merritt, Curator and Head of Residencies.
Megan Marrin (b. St. Louis, MO) lives and works in New York, NY. She has exhibited in solo and group exhibitions at Queer Thoughts, New York; Efremidis, Berlin; Wiels Contemporary Art Center, Brussels; Mitchell Algus, New York; Svetlana, New York and David Lewis, New York. Her work will be presented in upcoming two-person exhibitions at dépendance, Brussels, and Ordet, Milan.
[1] A mural by Tania (1920-1982) can be found on W. 3rd St. between Mercer St. and Broadway.
Allan D'Arcangelo's 1967 mural appears courtesy the Estate of Allan D'Arcangelo, licensed by VAGA and Garth Greenan Gallery, New York.
Related Events
Press