Megan Marrin: 340 E. 9th St | EV Grieve
Feb 08 2022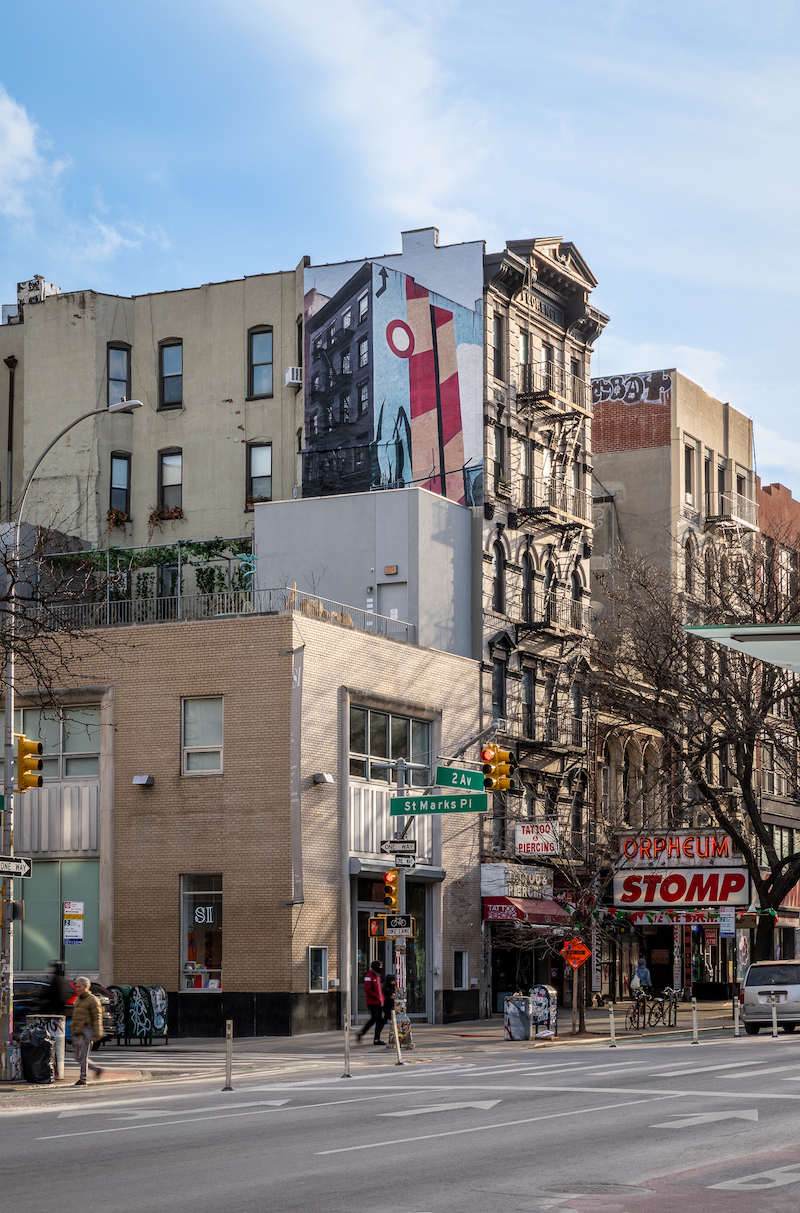 You likely noticed the new mural going up on the north-facing portion of 128 Second Ave. just south of St. Mark's Place several weeks back. At first glance, we figured it would be some sort of ad.nHowever, this turns out to be the first commission of this space by the Swiss Institute next door at 38 St. Mark's Place …
The work is titled "340 E. 9th Street" by East Village-based artist Megan Marrin.
"340 E. 9th Street" is a painting of a photograph that accompanies an article published in the April 29, 1968 issue of New York magazine about the spread of public art across New York City. In the image, the building located at the titular address is shown in profile, adorned on its windowless side with a mural by pop-surrealist Allan D'Arcangelo (1930-1998). D'Arcangelo's untitled mural, completed in 1967, precipitated the formation of City Walls: a nonprofit, artist-led, city-spanning public arts initiative established in New York later that year.

Facilitated by urban planner David Bromberg, City Walls murals came to fruition through direct conversations with building owners, who supplied participating artists with paint and access to walls.
The resultant murals, made by artists including Richard Anuszkiewicz, Tania, Jason Crum and Knox Martin, in addition to D'Arcangelo and several others, share a vibrant color palette across playful, occasionally psychedelic, abstractions. As of January 2022, one mural produced by City Walls remains intact [on West Third Street W. between Mercer and Broadway].

Marrin is interested in the shifting intentions behind public murals in New York City, often questioning for whom these images and messages are created. D'Arcangelo's 1967 commission, a vertical roadway featuring plants, clouds and directional signage, is a quiet yet consequential entry into this history of public art.
In 340 E. 9th Street, Marrin resurrects and recasts D'Arcangelo's work as a hybrid of what she considers the two predominant modes of contemporary mural making to now be: memorials and advertisements.
The mural will be on display here until Sept. 1.
Related Exhibitions