Ser Serpas: Hall
Jan 25 -
Apr 23 2023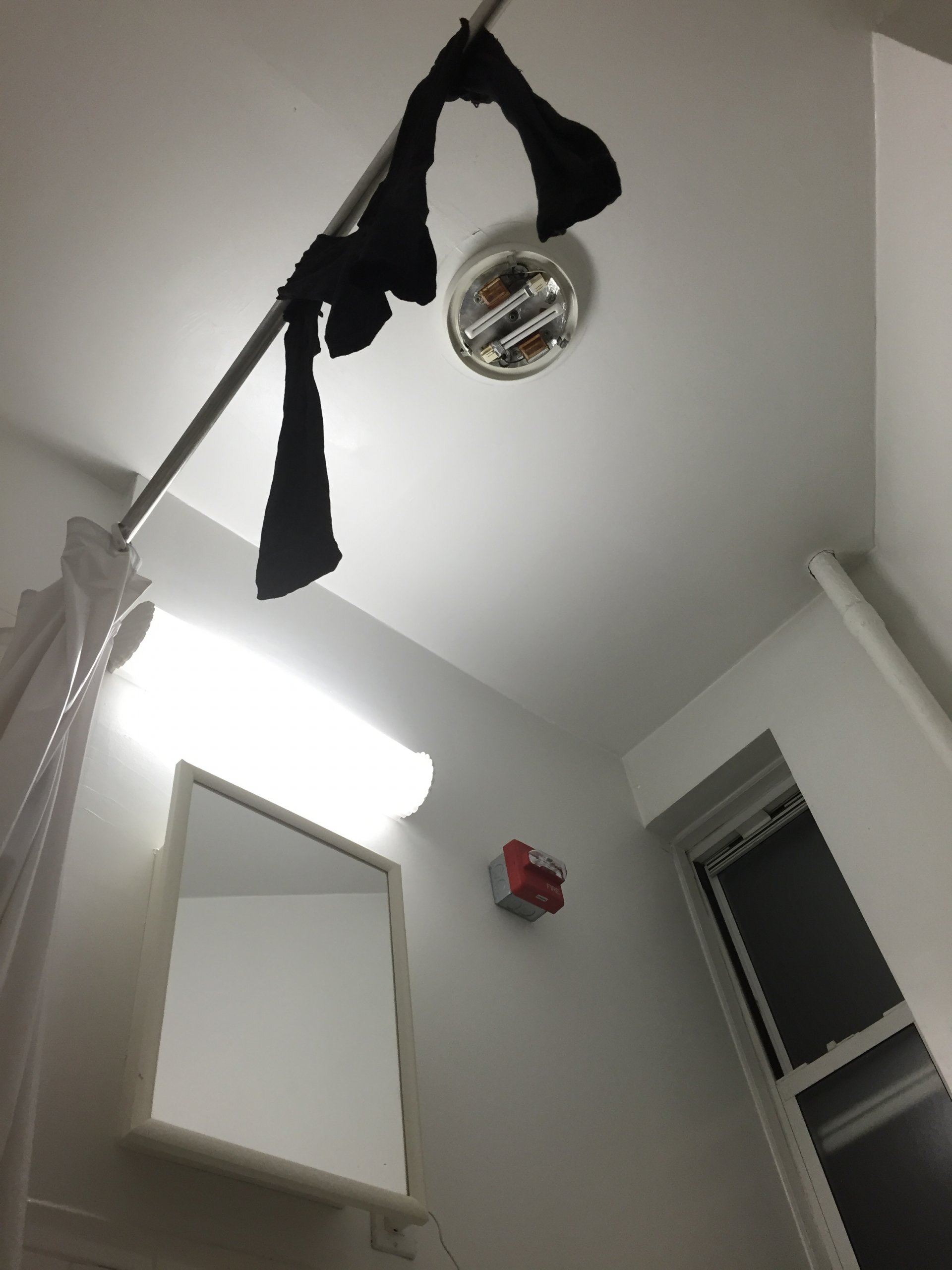 Download Press Release
Download Checklist
Swiss Institute is pleased to present Hall, an exhibition of work by Ser Serpas made in the decade since the artist moved from her hometown of Los Angeles. Trajectories of change and the allure of transience inform many of the works on view, which include new paintings, collaboratively produced photographs, extracted pages from notebooks and a decaying portrait. Across periods spent working in New York, Geneva, Tbilisi and, most recently, Paris, Serpas contemplates the ways in which cities can shape one's wants and transformations. The outcome of years of travel, Hall is a study of bodies, movement and constructions with unfixed futures.
A collapsed crimson wall, a remnant of the gallery's previous exhibition, is recast on the first floor of SI as a red carpet. Large paintings of busts, torsos and appendages hang on the surrounding walls. Faceless, anonymized and set against flattened backgrounds, these figures disintegrate into melts of flesh, some of which are bloodied with splatters and pours. Paints drip, sweat-like, into one another, evincing the artist's quick choreography. Serpas selects her subjects from snapshots saved to her phone's camera roll as well as apps and websites in which cosmetic surgery patients post photos of their bodies to solicit advice regarding procedures.
Another body, painted in 2018, is propped in a vitrine, tucked around a corner. The grisaille portrait of a person holding a falling slip dress to their chest is curdled. Infused with latex, nail polish, coffee and other unknown liquids, this painting is starting to crack.
In recent years, Serpas has made numerous freestanding sculptures from discarded items found on the streets of cities where she was invited to exhibit her art. In what the artist classifies as a private performance, she athletically arranges various forms of trash in galleries, held together only by gravity and destroyed following their display. For her exhibition at SI, this practice of assembly and deconstruction is pictured in atmospheric photographs taken by artist Rafik Greiss in Paris: on the street, in the studio, in a junkyard and in a forest on the outskirts of the city. Coolly composed, with Serpas in customized jumpsuits circulating her creations, Greiss's near-still lives merge styles of formal documentation and fashion editorials. These pictures adorn a prop wall that blocks the gallery's street-facing windows, commanding SI's own architectural body, ascending through the ground floor to the gallery above.
On the second floor, where the wall and photographs continue to climb, the artist's Moleskine journals, stolen from stores and sporadically filled during her years as a Columbia University undergraduate, have been disassembled. Never before presented to the public, the pages contain dry observations, playful drawings, pop lyrics and manifestos. Some pages are signed with a glossy kiss. Together, Serpas considers the journals a "nervous system" for her later practice. In a painted backdrop to this archive, the inky script of a tattoo, a name, runs down the subject's arm.
A collection of books by the artist are presented in the adjacent reading room.
SI gratefully acknowledges the Ser Serpas Exhibition Circle: Burt Aaron, Balice Hertling, Karma International, LC Queisser and Maxwell Graham / Essex Street Gallery. Ser Serpas wishes to thank her mom.
This exhibition is organized by Daniel Merritt, Curator and Head of Residencies.
Ser Serpas (b. 1995, Los Angeles) lives and works between New York, Paris and Tbilisi. She has had solo exhibitions internationally, including at LUMA Westbau, Zürich; Ludlow 38, New York; and Quinn Harrelson/Current Projects, Miami. Selected group exhibitions include SIREN (some poetics), Amant, New York; The Puppet Show, Centre d'Art Contemporain Genève; Oxygen Biennial 2021 – Rites of Passage, Tbilisi; Dora Budor: Autoreduction, Progetto, Lecce; Ouverture, Pinault Collection, La Bourse de Commerce, Paris; and Made in LA 2020, Hammer Museum, Los Angeles. She has published the following books: Guesthouse, Kona Books, Tbilisi (2021); Carman, Based on the Opera, König Books, London, UK (2018); Shade the King, Capricious, New York; amores perros, Publishing House, New York (both 2017). During her exhibition at SI, Serpas will release By the Highway, a book made in collaboration with Rafik Greiss with an essay by Dora Budor, published by Distanz, Berlin.
Photo by Ser Serpas. View from the bath, Saturday, January 24, 2015 at 18:19.
Related Events
Press