Jill Mulleady: Fight-or-Flight
Sep 25 -
Dec 29 2019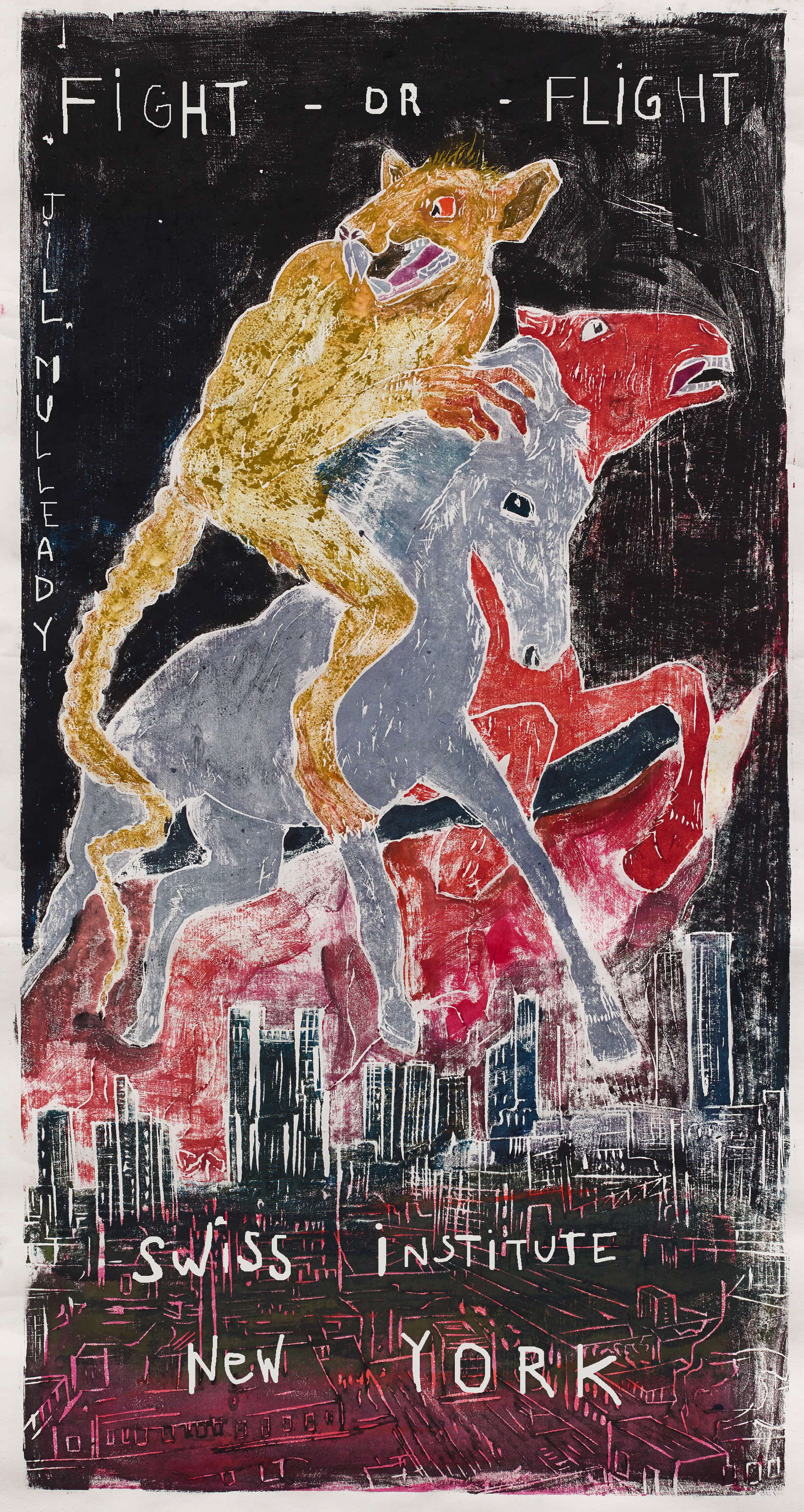 Opening Reception: September 24, 6-8PM
Swiss Institute is delighted to present Fight-or-Flight, the first US institutional solo exhibition by Jill Mulleady. Drawing on the history of SI's location at 38 St Marks Pl, originally built in 1954 as a bank, Mulleady has created a group of new, interrelated works that weave a speculative allegorical fiction. Centered on a monumental painting, Fight-or-Flight roots out fantasies, motivations and fears hidden in the building's walls in order to depict a mythological landscape of polarization and crisis. The physiological stress responses of the exhibition's title are enacted by a number of characters in Mulleady's paintings and woodcuts, who either adopt extreme or violent survival methods, or retreat into isolation.
The exhibition's central painting, A Fantasy of Transcendence and a Preoccupation with Downfall and Ruin (2019), features a giant figure in repose on a small island: a Colossus continuous with his environment. Water runs between his clawlike feet to create waterfalls that spill over the cliffs, while his long hair tumbles towards the mouth of a cave. Collapsing a number of time periods onto the canvas, the painting draws on 16th century sources preoccupied by fantasies of physical magnitude and lands of rest and relaxation free from labor, as seen in Pieter Bruegel The Elder's The Land of Cockaigne (1567) or in scenes of François Rabelais's epic satire, The Life of Gargantua and Pantagruel (c. 1532–1564). With its stylized landscape and lysergic sky, the painting pushes those narratives through a more recent painterly history of Post-impressionism and Expressionism, towards the posthuman futures suggested by a tablet with three-dimensional graphics and the figure's ravenously glowing eyes. Fenced in, stupefied, birdwatching, the giant is an emblem of the power, control and privacy afforded by the hoarding of resources.
The small gallery at the far end of the ground floor has been returned to its former status as a bank vault, whilst a large industrial pipeline implies an excavation of subterranean channels. Upstairs, woodcuts introduce a rat figure, embodying a desperate fight for life in diminished urban infrastructures. Four of them ride horses over a cityscape: vermin as contemporary harbingers of apocalypse. Ancient mythologies and recent histories are reanimated in the exhibition with an enduring, twisted force. And yet, opposed and extreme, the characters in Mulleady's feverish works also point to futures in which beings are pushed into marginal spaces, suggesting an ominous threat at civilization's center.
About Jill Mulleady
Jill Mulleady (b. Montevideo, Uruguay, 1980) lives and works in Los Angeles. Recent solo exhibitions include: Schloss, Oslo (2018); Kunsthalle Bern (2017); and Museo Archeologico Nazionale, Napoli (2015). Recent group shows include: May You Live in Interesting Times, La Biennale di Venezia, Venice (2019); and Digital Gothic, Centre d'art contemporain – la synagogue de Delme (2019). Her work is included in the collections of the Hirshhorn Museum, Washington, DC and the Hammer Museum, Los Angeles.
Jill Mulleady: Fight-or-Flight is made possible in part with generous support from the Jacques and Natasha Gelman Foundation. Additional support is provided by the Robert Lehman Foundation. SI would like to thank the Jill Mulleady Exhibition Circle: Murray Abramson, Freedman Fitzpatrick Los Angeles / Paris, Galerie Neu, and Catherine Pettigas.
SI Programming is made possible in part with public funds from Pro Helvetia, Swiss Arts Council; the New York State Council on the Arts, with the support of Governor Andrew Cuomo and the New York State Legislature; and the New York City Department of Cultural Affairs in partnership with the City Council. Main sponsors include LUMA Foundation and Friends of SI. SI gratefully acknowledges Swiss Re as SI ONSITE Partner, Vitra as Design Partner, Sister City as Hotel Sponsor and SWISS as Travel Partner.
Related Events
Press