Nov 22 2019
Conversation | Painting as Distillation: Jill Mulleady and Avery Singer
Fri | 7PM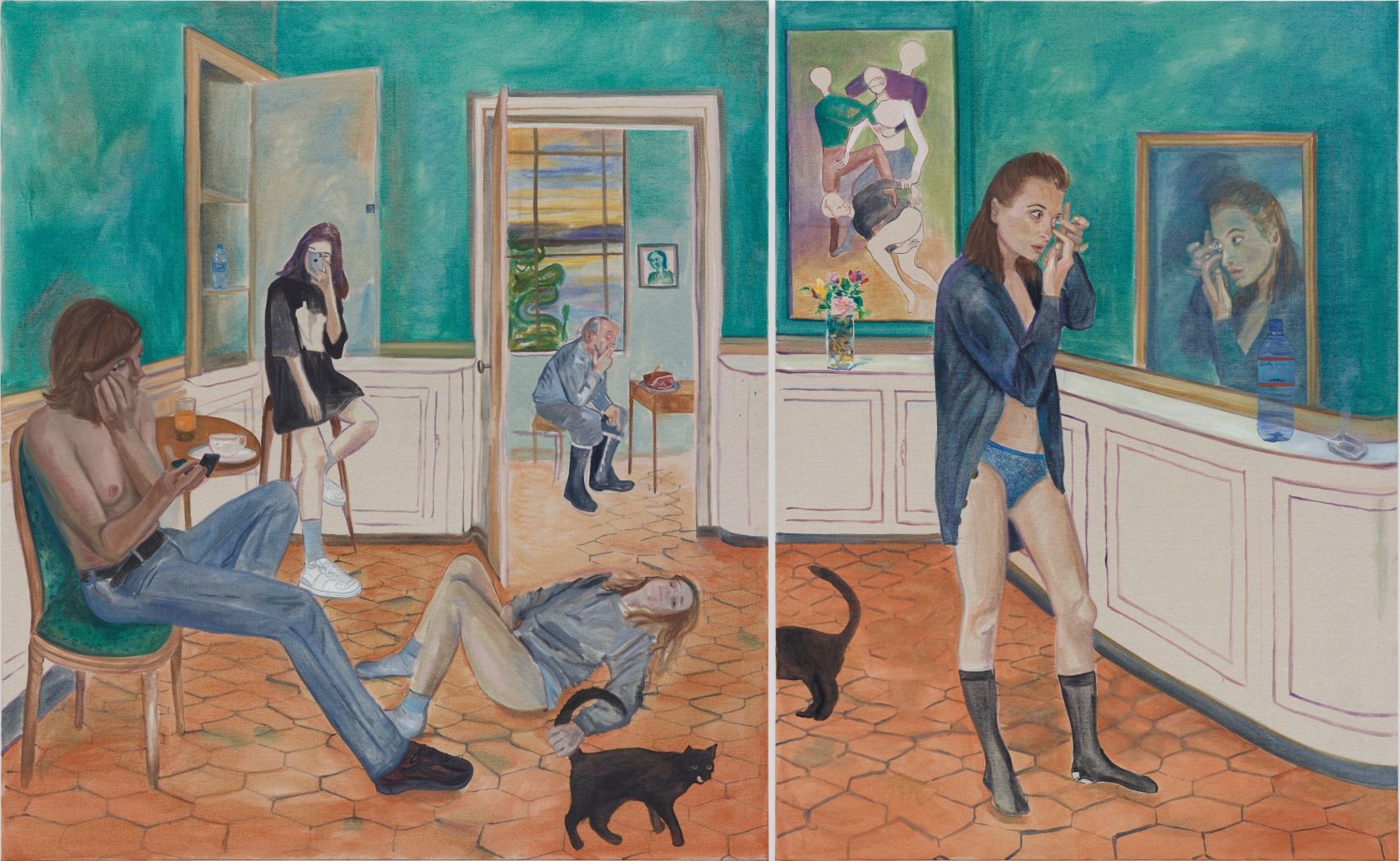 On the occasion of Jill Mulleady's exhibition Fight-or-Flight, please join Mulleady, artist Avery Singer and SI Curator Laura McLean-Ferris to discuss the two artists' practices. The conversation will take as a starting point the concept of distillation in order to explore painting that includes a variety of compositional layerings and art historical motifs to depict contemporary life. The artists will discuss their own processes and how they approach each other's work as painters.
Please RSVP to rsvp@swissinstitute.net. Please note: events at Swiss Institute are limited capacity, and entry is on a first-come, first-served basis.
Jill Mulleady (b. Montevideo, Uruguay, 1980) lives and works in Los Angeles. Recent solo exhibitions include: Schloss, Oslo (2018); Kunsthalle Bern (2017); and Museo Archeologico Nazionale, Napoli (2015). Recent group shows include:
The 58th International Art Exhibition of
 La Biennale di Venezia, Venice (2019); Feel the Sun in Your Mouth: Recent Acquisitions, Hirshhorn Museum, Washington, DC (2019); Emissaries for Things Abandoned by Gods, Casa Luis Barragán, Mexico City (2019); Claude Mirrors, Schinkel Pavillon, Berlin (2019);
Digital Gothic
, Centre d'art contemporain – la synagogue de Delme (2019). Her work is included in the collections of the Hirshhorn Museum, Washington, DC and the Hammer Museum, Los Angeles.
Avery Singer (b. 1987) lives and works in New York. She attended Cooper Union, New York and Städelschule, Frankfurt am Main. Solo exhibitions of her work have taken place at Schultze Projects Commission, Museum Ludwig, Colgone (2019); Kölnischer Kunstverein, Cologne (2017); Secession, Vienna (2016); Stedelijk Museum, Amsterdam (2016); Fondazione Sandretto Re Rebaudengo, Turin (2015); Hammer Museum (2015); Kunsthalle Zürich, Zürich (2014). Singer participated in the 58th International Art Exhibition of La Biennale Di Venezia, Venice (2019) and in group exhibitions at Folkwang Museum, Essen (2019); Sprengel Museum, Hannover (2019); Hammer Museum, Los Angeles (2019); Minneapolis Institute of Art (2019) and in many other group exhibitions at leading institutions worldwide.
Image: Jill Mulleady,
Interior
, 2019. Oil on linen. 168 x 152 cm (left panel). 168 x 120 cm (right panel). 
Related Exhibitions