Guillaume Dénervaud: Ozoned Station
Sep 13 2023 -
Jan 07 2024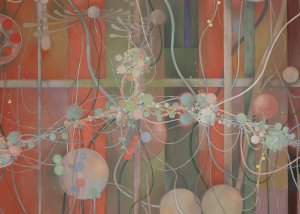 Swiss Institute is pleased to present Ozoned Station, an exhibition by Guillaume Dénervaud (b. 1987, Fribourg, CH). Dénervaud's works are often composed in dense, though congruous, arrangements of ambiguous motifs that evoke plant matter, machine parts or cellular structures. Anchored by a sequence of gateway-like paintings, Ozoned Station features visions of systems and environments that collapse distinctions between the organic and the built, the microscopic and the galactic, the future and the past. Comprised of new work, this exhibition marks the artist's first in a U.S. institution.
Techniques of worldbuilding used in fantasy and science fiction films and literature, including the works of Mark von Schlegell, Renee Gladman and Hayao Miyazaki, are of interest to Dénervaud, whose paintings and drawings often allude to the transfer of energy and the development life forms, or what life might regenerate following catastrophe. To develop these bio-machinic fantasia, Dénervaud uses architectural drafting stencils now rendered obsolete by computer-aided design programs, applying vivid color via pigments made from the exoskeletons of insects, minerals, and plants, amongst other organic materials.
A residue coats the walls of the gallery. Evocative of the sticky dust that accumulates in an urban tunnel or on subway platforms, this patina is made by mixing paint with umber, a natural pigment whose artistic uses date to Neolithic cave painting, which is today burnt in coal-fired power plants to produce electricity. In the adjacent hallway and stairwell, hand-blown glass lanterns, like extracted organs or abandoned planets, hang loose from the ceiling and glow.
The exhibition invites visitors to linger and gaze into its kaleidoscopic networks, each of which possesses a harmony that suggests dreamy inertia. People rarely appear in Dénervaud's work and when they do, they are usually suspended within the apparatus depicted. In Ozoned Station, each painting presents an opportunity to be subsumed by unfamiliar cycles of growth.
This exhibition was made possible in part with support from the Canton of Fribourg and Bel Ami, Los Angeles.
Guillaume Dénervaud wishes to thank: Zelda Passini, Markus Dénervaud Passini, Corinne and Jean-Luc Dénervaud, Lee Foley, Naoki Sutter-Shudo, Eric Kim, Ethan Assouline, Joschua Brunn, J & R Bauer.
This exhibition is organized by Daniel Merritt, former SI Curator and Head of Residencies.
Guillaume Dénervaud (b. 1987, Fribourg, Switzerland) lives and works in Paris. He studied at the École des arts appliqués, Geneva and at HEAD, Geneva. Dénervaud's solo shows include Surv'eye, Centre D'édition Contemporary (CEC), Geneva (2021); Inversens Clinic, Alienze, Lausanne (2019); and Spectrolia Corporation, Hard Hat, Geneva (2018). Group exhibitions include La main-pleur, Fri Art Kunsthalle, Fribourg (2022); Des corps, des écritures, Musée d'art Moderne de Paris (2022); Aquarium, Maison Populaire, Montreuil (2022); Les formes du transfert, Les Magasins Généraux, Paris (2021); and L'Oranger, LiveInYourHead, Geneva (2017). Dénervaud participated in Swiss Institute's residency program in New York City in 2021. His work is in the collections of the ICA, Miami, MAMCO, Geneva and the Musée d'art Moderne de Paris.
Image: Guillaume Dénervaud, An Unaffordable Fence (Les Orgues), 2023 (Detail). Oil, tempera, and pencil on linen. 70 7/8 x 45 1/4 in (180 x 115 cm).