Dec 06 2023
Reading | LOOK THEN BELOW with Mark von Schlegell
Wed | 7PM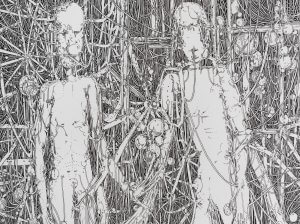 On the occasion of Ozoned Station, science-fiction writer Mark von Schlegell will have an informal conversation with Guillaume Dénervaud, followed by a performative reading of his fantasticritical script, LOOK THEN BELOW.
Please RSVP to rsvp@swissinstitute.net.
Cologne-based U.S. science fiction novelist and cultural critic Mark von Schlegell has been creating hybrid projects on the margins of the art community since 1992.  He earned a PhD in literature from NYU in 2000, and directed the Pure Fiction Seminar at Frankfurt's Staedelschule from 2011-2018. His first novel, Venusia (Semiotext(e)), 2005, was honor's-listed for the Otherwise Prize in science fiction. He has published more than eleven books and continues to write, perform and collaborate with independent artists in experimental projects around the world.
Image: Whisper Something, 2022, detail. China ink on watercolor paper.