Rosemary Mayer: Ways of Attaching | The Brooklyn Rail
Nov 03 2021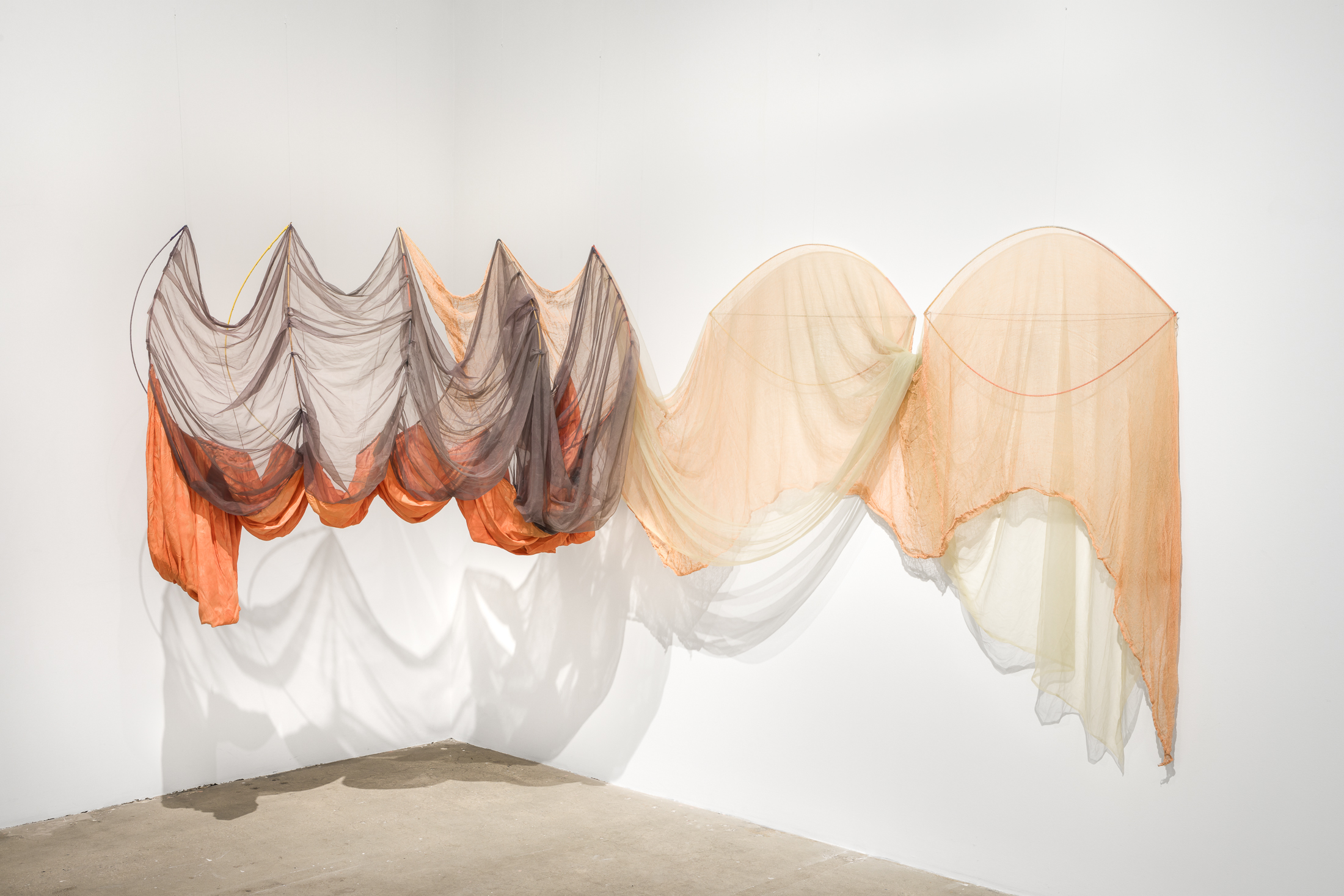 Rosemary Mayer (1943–2014), born in Brooklyn, a New Yorker all her life, was a prolific artist whose practice dealt with drawing, performance, and sculpture. Despite her significant body of work, Mayer had not been exhibited widely enough during her lifetime—shows in recent years, such as Gordon Robichaux's exhibition of her work and her inclusion in a group exhibition at Kunsthalle Basel strengthen her legacy. Ways of Attaching at Swiss Institute, her first institutional survey, presents a luminous collection of visual work, which glows with the attention and endearment Mayer clearly held for her projects. The exhibition consists of numerous artworks from the '60s through the '80s, including works on paper and several draped fabric sculptures, and documentation surrounding Mayer's "Temporary Monuments," a series of durational and provisional sculptures. Memories of friends, family members, and loved ones are evoked through sentimental reminders of Late Renaissance painting, stars, flowers (unsurprising, considering Mayer's own namesake, rosemary) and female figures from history and mythology. Encouraging connection across the historic and personal, this presentation of Mayer's work is timely, especially in regards to shifts in social connectivity, the reconsideration of monuments, and memorialization in an era of collective grief.
In the ground floor exhibition space of the Swiss Institute, various draped fabric sculptures fill the room. Shown alongside an abundance of works on paper, these formal sculptures feel relational and studious. Hypsipyle (1973), installed in a corner of the space, is one of Mayer's last completed draped fabric pieces. Named after the mythological Queen of Lemnos from Ancient Greece (Hypsipyle saved her father Thoas when the women of Lemnos killed all the men on the island), the sculpture is made from warmly-hued draped fabrics of various translucencies and shine. Hypsipyle, suspended, floats, conjuring beguiling moments of tension as fabric is strung along a looping frame made from thin, pliable pieces of wood that extend from wall to wall. The fabric hangs with varying amounts of tautness, adhering and falling from the frame, articulating the shapes of waves and other natural forms or the arched silhouette of altar painting. Mayer wrote that her goal was to "get sculpture out of a corner, how to get across a corner" and the work is neither formulaic nor arbitrary in this effort.
Referencing another female ruler from the classical world, Mayer's Galla Placidia (1973) is an opulent sculpture of rich, heraldic color—appropriate given the royal reference, the layered color of the sculpture evokes the heraldic jewel tones of an iris flower. Galla Placidia is named after the Roman Empress Galla Placidia who ruled in place of her son in the final days of the Roman Empire. A fragile netting hangs from a large, circular wooden hoop and then gathers toward the middle of the circle, only to pinch and fall in a cascade from the center. Emphasizing volume and weight, the sculpture counterbalances the naturally yielding qualities of its material—Galla Placidia is gorgeous but not easy.
Of the many drawings included in the show, a small untitled drawing from 1968 holds the center of Mayer's criss-crossing interests. In clear reference to late Renaissance painting, Mayer depicts the garments of a figure kneeling in prayer. What fascinates here is the absent body, its form rendered visible only through the volume of sleeves and folds of falling fabric, rippled with color and light. Mayer's later drawings increasingly used observed and imagined drapery, bundled, wrapped, and stretched to convey the dissolution of the forms they surrounded.
Drawings, photographs, and ephemera related to Mayer's "Temporary Monuments" series occupy the second floor space. "Impossible" sculptures, never completed, take shape in lavishly painted watercolors and drawings, while other projects are included here through sketched plans and photographs. Several drawings reference Moon Tent (1982), a provisional sculpture in which Mayer wrapped a rooftop pavilion with glassine paper as a celebratory gesture at the home of the art historian Robert Hobbs in Lansing, New York. Revelers were invited to sit beneath the tent, observing the moonlight through an open roof in the company of others. Mayer's "Temporary Monuments" worked against permanence and served as playful and somber reminders of the passage of time and life's fragility.

On the occasion of this show and a recent autumn full moon, Moon Tent was restaged on the roof of the Swiss Institute through the efforts of artists Olga Balema, Ei Arakawa and Sarah Chow. Imaginably, the raison d'être of a moon tent is the joy of the social and communal, greatly cherished during the pandemic. The deeper you go into Mayer's constellation of artworks and projects, the wider its scope and more significant its relevance. Here is a real artist who, through curiosity and inquiry, fascination and delight, showed a way for cross-media and interdisciplinary approaches that feels contemporary.
Related Exhibitions