PAVILLON DE L'ESPRIT NOUVEAU: A 21st Century Show Home | TL Magazine
Sep 29 2015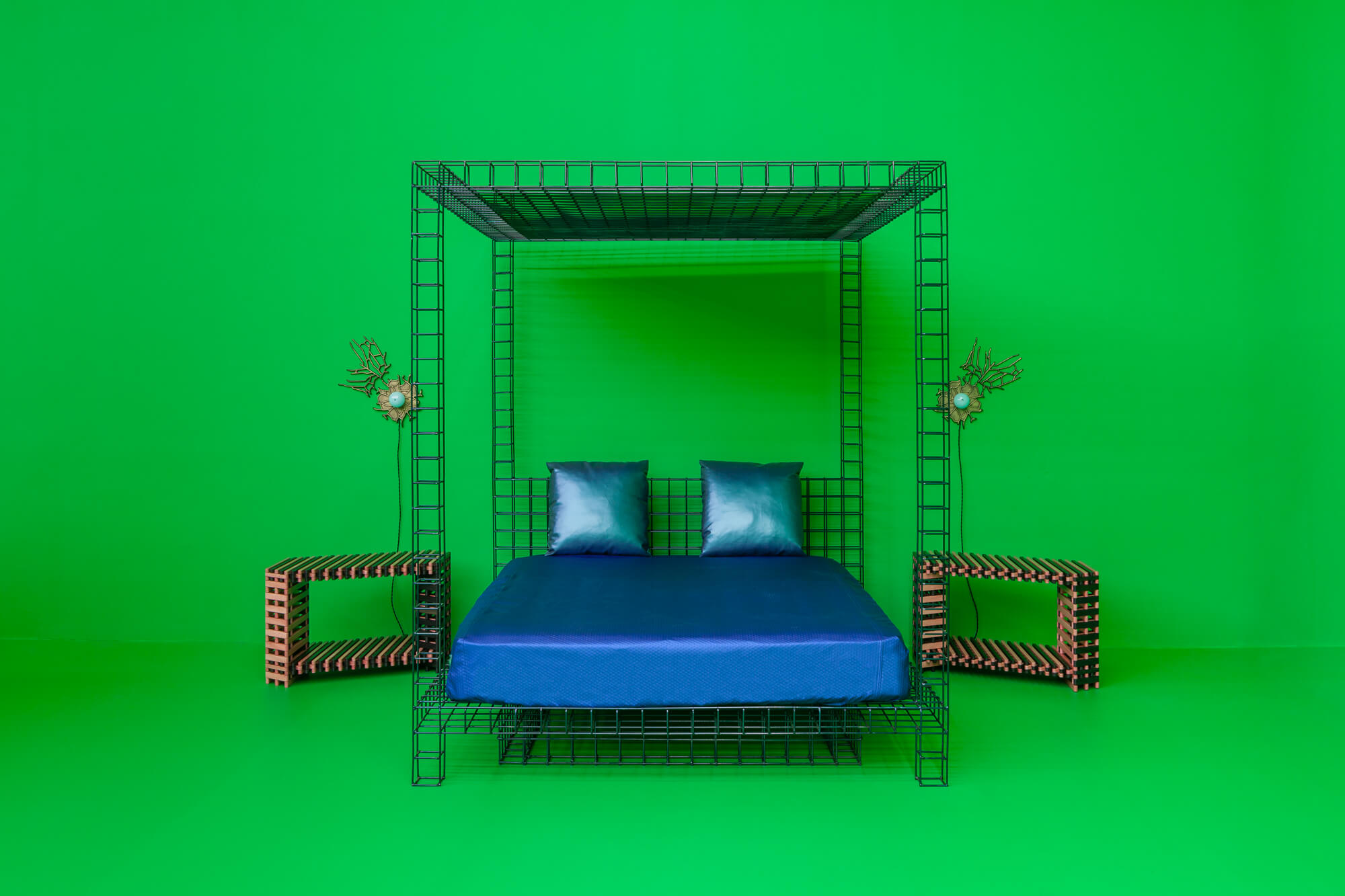 With much abuzz about redefined domestic interiors, New York's Swiss Institute looks to the contemporary dynamism of Felix Burrichter for its second Annual Architecture and Design Series. Emulating Le Corbusier's modernist push for the future – mounting his own 1925 Paris Exposition des Arts Décoratifs showcase of the same name – Pavillon De L'Esprit Nouveau: A 21st Century Show Home brings together a eclectic yet intrinsically-linked group of 30 international artists and designers. All limited or serial production pieces on view have been created with materials or techniques devised this century: laser cutting, 3D-printing, LED-tech, non-woven textiles and carbon fibre.
Carbon Frog Chair by Piero Lissoni and Paul Kopkau joins Studio Drift's Fragile Future dandelion seed lamp while Konstantin Grcic's Emboss Fabric covers RO/LU's Four Poster Bed, Ian Stell's transformable Sidewinder Tables are topped by Lindsey Adelman's Marina Scones. Nearby, an Elisa StrozykReflecting Blue wooden carpet lays next to Robert Stadler's Cut_Paste#1 sideboard. The list of cutting-edge to recognised talents-cum-brands doesn't stop there: Designtex, Joris Laarman, Max Lamb, Kram/Weisshaar, Philippe Malouin, Jasper Morrison, Jonathan Muecke, Christian Wassmann, Patricia Urquiola, Rossi and Bianchi to name but a few.
Within the overall context of the semi-virtual, semi-haptic 'green-screen'studio-like exhibition, strategically composed domestic spheres are delineated with holistic titles such as  'Serenity Gateway,' Communal Soul Collation Center and Synergy Station. Scenographer Shawn Maximo seamlessly integrates cameras and screens through these blended spaces, immersing visitors into Chroma key-generated interiors. All components come together to pose
commentary on a our culture of digital escapism and surveillance.
Le Corbusier employed the context of a trade fair to introduce his revolutionary ideas of standardisation, mass production and 'mechanised' homes as a 1925 manifesto, that reverberated for decades. Burrichter recalibrates this celebrated model for current conditions, suggesting a future where craft cohabitates with computational-expertise. Though the question of his Pavillon De L'Esprit Nouveau's impact remains to be seen, the curator's hands are truly at play here.
Pavillon De L'Esprit Nouveau: a 21st Century Show Home runs till 8 November at Swiss Institute: 18 Wooster St. New York
Related Exhibitions