Harald Szeemann | Grandfather: A Pioneer Like Us | Mousse
Aug 06 2019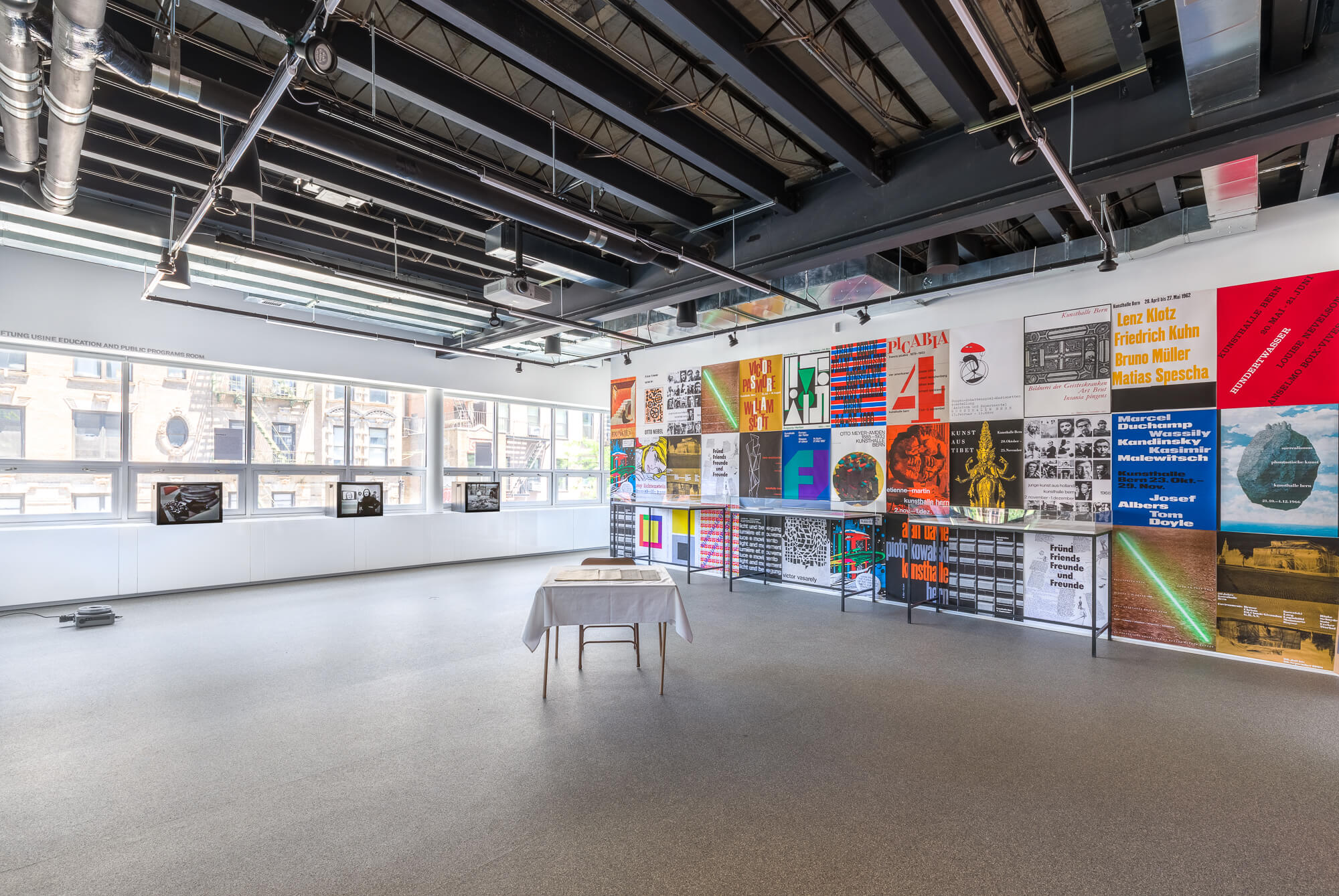 It is said that his influence is so far-reaching and present in every aspect of contemporary art curating, and in the field of contemporary art in general, that even the proliferation of tote bags from art institutions and art events can be attributed to Harald Szeemann (b. Bern, 1933; d. Tegna, Switzerland, 2005). Szeemann kept his boarding passes from all his travels. This collection was displayed as part of the traveling retrospective Harald Szeemann: Museum of Obsessions (2018), organized by the Getty Research Institute in Los Angeles, which has been for some years the owner of Szeemann's elaborate archive.
That gesture of keeping the sleeves of travel marks the curator of contemporary art as someone on the move. In this, Szeemann is thought to formulate curating horizontally, in a network, which sets it apart from the field of art history from which it originates, as that field takes its vertical discourse of surface and depth from archaeology. Szeemann is regarded as the model of the contemporary art curator—especially what is called an "independent curator"—and his more than twenty-four thousand archived dossiers on artists and others can be perceived as a precursor to e-flux.com, or even the widespread trope curators are usually accused of: name-dropping.
The traveling restaging of the exhibition Grandfather: A Pioneer Like Us, which Szeemann curated in 1974 in his apartment on Gerechtigkeitsgasse 74, in Bern—which in turn became Galerie Toni Gerber—is now on view at Swiss Institute in New York. Following the exhibition Live in Your Head: When Attitudes Become Form (1969), which led to his leaving his position at the Kunsthalle Bern, and after his falling out with artists and bureaucrats following documenta 5: Questioning Reality—Pictorial Worlds Today (1972), Szeemann, now self-employed, staged the encyclopedic and whimsical Grandfather with a collection of various objects and inventions made or owned by his paternal grandfather, Étienne Szeemann (1873–1971), an inventive hairdresser.
The meticulous seven-year research for this restaging involved forensic art history, as curator Glenn Phillips has described it. Phillips, curator and head of Modern and Contemporary Collections at the Getty Research Institute, curated the restaging of the original exhibition with Philipp Kaiser, together with Doris Chon and Pietro Rigolo, and with the teams of the hosting partners. In the past few years, Grandfather has been exhibited at the ICA Los Angeles, in its original site in Bern, at Kunsthalle Düsseldorf, and at Castello di Rivoli, Turin. In addition, Szeemann's When Attitudes Become Form has been famously restaged by Fondazione Prada in Ca' Corner della Regina, Venice, in 2013. Notable retrospectives for other curators in recent years include Oscar Masotta: Theory as Action (2018) at MACBA, Barcelona; Magic Bureaucracy: Måns Wrange(2017–18) at Tensta Konsthall Stockholm; Seth Siegelaub: Beyond Conceptual Art (2015–16) at the Stedelijk Museum, Amsterdam; and For a Public Museum: Tribute to Walter Zanini (2014) at Museu de Arte Contemporânea da Universidade de São Paulo.
But Szeemann still stands almost alone as a model of contemporary art curating. With that in mind,Grandfather's restaging connects—maybe unintentionally—contemporary art curating to notions of fine art that presumably are long gone. Idiosyncratic, utterly original, an eccentric maverick, even "larger than life"— somehow with contemporary art curating it is considered almost natural to make it a personality-driven practice, for which Szeemann provides an emblematic figure.
Working on the cusp of the post-1968 new spirit of capitalism, Szeemann embodies the embrace of horizontality, creativity, spontaneity, and newness that communicative capitalism was able to deploy as a form of individualized radicalism. This is what Szeemann called "attitude" in his 1969 exhibition. "Personal mythology" was his later phrasing. And here lies Grandfather's meaning for us, because Szeemann's personal mythology has long been institutionalized by private collections and museums, and professionalized by curatorial studies programs, to the extent that it defines contemporary art curating to a large extent.
Therefore, the total impression that the poetic register of Grandfather aims to convey communicates the character of Szeemann's grandfather, but it also transmits Szeemann himself as our grandfather. On the level of meaning, hair styling is made to resemble curating here as threads are brought together to convey movement—attitudes become form. On the level of display, the curatorial methodology here combines the period room of the historical museum or historical association with a film set or theater stage—years later Szeemann who was educated in theater, would write a manifesto of sorts, "To Stage is to Love."1
The reconstruction of the original apartment exhibition is broken down into two floors at the Swiss Institute, with the Education and Public Programs Room on the top floor focusing on When Attitudes Become Formand documenta 5, together with an array of archival materials, videos, and slideshows. Grandfather is made up of six sections: family tree; Grandmother (Leontine); roots in the Austro-Hungarian Empire; Bern, and Switzerland; professional life; Grandfather's relationship with money; role models; grandparents' apartment; Grandfather's contribution to the triumph of beauty; and what others have said.
We see a Chihuahua that was owned by the grandparents, in the form of the Victorian art of taxidermy. The imperial touch is present in the opera wigs Étienne designed: facing the fireplace and mirror is a wigged wax mannequin with a metal sailboat on its head, the triumph of beauty. This piece brings to mind Madame Tussaud's ancien régime and antirevolutionary wax modeling of many decapitated figures (a trade she learned in Bern!). Étienne's hero was François Marcel, who invented the curling iron in 1872. Étienne invented his own technique for creating waves in women's hair. His contraption, a permanent-wave machine that looks like a torture device or a mix of Warhol's electric chair and a Calder mobile, sits in the apartment like a personal allusion to curating.
The restoration of objects for the restaging involved their preservation and stabilization to bring them to their 1974 condition. These terms which are supposedly technical, play out as the meaning of the exhibition itself. When one learns that Étienne Szeemann served in the Austro-Hungarian army, and that he was active in the Austro-Hungarian community in Bern, and was involved in fundraising for Bern-based families of men who went to fight for the Austro-Hungarian empire, and was fascinated by World War I, and also infatuated by currencies and stocks (mainly for their decorative value), one is tempted to see both his visionary attempts at hair design and wig making and his grandson's curatorial practice, as forms of Austro-Hungarian avant-garde.
Marjorie Perloff has argued that the Austro-Hungarian avant-garde around the Great War was different from Dada, Constructivism, Surrealism and Futurism because it avoided the revolutionary drive and chose instead only slight deviations while maintaining an illusion of formal continuity—if we think of Franz Kafka, Sigmund Freud, Paul Celan, Karl Kraus, Ludwig Wittgenstein, Oskar Kokoschka or Adolph Loos and his raumplan, their variations of continuity existed in an inverse relation to the reality experienced by subjects of the Austro-Hungarian Empire, which was crumbling into fragments of new nation-states. This was in opposition to the situation in Germany, Italy, France, and England, where formal deconstruction, collage, and montage were the style of the avant-garde.2 Szeemann famously commissioned a construction of the torture machine from Kafka's In the Penal Colony (1919) for his Bachelor Machines exhibition a year after Grandfather (Kunsthalle Bern, Venice Biennale, Société des Expositions du Palais des Beaux-Arts Bruxelles, Städtische Kunsthalle Düsseldorf, Union Centrale des Arts Décoratifs Paris, Musée de l'Homme et de l'Industrie Le Creusot, Malmö Konsthall, Stedelijk Museum Amsterdam, 1975–77). So assembly and reconstruction are leitmotifs of this specific avant-garde, which we can find traces of in Étienne's and Harald's work. But the subtitle, A Pioneer Like Us, suggests yet another formation that Szeemann's legacy relates to. The Austrian school of economics, which also came out of the crumbling empire, seems to provide, as well, an entry point to Szeemann's proposition. Economists like Ludwig von Mises and Friedrich von Hayek put forth a model of global institutions as part of their introduction of neoliberal economics. Quinn Slobodian has shown how their model of reconstruction in the aftermath of the Austro-Hungarian Empire laid the foundations for contemporary globalization—with their followers controlling the United Nations Secretariat for Tariffs and Trade in Geneva (and later on the World Trade Organization).3 Walking around Grandfather, Szeemann's curatorial proposition acts out the aristocratic origins of liberty. Szeemann is our grandfather, and indeed a pioneer. At this moment, exactly when the position of independent curator seems unsustainable, the whole exhibition operates as a shrine to the freelance curator.
by Joshua Simon
[1] See: Harald Szeemann, "To Stage is to Love"(1991), In: Doris Chon, Glenn Phillips, Pietro Rigolo (eds.),  Harald Szeemann: Selected Writings, Translated by: Jonathan Blower and Elizabeth Tucker (Los Angeles: The Getty Research Institute, 2018), 346-47.
[2] Marjorie Perloff, "Avant-Garde in a Different Key: Karl Kraus's The Last Days of Mankind," Critical Inquiry 40, no. 2 (Winter 2014): 311–38.
[3] Quinn Slobodian, Globalists: The End of Empire and the Birth of Neoliberalism (Cambridge, MA: Harvard University Press, 2018), 104–20.
Related Exhibitions