Swiss In situ | Christina Forrer: Grappling Hold
Mar 29 -
Apr 23 2017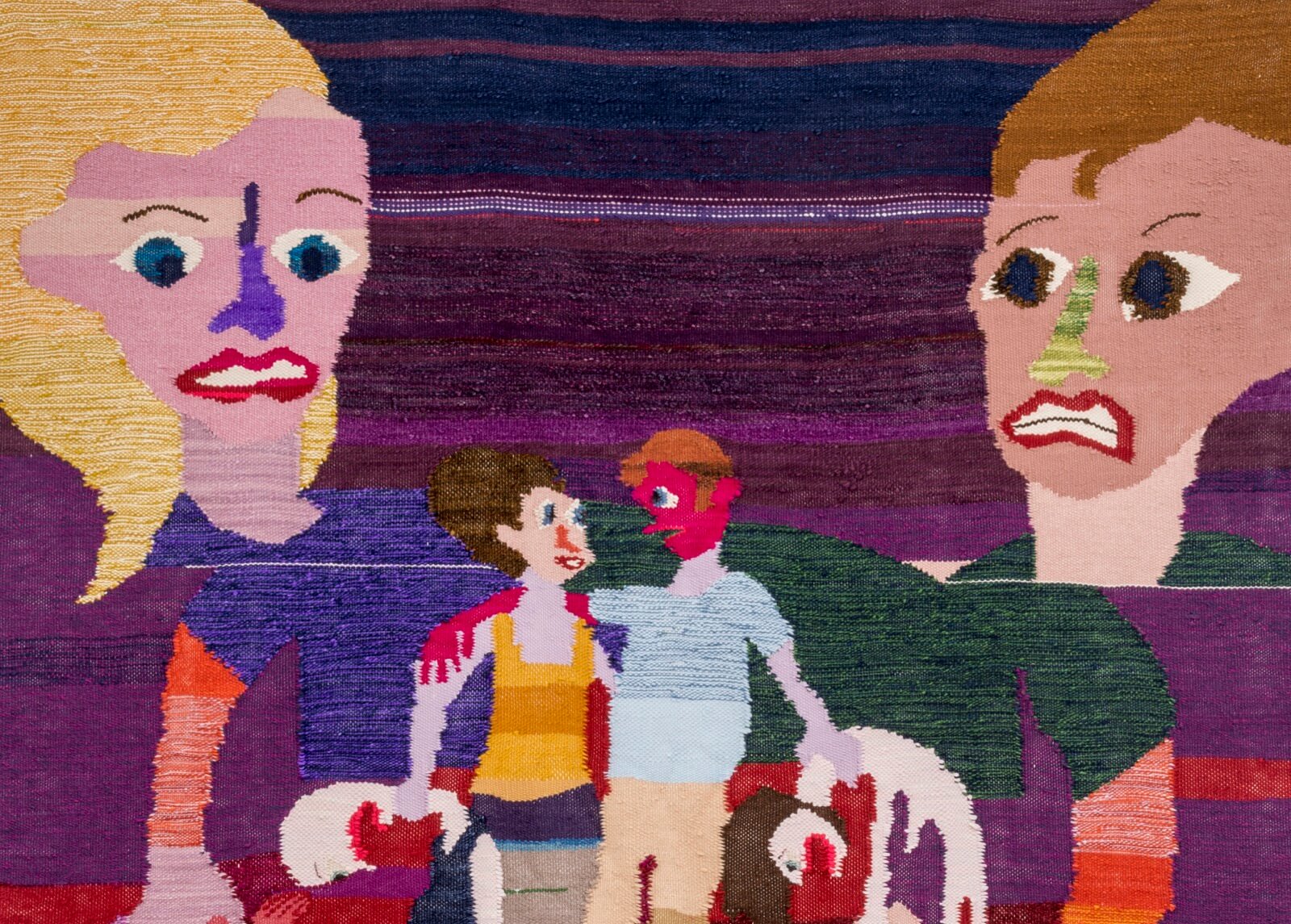 Opening Reception: March 28,  6-8PM
Christina Forrer's tapestries are disquieting scenes in which naïve, wide-eyed figures are depicted in emotionally fraught situations and cartoonish conflicts. For Grappling Hold, the Swiss artist's first institutional solo exhibition, Forrer has created several newly commissioned works that vividly illustrate anxieties and violent struggles.
Forrer's textiles pay homage to the work of German painter Ernst Ludwig Kirchner (1880-1938) and in particular, the luminously hued tapestries he made in collaboration with the Swiss artist Lise Gujer (1893-1967). In her depictions of brutality, however, they also draw from the unflinchingly dark works made by Swedish textile artist Hannah Ryggen (1894-1970), known for her woven responses to the horrors of fascism. This balance of light and dark, warp and weft, is reflected in the title of the exhibition, Grappling Hold, a wrestling term for grips, pins, locks and other forms of fighting holds, which may also summon a clinging embrace.
The exhibition continues Forrer's exploration of the weave itself as a structure that holds and pulls imagery in and out of shape. The artist articulates warring bodies so that they appear tugged and wrenched by the structure underlying the weave, as though tensions in the atmosphere could be experienced literally. In one work, a dysfunctional lineage of bodies gives form to psychologically inherited conflicts that run through generations. In this hysteric image, individuals casually strangle the generations beneath them, perpetuating legacies of hostility and violence with exaggerated absurdity. In another piece, a long row of figures, all facing in the same direction, watch the same unseen event, aghast. Their expressions, at once wild, comical, dumbfounded and horrified, are nonetheless all caught in the glare of a spectacle.
The exhibition finds an allegorical mascot in the form of a 19th century wooden children's toy, which Forrer selected from the collection of the Winterthur Museum in Delaware. The toy features two back-to-back figures connected by the hands, who must move together, bound eternally.
Christina Forrer (b. 1978, Zurich) lives and works in Los Angeles. Selected solo exhibitions include Cat Lady, The Finley, Los Angeles (2016) and Christina Forrer, Grice Bench, Los Angeles (2014). Group exhibitions include Unorthodox, The Jewish Museum, New York (2015); Some Masks, Grice Bench, Los Angeles (2015); and Can't Reach Me There, Midway Contemporary, Minneapolis (2015). She is the recipient of the Rema Hort Mann Emerging Artist Grant (2014).
Special thanks to Linda Eaton, John L. & Marjorie P. McGraw Director of Collections & Senior Curator of Textiles, Winterthur Museum; and Susan Yi, Grice Bench, Los Angeles.
***
On the occasion of Swiss Institute's 30th Anniversary, SI has collaborated with Victorinox to create an artist edition Swiss Army Knife featuring a detail from Christina Forrer's In the Forest (2014). Provided in a rare special edition of 500, the Swiss Institute 30th Anniversary Swiss Army Knife by Christina Forrer will be available for sale starting March 28 at Victorinox Swiss Army's Flagship store at 99 Wooster St and at Victorinox Brand Store Rockefeller Center at 620 Fifth Ave, and online at www.victorinox.com and www.swissinstitute.net. Victorinox is a Leading Partner of Swiss Institute's 30th Anniversary and a generous supporter of our exhibitions and programs. Victorinox's deep commitment to craft and innovation through tradition resonates with Swiss Institute's three decades of championing forward-looking and experimental art making.
Swiss Institute has temporarily relocated to a 5,000 sq ft project space at 102 Franklin Street in Tribeca, where we are presenting programming under the name Swiss In situ. Prior to moving to our new building at 38 St. Marks Place in 2017, exhibitions and public programs are focused on temporary structures – including publishing formats, social experiments and architectural forms – set against the fast-mutating landscape of downtown Manhattan. Expanding upon the success of Swiss Institute's ONE FOR ALL series, which offered emerging artists a first institutional exhibition in the US, Swiss In situ presents new systems of research and production to New York audiences.
SWISS INSTITUTE PROGRAMMING IS MADE POSSIBLE IN PART WITH PUBLIC FUNDS FROM PRO HELVETIA, SWISS ARTS COUNCIL, THE NEW YORK STATE COUNCIL ON THE ARTS, WITH THE SUPPORT OF GOVERNOR ANDREW CUOMO AND THE NEW YORK STATE LEGISLATURE, AND THE NEW YORK CITY DEPARTMENT OF CULTURAL AFFAIRS IN PARTNERSHIP WITH THE CITY COUNCIL. MAIN SPONSORS INCLUDE LUMA FOUNDATION, THE ANDY WARHOL FOUNDATION FOR THE VISUAL ARTS, AND FRIENDS OF SI, 30th ANNIVERSARY LEADING PARTNERS INCLUDE UBS AND VICTORINOX. SWISS INSTITUTE GRATEFULLY ACKNOWLEDGES STELLA ARTOIS AS BENEFACTOR, SWISS RE AS PUBLIC PROGRAMS SPONSOR, VITRA AS DESIGN PARTNER, SWISS AS TRAVEL PARTNER AND UOVO FINE ART AS RELOCATION PARTNER. THANKS TO GRICE BENCH FOR THEIR GENEROUS SUPPORT.
Image: Christina Forrer, Detail of Gebunden, 2017. Courtesy of the artist. Photo by Joshua White.
Related
SI x Victorinox Swiss Army x Christina Forrer | Swiss Institute 30th Anniversary Swiss Army Knife
Related Events
Press