SI Reading Room | Julia Tcharfas and Tim Ivison: Science of Rehearsal
Sep 19 -
Dec 02 2018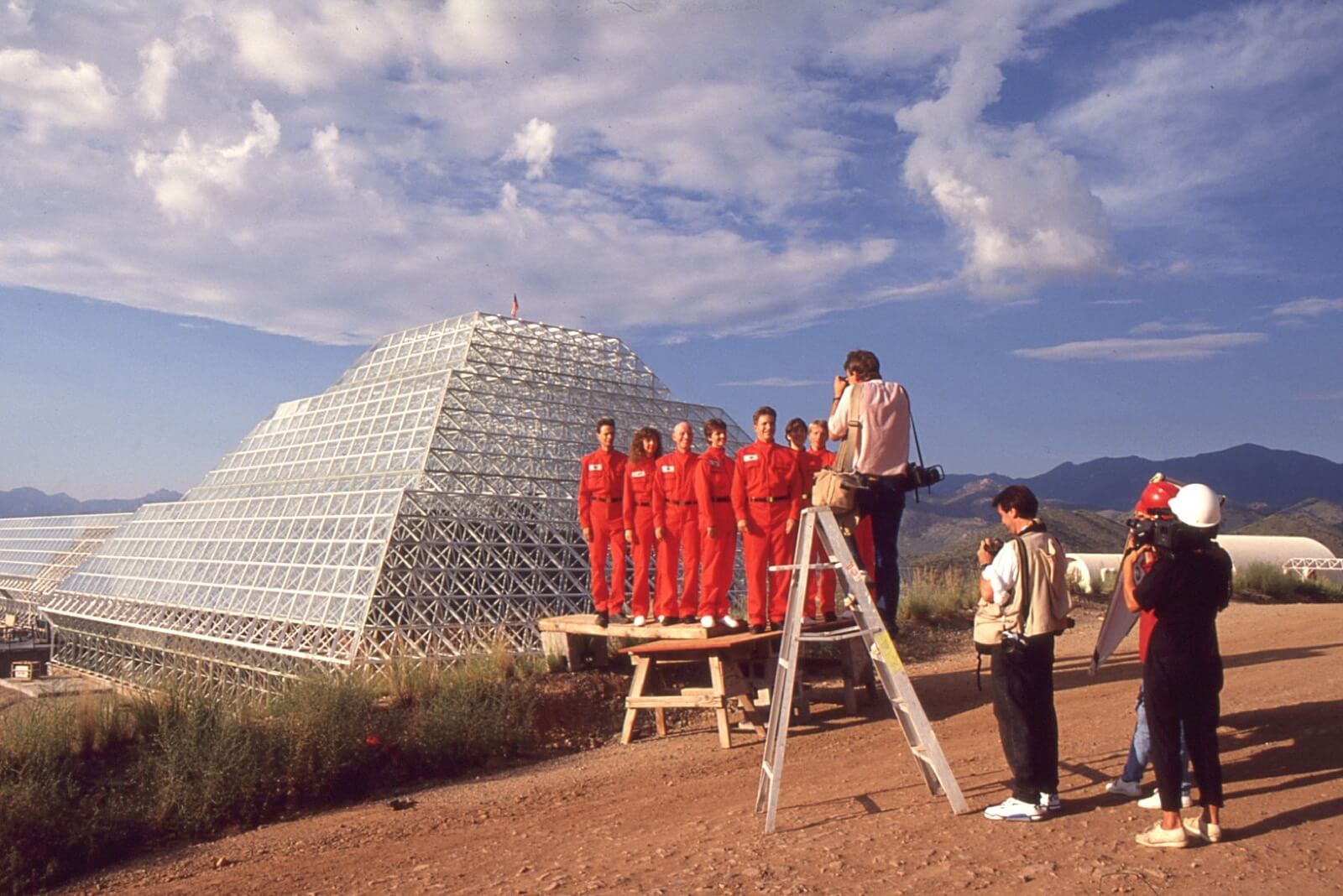 Swiss Institute is delighted to announce the second Reading Room exhibition, Science of Rehearsal, conceived by artist and curator Julia Tcharfas and academic Tim Ivison. For Science of Rehearsal, Tcharfas and Ivison have assembled materials from the archives of the Theater of All Possibilities and the Institute of Ecotechnics, drawing connections between their practices through careful juxtaposition of photographs, documents, and objects. 
Members of the Theater of All Possibilities and the Institute of Ecotechnics are perhaps best known for their various roles in the first two missions carried out in Biosphere 2 (1991-94), the largest and most complex closed-system ecological facility ever built. Originally designed to model the adaptive performance of living systems, the structure contained seven interconnected ecological biomes supported by a vast technical apparatus. In the first mission, eight crewmembers lived for two years within the enclosure, growing, harvesting and cooking their own food, and thereby testing the scientific and sociological possibilities for human life inside biospheres on other planets or in alternative atmospheric conditions.  
Although the Theater and the Institute have addressed distinct artistic and academic communities through their institutional projects, Science of Rehearsal underlines the common framework of performance, rehearsal, training, experiment and improvisation inherent to both. Bringing together zines, photographs, biospherian suits and data reports, fantastical theater costumes and handwritten notes, Ivison and Tcharfas animate the links between art, literature, performance and community in the development of a technoculture able to confront contemporary ecological conditions.
About Julia Tcharfas, Tim Ivison, the Theater of All Possibilities and the Institute for Ecotechnics
Julia Tcharfas is an artist and curator based in Los Angeles. Her research draws on materials from modern scientific and technological folklore and often engages with design and performance of artificial natures. A profile about her practice is featured in the Swiss Institute's 'SI: Visions' video series. Tcharfas is the founder of Before Present in Los Angeles and has recently exhibited work in Project 1049, Gstaad; Transformation Marathon, Serpentine Gallery, London; and Fluent Gallery, Santander.
Tim Ivison is an interdisciplinary scholar working on the political ecology of modern cities and urban planning. He teaches in both Liberal Arts and History + Theory at SCI-Arc and in the department of Humanities and Sciences at Art Center College of Design. Recent collaborations with the artist Julia Tcharfas include 710; Operations Theater; and T.E.O.T.W.A.W.K.I. at Before Present, Los Angeles.
Founded in 1973, the Institute of Ecotechnics USA/UK (IE) saw the urgency of developing new ways of accomplishing human needs while restoring and enriching local ecosystems. IE consults to a series of ongoing field projects in challenging environments and cultural contexts, including tropical rainforest (Las Casas de la Selva, Puerto Rico), world ocean (RV Heraclitus), tropical savannah (Birdwood Downs in West Australia), Mediterranean (Les Marronniers in Aix-en-Provence, France) and world city (October Gallery in London). IE broke barriers of specialization by organizing more than two dozen international conferences, inviting leading scientists, artists, explorers and thinkers. IE was scientific coordinator for the innovative laboratory of ecology, the famed Biosphere 2 project in Tucson, Arizona.
Founded in 1967, Theater of All Possibilities (TAP) toured internationally for twenty-two years. TAP founded ten studios based on the practice of organic realism, in projects worldwide, such as the Blue Planet Ensemble on the Research Vessel Heraclitus, Naga Theater at Hotel Vajra, Kathmandu, and Studio VIII at the October Gallery, London. TAP expanded the notion of theater from the stage to the world stage, seeing theater as a model history in the simulation of decision processes.
Special thanks to the Theater of All Possibilities, Institute of Ecotechnics, Research Vessel Heraclitus, Synergetic Press, and the Center for Land Use Interpretation.
Exhibition Script: Science of Rehearsal, 2018
***
SI Programming is made possible in part with public funds from Pro Helvetia, Swiss Arts Council; the New York State Council on the Arts, with the support of Governor Andrew Cuomo and the New York State Legislature; and the New York City Department of Cultural Affairs in partnership with the City Council. Main sponsors include the LUMA Foundation and Friends of SI. SI gratefully acknowledges its benefactors UBS and Stella Artois, Swiss Re as SI ONSITE Partner, Vitra as Design Partner, and SWISS as Travel Partner.
Image:  Space Biospheres Ventures, 1991.