SI OFFSITE | Abigail Reyes: QUESTIONS
Nov 18 2021 -
May 18 2022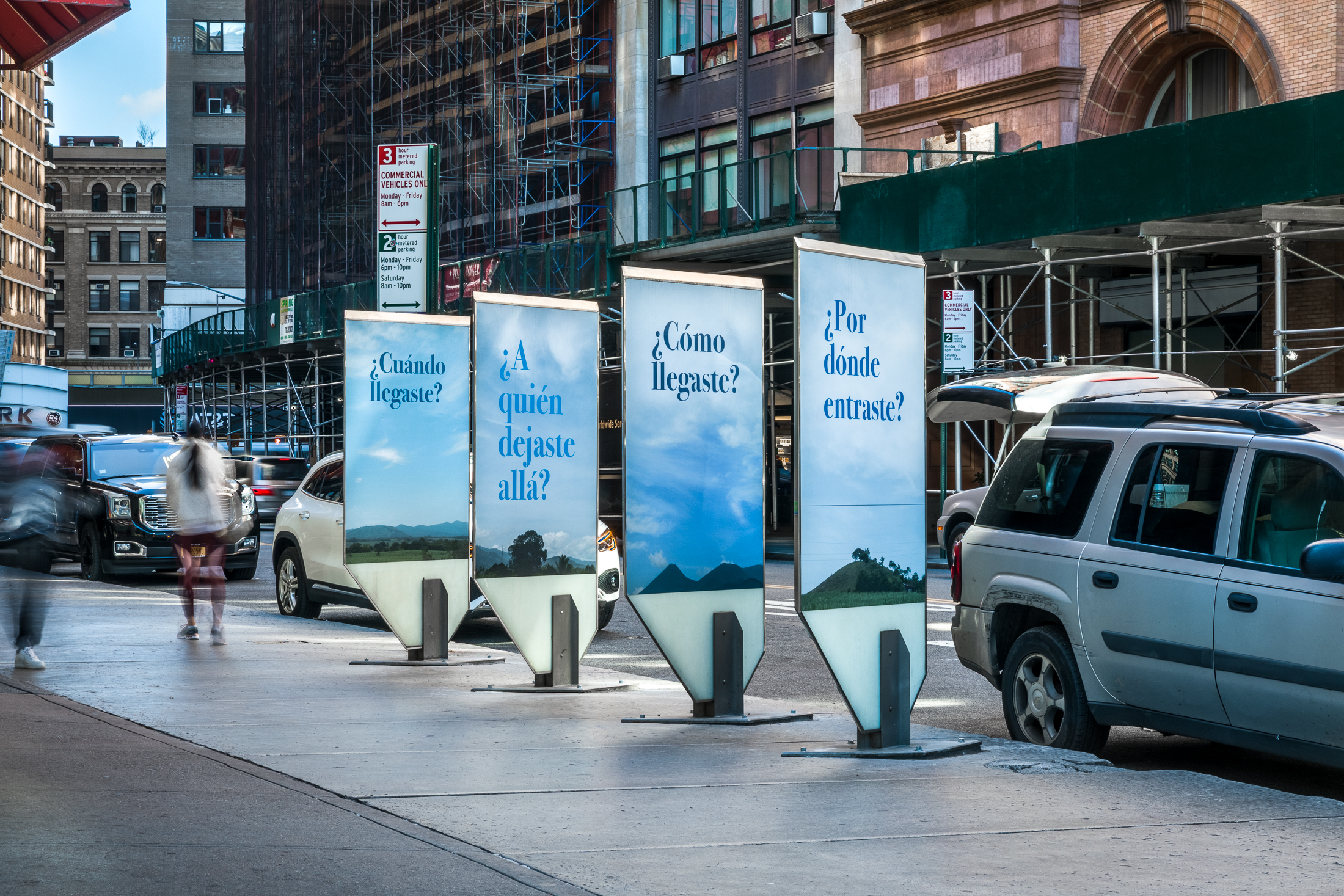 Swiss Institute, in partnership with the Village Alliance and the New York City Department of Transportation's Art Program, presents QUESTIONS, an Art Display Case installation by Abigail Reyes in Astor Place (between Broadway and Lafayette, in front of 20 Astor Pl).The site is located a few blocks from SI's gallery at 38 St Marks Pl, extending SI's program into the neighboring Cooper Union and Astor Place community. Reyes's project considers journeys and migration, making the work conceptually relevant to its location above the subway station that has historically acted as a gateway onto the cultural life of the East Village.
Where are you going?
Who did you leave there?
We're not waiting for you.
Depending on who is saying them in what context, these brief questions or statements regarding transit can create or reveal a power relation. For Reyes, these phrases point towards questions of origin, starting points, and senses of belonging to geographical or symbolic places. Spoken by different individuals – customs officers, migration officers, people we know, people we don't know – the phrases are burdened with social and political implications, dreams and aspirations, the search for a better life in another country.
Reyes took the photographs for this project on the CA-2 road in El Salvador in July-August 2021. This road connects El Salvador with other Central American countries and is one of the main paths that immigrants take to leave the country. The phrases are made using the colors of the national flags of Central American countries, which all contain blue and white. Reyes writes: "My purpose is to reflect on the paths that undocumented people take to get to the United States of America, to New York City, to Astor Place. I want to examine the ways in which Central Americans migrate, and it is my hope that immigrants will read the posters and recognize their own experiences in the words."
Video by Ieva Lygnugaryte.
This project is made possible in part through the SI Annual Exhibition Fund and the kind support of Robert S. Wennett and Mario Cader-Frech. Swiss Institute additionally wishes to thank Clarice O. Tavares and our partners, the Village Alliance and the New York City Department of Transportation's Art Program. 


About Abigail Reyes
Abigail Reyes (b. 1984, San Salvador) is a visual artist who lives and works in La Libertad, El Salvador. She studied graphic design at Don Bosco University in El Salvador. She has had solo exhibitions at MARTE Museum (El Salvador), Lokkus Contemporary Art Gallery (Colombia), Xtra Gallery (Guatemala), Manzanita Hall Gallery, California State University, Northridge, Los Angeles (United States), and Museum of Art and Design (Costa Rica), among others. She has had participated in group exhibitions at Museo Jumex (Mexico), Palais de Tokyo (Paris), Sies + Höke Gallery (Germany), Städtisches Galerie Wolfsburg (Germany), Taimiao Art Gallery (Beijing), Cinema Tonalá (Colombia), Teoretica (Costa Rica) and Lokkus Gallery (Colombia), among others. She was a selected artist for X America Biennale in 2016. She has been awarded the Y.ES Contemporary Prize for production and travel, and has participated in artist residencies in Brazil, Honduras, Nicaragua and El Salvador. In 2019, Abigail Reyes was the inaugural participant in SI's annual Clarice O. Tavares Residency for artists currently working in Latin America.
About Astor Place
Astor Place is the crossroads of the East and West Village, the nexus of an exciting, young, vibrant artistic community. Astor Place houses two public plazas that showcase live music, parades, interactive arts and other community-building programming. The Plazas are maintained by the Village Alliance. The Alliance provides supplemental public safety and sanitation services, landscaping and beautification, economic development and community revitalization initiatives.
About the Village Alliance  
The Village Alliance, a business improvement district (BID), has proved itself to be a leading advocate for the Village community for nearly thirty years. The Alliance works to keep the area safe, clean and beautiful by providing programming, maintenance, public safety and landscaping to 44 blocks in Central Greenwich Village. The BID works with businesses, residents and cultural and academic institutions to drive economic growth. For more information, visit https://greenwichvillage.nyc/about-us/what-we-do/.
About the NYCDOT Art Program
The New York City Department of Transportation's Art Program (DOT Art) partners with community-based, nonprofit organizations and professional artists to present temporary public art on NYC DOT property throughout the five boroughs for up to eleven months. Artists transform streets with colorful murals, dynamic projections and eye-catching sculptures. Sidewalks, fences, triangles, medians, bridges, jersey barriers, step streets, public plazas and pedestrianized spaces serve as canvases and foundations for temporary art. Over the past 12 years, DOT Art has produced over 300 temporary artworks citywide. For more information, visit www.nyc.gov/dotart @nyc_DOT, @nyc_DOTArt.