Julien Nguyen: Evil In The Defense of The Good
Sep 19 -
Nov 11 2018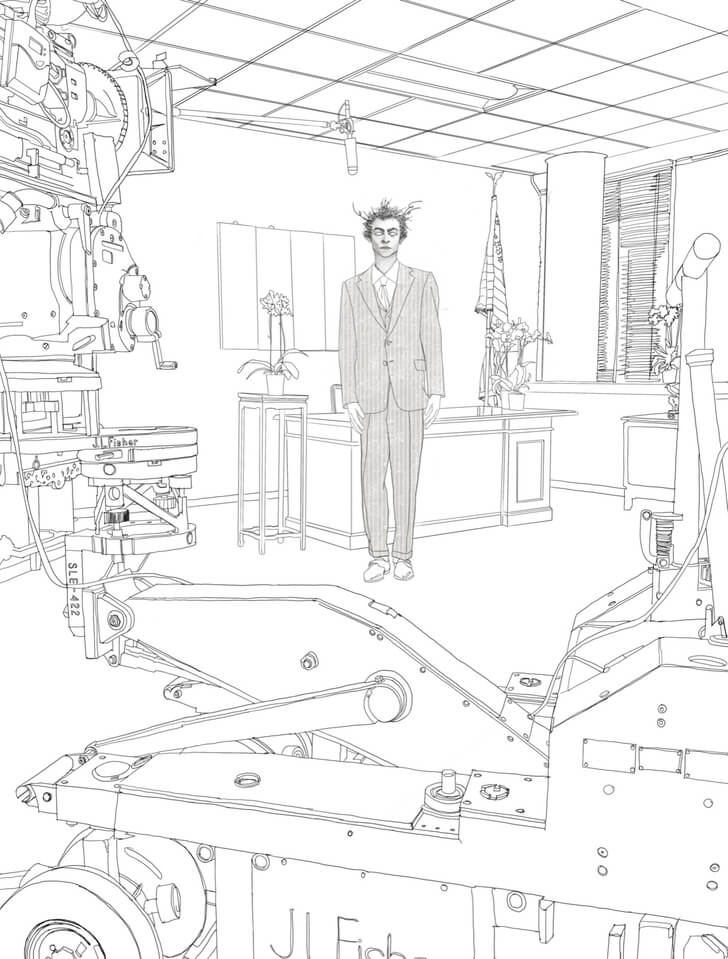 Swiss Institute is pleased to present Evil In The Defense of The Good, Julien Nguyen's first institutional solo exhibition in the United States. Nguyen's painting practice is at once referential and intensely personal, employing pre-16th century technique to subject matter that ranges from Renaissance architecture to artificial intelligence to the films of Kathryn Bigelow. Often populated by slender and chimeric bodies that oscillate between the historical and the speculative, Nguyen's paintings pit familiar forms against one another to produce preternatural tableaus. In this exhibition, Nguyen furthers these inquiries with a new commission, his first significant moving image work.
The video, Spiritus Mundi, is a reenactment of a scene from the director's cut of Oliver Stone's 1995 biopic Nixon, in which former US President Richard Nixon and then-Director of Central Intelligence Richard Helms leverage one another in a terse power struggle. What begins as a strategic negotiation of funding and rank escalates into an ominous rumination on geopolitics, hubris, mortality and corruption. Over two decades later, Nguyen's reinterpretation sees the roles of Nixon and Helms recast with friends from his life in Los Angeles. Alaia Parhizi, a 23 year-old Swiss artist of Persian descent, plays Richard Nixon. Aidan Nelson, a 20 year-old entrepreneur and actor from San Diego, who along with Parhizi runs the art-and-music venue Wönzimer, plays Richard Helms. Austin Norman, also 20 and originally from Palm Springs, plays Nixon's much aggrieved aide, Deputy Director of the CIA and Lieutenant General in the Marine Corps, Robert Cushman. Costumed in a distorted approximation of political dress, and set in an Orientalist office, these attractive, vampiric young men inhabit their positions through a strange and darkly humorous role-play, grappling with a history that lies just beyond the brink of comprehension.
Two paintings of Nguyen's actors hang in the gallery. The artist depicts his subjects as muses in repose, out of costume, in varying states of wakefulness and dress.
About Julien Nguyen
Julien Nguyen (b. 1990) lives and works in Los Angeles. He completed his undergraduate degree at Rhode Island School of Design, Providence, (2012), and subsequently received his Meisterschulle from Staatliche Hochschule für Bildende Künste, Städelschule, Frankfurt (2015). His work has been the subject of a solo exhibition at Kunstverein Munich, Munich, Germany (2014); and has been included in group exhibitions such as the 2017 Whitney Biennial, Whitney Museum of American Art, New York, NY, USA (2017); Parked like serious oysters, MMK, Frankfurt, Germany (2015); and Lost Boys, Glucksman Gallery, Cork, Ireland (2013).
Evil In The Defense of The Good is made possible through the generous support of Richard Chang and DOMUS Collection. Special thanks to Sebastian Mlynarski of View with a Room.
***
SI Programming is made possible in part with public funds from Pro Helvetia, Swiss Arts Council; the New York State Council on the Arts, with the support of Governor Andrew Cuomo and the New York State Legislature; and the New York City Department of Cultural Affairs in partnership with the City Council. Main sponsors include the LUMA Foundation and Friends of SI. SI gratefully acknowledges its benefactors UBS and Stella Artois, Swiss Re as SI ONSITE Partner, Vitra as Design Partner, and SWISS as Travel Partner.
Press Contacts:
Nadine Johnson, Nadine@NadineJohnson.com
Evan Lenox, Evan@NadineJohnson.com
212-228-5555
Related Events
Press