Dec 13 2023
These Seasons | Adjoa Armah: Atlantic Marginalia
Wed | 7PM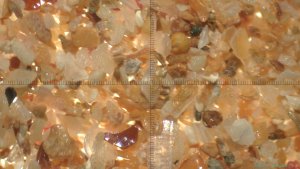 For the last These Seasons installment of the year, please join us for an immersive performance-lecture by artist, writer, archivist and scholar Adjoa Armah. Armah will extend her ongoing research into what she terms "Atlantic Marginalia." Applying ideas developed from the Ghanaian coastline to the East Coast of the United States, Armah makes tentative steps into consolidating the circum-Atlantic perspective that this work, concerned with African diaspora history and epistemology, insists on. Atlantic Marginalia are innumerable; they form unstable ground; they are found at points of contact between land and water, as simple as any speck of sand on any of the beaches that connects the African diaspora. Atlantic Marginalia is always composite and potentially transformative, the things we build with, simultaneously particular and universal. Through this performance-lecture, Armah shares a series of narrative vignettes, spatiotemporal reflections, and material remnants of her research and artistic interests.
These Seasons is an ongoing transdisciplinary public program that invites artists, scholars and writers to explore theories of nature, landscape, ecology, human and non-human life forms and climate action.
Please RSVP to rsvp@swissinstitute.net.
Adjoa Armah (b. 1988 Accra, Ghana) is an anti-disciplinary artist, writer, archivist and educator with a Material Anthropology and Design and Fine Arts background. 
Armah's practice is concerned with the entanglements between narrative, the archive, pedagogy, Black ontology, spatial consciousness, ethnology, and the political. 
She is currently a doctoral candidate in the DPhil programme at the Ruskin School of Art in the Fine Art Department of the University of Oxford, where she is developing responses to black thought of the New World, African historiography, spatial consciousness, the relationship between indigeneity and Blackness in Africa, and the notion of "return" in African time consciousness and Akan philosophy. 
With a focus on technology and Black ontologies, particularly the role of cartography as a colonizing technology, the possibilities of its use for liberatory aims, and the movements and transformations of Black spiritual technologies across the Atlantic, her explorations of these themes are informed by her family history and scholarly interests in the history of the Black Atlantic. 
Armah is also the founder of the archive of Ghanaian photographic negatives Saman, through which she experiments with models of institution building grounded in Akan temporalities and West African technologies of social and historical mediation. 
Through her archival work, Adjoa explores what it might mean to dwell in an archive otherwise, as praxis and an extension of the epistemological horizons in imagination. 
These ideas are explored through the mapping of the slave forts, combining this mapping with ethnographic, historical, and spiritual explorations of these sites and routes between them. 
At present, Adjoa is based out of Accra and London.
Image: The place on land "closest to nowhere" imaged under a microscope, 2022. Photo: Owen Green