Nov 03 2018
Symposium | Science of Rehearsal
Sat | 5-8:30PM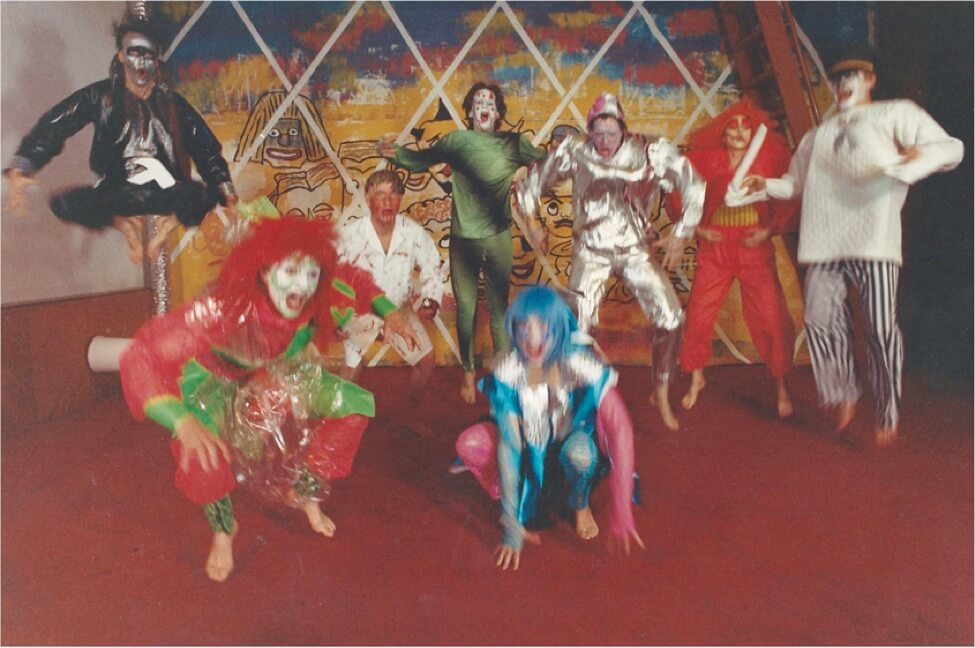 On the occasion of the SI Reading Room installation, Science of Rehearsal, please join us for an evening symposium with Ed Keller, Tim Ivison, Mark Nelson, and Julia Tcharfas.
The symposium provides a public forum to respond directly to the Reading Room exhibition and to develop many of the conceptual links between performance, ecology, and space science evident in the work of the Theater of All Possibilities and The Institute of Ecotechnics. Science of Rehearsalbrings together the material archives of these two groups, staging a dialogue between theatrical technique and scientific performance, juxtaposing casts and crews, technical infrastructure and stagecraft, performance theory with physiological and ecological research.  The majority of the materials on display, documenting decades of theater productions, oceanic expeditions, conferences, and the building of the Biosphere 2 experiment, have never been exhibited in a public institution, much less seen outside of Synergia Ranch in Santa Fe, New Mexico.
Tcharfas and Ivison will elaborate on their curatorial and artistic motivations for the  Science of Rehearsal, highlighting the extent to which live experimentation, improvisation, testing, iteration, and performance are intrinsic to both artistic and scientific practice. The symposium will be the first opportunity for the artists to discuss their research in a public dialogue with Mark Nelson, Chairman of the Institute of Ecotechnics and member of Mission 1 inside Biosphere 2. Ed Keller will share his work on Post-Planetary design, a key discourse around which the broader implications of the exhibition and its archives might be engaged.
Program
5:30PM | Introduction by SI Curator Laura McLean-Ferris
5:40PM | Archival footage from the Theater of All Possibilities
5:50PM | Act I. Julia Tcharfas on durational performances in scientific simulations
6:20PM | Act II. Mark Nelson on Biosphere 2
6:50PM | Intermission
7:00PM | Act III. Tim Ivison on complexity and cybernetics inside Biosphere 2
7:30PM | Act IV. Ed Keller on Post-Planetary design
8:00PM | Q&A
Please RSVP to rsvp@swissinstitute.net. Please note: events at Swiss Institute are limited capacity, and entry is on a first-come, first-served basis.
Julia Tcharfas is an artist and curator based in Los Angeles. Her research draws on materials from modern scientific and technological folklore and often engages with design and performance of artificial natures. A profile about her practice is featured in the Swiss Institute's 'SI: Visions' video series. Tcharfas is the founder of Before Present in Los Angeles and has recently exhibited work in Project 1049, Gstaad; Transformation Marathon, Serpentine Gallery, London; and Fluent Gallery, Santander.
Tim Ivison is an interdisciplinary scholar working on the political ecology of modern cities and urban planning. He teaches in both Liberal Arts and History + Theory at SCI-Arc and in the department of Humanities and Sciences at Art Center College of Design. Recent collaborations with the artist Julia Tcharfas include710; Operations Theater; and T.E.O.T.W.A.W.K.I. at Before Present, Los Angeles.
Dr. Mark Nelson is Chairman of the Institute of Ecotechnics and has worked for several decades in closed ecological system research, bioregenerative space life support, ecological engineering, the restoration of damaged ecosystems, desert agriculture and wastewater recycling. Dr. Nelson was a member of the eight person "biospherian" crew for the first two year closure experiment, 1991-1993, and served as Director of Space and Environmental Applications for the project. He is an Associate Editor of Life Sciences in Space Research. His books include Pushing Our Limits: Insights from Biosphere 2 (2018) and The Wastewater Gardener: Preserving the Planet One Flush at a Time (2014).
Ed Keller is the Director of the Center for Transformative Media at The New School and an Associate Professor at Parsons. With Carla Leitao, he is co-founder of Spec.AE, a speculative design practice, and AUM Studio, an architecture and new media firm with residential projects, competitions, and installations in Europe and the US. He has spoken on artificial intelligence, architecture, film, technology and ecology internationally and his current research explores the relationship between philosophy, cosmopolitics, sound design and music. His work and writing has appeared in Volume,&&&, SCHISM, EVOLO, Punctum, Praxis, A+U,  AD, Arquine, Leonardo Electronic Almanac, Wired, Metropolis, Assemblage, and Ottagono. Recent seminars at Parsons include Hive Minds, Post-Planetary Design, Designing AI, and The Radical Future of Guitar.
Image: Theater of All Possibilities, The Wrong Stuff, 1991.
Related Exhibitions