Oct 20 2021
Sculpture and Gathering | Moon Tent Celebration with Olga Balema and Ei Arakawa & Sarah Chow
Wed | 6-8PM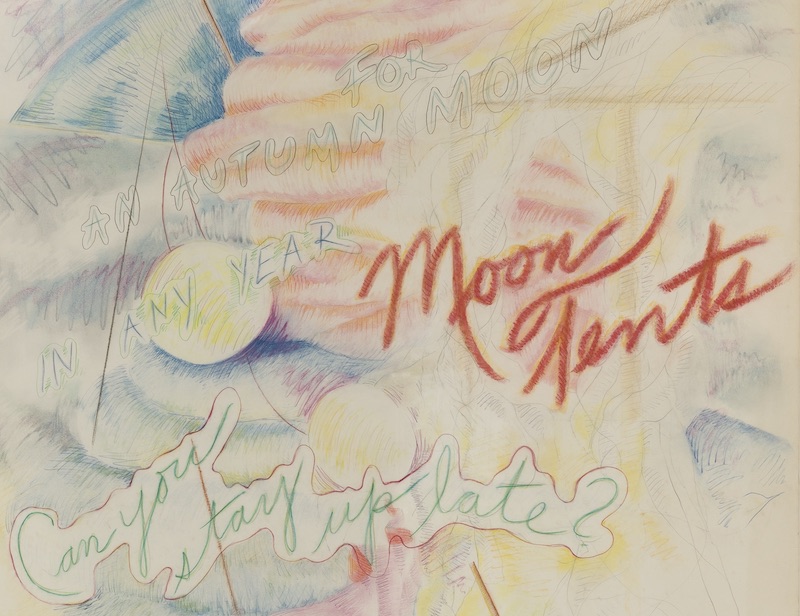 On the occasion of Rosemary Mayer: Ways of Attaching, please join us for Moon Tent Celebration, on the evening of the October full moon.
On October 2, 1982, Rosemary Mayer made a temporary monument named Moon Tent (1982) at the home of the art historian Robert Hobbs in Lansing, New York. There, she wrapped an existing rooftop gazebo with pale glassine paper and invited viewers to watch the full moon that night. The glow of the full moon was to light the paper, creating a temporary phenomenon that would disappear the next day. Mayer described it as a "ghost tent, proliferating ghosts and the ghosts of tents in changes of light." Mayer made several drawings and posters for propositional "Moon Tents," including tents for New York rooftops. For this October full moon, SI invited New York based artist Olga Balema to modify the structure on SI's rooftop, and the artist has responded with a new sculpture that will be temporarily on view. As part of the celebration, artists Ei Arakawa and Sarah Chow will co-host a nighttime picnic for the reemergence of mingling. This return to socializing will include seasonal topics of conversation. "How is your new normal?" "What do we do now?"
To RSVP, please email rsvp@swissinstitute.net. Please note: events at Swiss Institute are limited capacity, and entry is on a first-come, first-served basis. An RSVP does not guarantee entry. The event will also be livestreamed on Zoom. To register, please click here.
Olga Balema (b. 1984 in Lviv, Ukraine) is an artist who currently lives and works in New York.
Ei Arakawa (b. 1977 in Fukushima, Japan) is a performance artist based in Los Angeles and New York. His performances are created through diverse collaborations, with individuals physically participating as performers, and/or their works themselves functioning as performers. He has established the act of such collaborations as his very practice. Arakwa's selected exhibitions include; Honolulu Biennial, USA; Sculpture Project Münster, Germany; The 9th Berlin Biennale, Germany; The Gwangju Biennial, South Korea; the Whitney Biennial, New York; the Carnegie International in Pittsburgh; Tate Modern in London, and The Museum of Modern Art in New York.
Sarah Chow (b. 1988, Los Angeles, CA) is an artist who lives and works in New York. Her work focuses on painting and sculpture. She has been included in exhibitions at Moon Rehearsals at Cc Foundation and Art Centre, Shanghai (2019); Beautiful world, where are you? at The Liverpool Biennial, Liverpool (2018); and Performance People at Kunstverein für die Rheinlande und Westfalen, Düsseldorf (2018). Chow studied at New York University and received her graduate degree at Bard College in New York.
Image: Rosemary Mayer, Banner for a Full Moon Celebration, 1981, detail. Watercolor and pencil on paper. 14 1/4 x 10 1/4 in. Courtesy of the estate of Rosemary Mayer and Gordon Robichaux, New York.
Related Exhibitions