Jul 24 2015
Screening | The Dust of This Planet with Neïl Beloufa, Camille Henrot, Will Benedict / David Leonard, Alex Mackin Dolan, and Peter Wächtler, curated by Dora Budor
Fri | 7pm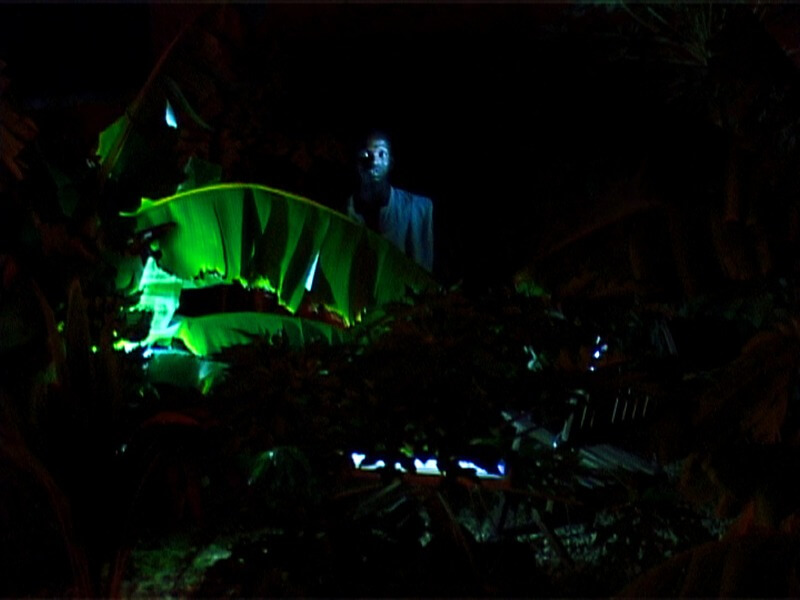 It would help my shaky nerves if I could dismiss what I now have to think of the air and the sky about and above me.
-H.P Lovecraft, "From Beyond" in The Dreams in The Witch House and Other Weird Stories
Scientists estimate that approximately 90% of the cells in the human body belong to non-human organisms, including bacteria, funghi, and a whole bestiary of other organisms. The idea that human thought is also not completely human and that the world we consider made for us is a hostile environment forms a basis of looking at our planet from an outsider perspective. Surrounded by emerging epidemics, biological catastrophes, tectonic shifts, savage hurricanes and the furtive, always looming threat of extinction, our relationship to the world-meant-for-us has become increasingly complex. The video works in this program use natural and man-made anomalies as a vehicle for fictional narratives, exploring hypothetical scenarios of unease or maybe alternate types of co-existence.
On the occasion of Spring at Swiss Institute, please join us for a screening curated by Dora Budor.
Please RSVP to rsvp@swissinstitute.net.
PROGRAM
Will Benedict and David Leonard
Toilets not Temples, 2014
HD Video, color, sound, 25' 31"
Commissioned by Bergen Kunsthall
Neïl Beloufa
Kempinski, 2007
DVD, color, sound, 14'
Courtesy the artist and François Ghebaly, Los Angeles
Camille Henrot
The Strife of Love in a Dream, 2011
Video, 11′ 40″
Production: Maharaja Films; With the support of Centre Pompidou, Musée national d'art moderne; Centre national des arts plastiques and the Mairie de Paris – Département de l'Art dans la ville. © ADAGP Camille Henrot. 
Courtesy the artist and kamel mennour, Paris
Alex Mackin Dolan
Untitled, 2015
DV, 57" x 4
Courtesy the artist
Peter Wächtler
Untitled (Heat Up the Nickel), 2013
HD Video, 11′ 57″
Courtesy the artist and dépendance, Brussels, and Reena Spaulings Fine Art, New York
Neïl Beloufa was born in 1985 in Paris. He studied at the École Nationale Supérieure des Beaux-Arts, Paris; the École Nationale Supérieure des Arts Décoratifs, Paris; California Institute of the Arts, Valencia; Cooper Union, New York; and Le Fresnoy–Studio National des Arts Contemporain, Tourcoing, France. His work has been shown in contemporary art venues as well as in film festivals. He has had solo exhibitions at the Kunstraum Innsbruck, Innsbruck, Austria (2012); the Kunsthaus Glarus, Glarus, Switzerland (2012); the Palais de Tokyo, Paris (2012); the New Museum, New York (2011); and White Box, New York (2008), among others, and has participated in numerous group exhibitions. His videos have been screened at the Toronto International Film Festival (2011); the International Film Festival Rotterdam, Rotterdam, the Netherlands (2009, 2012); and the London Film Festival (2009, 2010, 2011), and he was awarded grand prizes at the 54th and 57th Oberhausen Kurzfilmtage in Oberhausen, Germany. Beloufa has received many other honors, most recently the Audi Talent Award, Paris (2011).
Will Benedict (b. 1978 in Los Angeles, California) is an artist living and working in Paris, France. He most recently had solo exhibitions at Bortolami, New York (2015), Bergen Kunsthall, Norway (2014), Balice Hertling, Paris (2014), dépendance, Brussels (2014) and Halle für Kunst, Luneberg (2013). He has curated exhibitions at Vilma Gold, London (2014), Bortolami, New York (2013), Galerie Meyer Kainer, Vienna (2013) and Andrew Kreps Gallery, New York (2012). Benedict attended Art Center College of Design in Pasadena and the Staedelschule in Frankfurt.
Camille Henrot lives and works in New York. Her diverse practice moves seamlessly between film, drawing, installation and sculpture. Drawing from her wide-ranging interests and research into disciplines including literature, mythology, cinema, anthropology, evolutionary biology, religion and history, Henrot's work acutely reconsiders the typologies of objects and established systems of knowledge. Henrot has forthcoming exhibitions scheduled at the Palais de Tokyo, Paris; the Hammer Museum, Los Angeles; and Fondazione Memmo, Rome. She has had one-person exhibitions at the New Museum, New York; Schinkel Pavilion, Berlin; New Orleans Museum of Art; and Chisenhale Gallery, London. She has exhibited in group shows at Centre Pompidou, Paris; Astrup Fearnley Museum, Oslo; Stedelijk Museum, Netherlands; and SculptureCenter, New York. Camille Henrot is the recipient of the 2014 Nam Jun Paik Award. In 2013, she received the Silver Lion at the 55th Venice Biennial for her film titled Grosse Fatigue.
David Leonard was born in Hollywood, CA. Leonard accentuates his career as a "man-on-the-street" journalist with a confounding art practice, using his investigative eye to look closer at technology, current events, and the aesthetic representation of these topics with video, performance and sculpture. His work has been exhibited at Getty Museum (2011),The Hammer Museum in Los Angeles (2011), What Pipeline in Detroit (2014) and Neue Alte Bruecke in Frankfurt (2015). He holds an MFA in Design Media Arts from UCLA.
Alex Mackin Dolan is an artist and curator living in New York City. His work utilizes a wide range of media and concerns an increasingly complex awareness of objects as influenced by contemporary sources of stress. He co-directs Grand Century and previously co-curated Appendix Project Space.
Peter Wächtler's (b. 1979, Germany) lives in Brussels. Recent solo exhibitions include Westfälischer Kunstverein, Munster; Senator!?, dépendance, Brussels (2013); Springtime, Kunstverein Hildesheim (2013); B.A.C.K, Ludlow 38, New York (2013); Salon Of Fear, Kunsthalle Wien, Vienna (2013). In 2016 the artist will have solo presentations in the Renaissance Society, Chicago and Chisenhale Gallery, London, accordingly. His work has been included in group exhibitions such as New Museum, New York (2014); The Liverpool Biennale (2014); Meanwhile…Suddenly and Then, Lyon Biennale (2013); Un-Scene II, Wiels Centre d'Art Contemporain, Brussels (2012); Melanchotopia, Witte de With, Center for Contemporary Art, Rotterdam (2011).
Event title from the book by Eugene Thacker
Photo: Still from Neïl Beloufa, Kempinski, 2007. Courtesy the artist and François Ghebaly, Los Angeles.
Dora Budor: Spring is the second exhibition in the ONE FOR ALL series at SI. Building on Swiss Institute's long history of providing a platform for emerging artists, each show will be the artist's first institutional solo exhibition in the United States with a newly commissioned body of work specifically created for the exhibition space. Swiss Institute is grateful for support from the VIA Art Fund, Presenting Sponsor of the ONE FOR ALL series.