Aug 07 2018
Screening and Conversation | A Norm is a Readymade
Tues | 7PM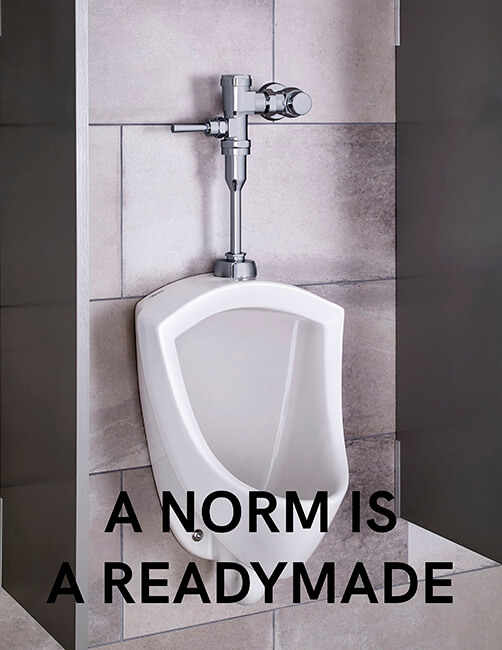 On the occasion of READYMADES BELONG TO EVERYONE, please join us for A Norm is a Readymade, featuring f-architecture, QSPACE, and Ilana Harris-Babou, and organized by Adjustments Agency.
"From the Vitruvian man to Le Corbusier's Modulor, an imagined, ideal human subject has defined the history of Western architecture. This subject, despite claims to the contrary, is far from a universal. Rather, architecture — as discipline, profession, and object — has been designed around a white, male, cis, able, and heterosexual body. Everyone else remains other by design, a foreigner in the world into which they are born. That is, in architecture, a norm is a readymade, reproduced and replicated endlessly. A Norm is a Readymade comprises a video screening and roundtable discussion excavating the normative function of architecture, using Swiss Institute's new home at St Marks Pl as a testing ground." – Adjustments Agency
Please RSVP to rsvp@swissinstitute.net. Please note: events at Swiss Institute are limited capacity, and entry is on a first-come, first-served basis.
f-architecture collaborative is a three-woman architectural research enterprise aimed at disentangling the contemporary spatial politics and technological appearances of bodies, intimately and globally.
QSPACE is a queer architecture research and design collaborative founded by Lauren Johnson and Ryan Day in 2016, shortly after graduation from the Masters of Architecture program at Columbia University Graduate School of Architecture, Planning, and Preservation (GSAPP). They define themselves as mixing Queer Theory, Social Justice, and Design Practice. QSPACE offers a platform for research projects by students and professionals working on queerness in the built environment. They are currently working on Coded Plumbing, a project investigating gender inclusive bathroom design, and The Queer Architecture Archive, an online archive of architecture and urban planning projects on queer topics in the built environment.
Ilana Harris-Babou's work is interdisciplinary, spanning sculpture and installation, but grounded in video. She has exhibited throughout the US and Europe, with solo exhibitions at The Museum of Arts & Design and Larrie in New York. Other venues include Abrons Art Center, the Jewish Museum, and SculptureCenter in New York, the De Young Museum in San Francisco,  CPH:DOX* in Copenhagen, and Le Doc in Paris. She has been the recipient of the Fountainhead Fellowship at Virginia Commonwealth University, a Community Engagement Grant from the Rema Hort Man Foundation, a Van Lier Fellowship from the Museum of Arts & Design, and The Mary Hotchkiss Williams Travel Fellowship from the Yale University Art Gallery. She received an MFA from Columbia University in 2016, and a BA in Art from Yale University in 2013.
Adjustments Agency is a studio founded in 2016 by Joanna Kloppenburg and Nicholas Korody. Their work investigates "the architecture of architecture" — the forces and structures that work to circumscribe the possibilities of architectural thought and practice — with the goal of redesigning it.
Related Exhibitions