Jan 20 2019
OFFSHORE IN NEW YORK | With James Bridle, Cally Spooner and Jackie Wang | ON CAPTURED TIME
Sun | 1PM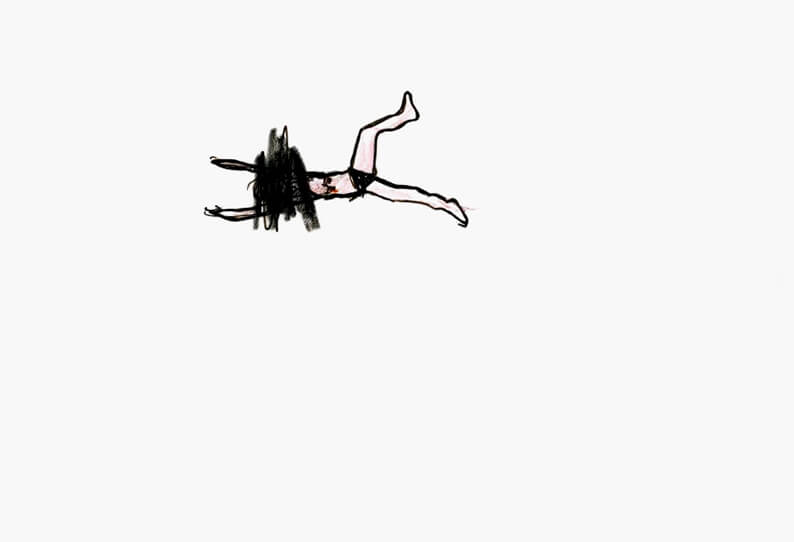 On the occasion of Cally Spooner's solo exhibition SWEAT SHAME ETC., please join us for the first event of a two-week practical philosophy school for embodied knowledge titled OFFSHORE IN NEW YORK.
OFFSHORE is an itinerant performance company and pedagogical structure initiated by Cally Spooner in 2017. It is currently located in SI's Reading Room.
Through a number of lectures, conversations, reading groups, screenings, and an ongoing rehearsal for a new performance work by Spooner, OFFSHORE IN NEW YORK asks the question: "how might we tell the difference between what is alive and what is dead in the machinery that is advanced techno-capitalism and neoliberalism?"
OFFSHORE IN NEW YORK's first event, ON CAPTURED TIME, looks into the handling and constraint of time and life within debt economies, networked technologies and in the stagnated muscles of the body.
1PM: Writer, poet and filmmaker Jackie Wang will deliver a talk on the global high-tech panopticon, carceral time, the temporality of predictive policing, and strategies to resist temporal and spatial regulation.
2PM: Artist and writer James Bridle will present a newly commissioned lecture called "Captured Time" on forms of computation that emerged in the twentieth century. Providing the framework for our contemporary networked technologies, as well the responses to them by artists and others, these were heavily indebted to the idea of the future as a domain of operation which could be calculated and ultimately controlled. Yet, the outcomes of these technologies have been anything but controlled, and today we face not merely a crisis of computation, but one of cognition – of our very ability to think the future – and thus of time itself.
3PM: Artist Cally Spooner with dancer Maggie Segale, will present a 'cartographic' talk of very loosely connected parts to ask how stagnation may manifest in a subject's psychology, in financialized cities, in surveillance capitalism and in the muscles of a body.
Cally Spooner's performances, rehearsed and developed during this program, will contribute to DEAD TIME (a crime novel), Spooner's new installation at Art Institute of Chicago, April 22 – 28 2019.
Please RSVP to rsvp@swissinstitute.net. Please note: events at Swiss Institute are limited capacity, and entry is on a first-come, first-served basis.
James Bridle is an artist and writer working across technologies and disciplines. His artworks have been commissioned by galleries and institutions and exhibited worldwide and on the internet. His writing on literature, culture and networks has appeared in magazines and newspapers including Wired, Domus, Cabinet, the Atlantic, the New Statesman, the Guardian, the Observer and many others, in print and online. He lectures regularly at conferences, universities, and other events.

New Dark Age

, his book about technology, knowledge, and the end of the future, was published by Verso (UK & US) in 2018. 
Magdalyn Segale is a dancer and multi-media performance choreographer. She is a graduate of The Juilliard School (Bachelor of Fine Arts, 2014). Maggie has directed for the Center for Innovation in the Arts and Judson Memorial Church. She works regularly with Cally Spooner, for whose projects she has performed, taught and collaborated internationally. Maggie is a teaching artist at Nord Anglia International Schools and is also a member of Helen Simoneau Danse and The Bang Group, both based in NYC.
Cally Spooner

is an artist based in Athens. Recent solo shows include

Everything Might Spill

at Castello di Rivoli, Turin (2018);

DRAG DRAG SOLO

at the Centre d'Art Contemporain Genève, Geneva (2018);

Soundtrack for a Troubled Time and Notes on Humiliation

at Whitechapel Gallery, London (2017);

And you were wonderful, on stage

at Stedelijk Museum Amsterdam (2016);

On False Tears and Outsourcing

at The New Museum of Contemporary Art, New York (2016) and Vleeshal, Netherlands (2015). Spooner's work was included in recent group exhibitions at NTU Centre for Contemporary Art Singapore, Singapore (2018); V-A-C Foundation, Moscow (2018);

FRONT International: Cleveland Triennial for Contemporary Art, Cleveland (2018) The Serpentine Galleries, London (2017); Kunsthaus Zürich, Zürich (2017); Scottish National Gallery of Modern Art, Edinburgh (2016); Aspen Art Museum, Aspen (2015); and REDCAT Gallery, Los Angeles (2015); among others. She has also curated several exhibitions and events, including

Micro-Composition

at San Serriffe, Amsterdam (2017);

A Social Body Event

at The Serpentine Galleries and Central Saint Martins, London (2017); and

An Intimate Symposium on Maintenance

, Whitechapel Gallery, London (2017).
Jackie Wang is a student of the dream state, black studies scholar, prison abolitionist, poet, filmmaker, performer, trauma monster, and PhD candidate at Harvard University in African and African American Studies. She is the author of Carceral Capitalism (Semiotexte / MIT Press), a number of punk zines including On Being Hard Femme, and a collection of dream poems titled Tiny Spelunker of the Oneiro-Womb (Capricious). In her most recent work she has been researching the bail bonds industry and the history of risk assessment in the criminal legal system. She is currently a fellow at the Film Study Center, the Warren Center and the Weatherhead Center.
OFFSHORE is an itinerant performance company, a laboratory and a pedagogical structure, initiated by Cally Spooner in 2017. OFFSHORE has gathered sporadically over the past year at: NTU CCA Singapore, Singapore; Stanley Picker Gallery, Kingston in collaboration with CREMP (Centre for Research in European Modern Philosophy); Playground Festival (STUK Kunstencentrum & M-Museum, Leuven); Bilbao BAD Festival, La Fundición, Bilbao; Serpentine Gallery, London; Whitechapel Gallery, London; and Centre for National Dance, Paris. OFFSHORE has been developed and continues to be supported by a Stanley Picker Fellowship at Kingston University, UK. OFFSHORE was initiated through a commission from Corpus, an international network for commissioning performance-related work, co-funded by the Creative Europe programme of the European Union. A funded exhibition and event opportunity at REDCAT, Los Angeles first set the stage for testing ideas.
Related Exhibitions