Feb 11 2015
Artist Talk | Jamian Juliano-Villani with special performance by Brian Belott
Weds | 7pm

Please join us as Jamian Juliano-Villani discusses the obscurities from pop culture, art and the internet that she finds and collects, as well as how they influence her artwork. The evening will conclude with a new performance by Brian Belott.
Jamian Juliano-Villani (b. 1987) is an artist living and working in Brooklyn. Her work has recently been shown at SculptureCenter, Gavin Brown's Enterprise, Marlborough Chelsea and Night Gallery, among others. Her first institutional solo exhibition, Detroit Affinities: Jamian Juliano Villani, opens tomorrow at the Museum of Contemporary Art in Detroit, and she has an upcoming publication with Karma.
Brian Belott lives and works in New York. He was born in 1973 in East Orange, NJ and received his BFA 1995 from School of Visual Arts, NY after a stint at Cooper Union. Belott has mounted several major solo and two-person exhibitions including The Journal, New York; LOYAL, Malmö, Sweden (with Jesse Greenberg); CANADA, New York; Galerie Zurcher, Paris; Zurcher Studio, New York; Kenny Schacter Contemporary, New York. Other recent notable exhibitions include: Jeunes créateurs à New York, Musée d'Art moderne de Saint-Etienne, Saint-Etienne (2014), and Draw Gym, 247365, Brooklyn, NY (2013).
Please RSVP to rsvp@swissinstitute.net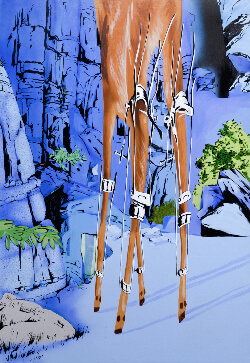 Related Exhibitions