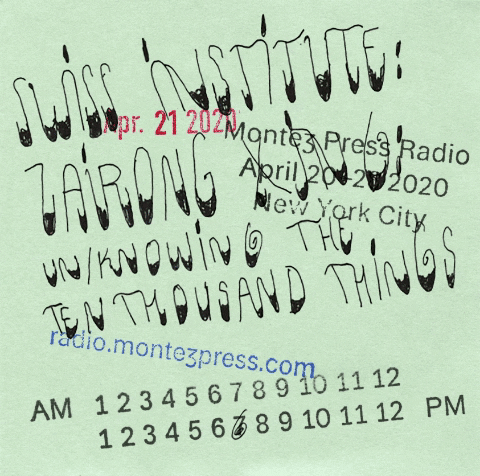 SI is pleased to present a selection of its public programs this week on Montez Press Radio. Listen live at Montez Press Radio at the times below or anytime after on the archive.
Zairong Xiang: Un/Knowing the Ten Thousand Things
Tuesday, April 21
7PM
Scholar Zairong Xiang delivered this lecture on the occasion of Shahryar Nashat's exhibition at SI. In his recent work, Xiang creates opportunities for "unlearning" colonial and modern positions to discover new forms of queerness in ancient sources.
Xiang writes: "If decolonizing knowledge and decentering critical theories does not mean the inclusion of more colors, but rather a departure from a recognition that these colors, these 'ten thousand things,' the assembly of all creatures, human, non-human, inert or living, are already within and have always been there, how do we move beyond (or below) the politics of inclusion and tolerance? How do we start to know the myriad, ten thousand creaturely things?"

This program was originally held at SI on May 16, 2019.
Kaushik Sunder Rajan: Surplus Health and Lively Capital
Wednesday, April 22
7PM
This lecture was delivered by anthropologist Kaushik Sunder Rajan on the occasion of Cally Spooner's exhibition, SWEAT SHAME ETC. Considering the relationships between biotechnology, ethics, governance and markets, Sunder Rajan has charted the corporatization of life sciences in regions ranging from Silicon Valley to Hyderabad. At Swiss Institute, Sunder Rajan explored the phenomenon of outsourcing biomedical technologies to marginalized parts of the world and the influence of capital on bodily potential.

This program was originally held at SI on February 21, 2019.
Shadows Cast by Things and People: A Candlelit Talk with Irena Haiduk and Laura McLean-Ferris
Thursday, April 23
7PM
How can we change the relationship between people and things? How can we surround ourselves with things in the right way? In this candlelit conversation, artist Irena Haiduk and SI Chief Curator Laura McLean-Ferris discussed shifting approaches to living with things, and the powers of destruction and animation in flame, fire, light and darkness.
This program was originally held at SI on January 31, 2020 on the occasion of Irena Haiduk's solo exhibition, REMASTER, which was closed early due to COVID-19. To learn more about Irena Haiduk: REMASTER, please click here.