With Amy Adler, Hanspeter Ammann, Lutz Bacher, Birgit Kempker, Marlene McCarty
Curated by Liz Kotz and Annette Schindler
September 10 – November 1, 1998
Continuing our selections from SI's archive, this week we take a closer look at Where Is Your Rupture?, a key group exhibition held at SI's 495 Broadway space.
Curated by art historian Liz Kotz and Swiss Institute director Annette Schindler, Where Is Your Rupture? featured new commissions by five artists, four of them women, whose multidisciplinary work critically explores the construction of the subject in the contemporary world. Playing with the interrelationship of representation, identity, and technology, Amy Adler exhibited a hybrid image in which she digitally manipulated and hand-drew over an image of herself, taken by somebody else. Hanspeter Ammann presented two new videos, Mission and Couple, both documenting the staff of the Liechtenstein Mission in New York during their daily work. The artist radically slowed down video footage of the diplomatic community, juxtaposing it with music to expose aspects of perception and desire. Lutz Bacher's video loops a very short sequence from the funeral of Lady Diana, investigating the power of the absent subject in a dreamlike rhythm of images and sound. Writer and artist Birgit Kempker installed in the library a series of deck chairs in which the audience could recline and listen, through accompanying headphones to Exercise in Drowning (1999), a text penned by the artist as interpreted by a choir of pubescent boys. Several drawings in graphite, ballpoint pen, and highlighter by Gran Fury member Marlene McCarty pictured girls and women of various ages, rendered so that their bodies are visible through transparent clothes. Bringing the exhibition's themes into focus was a lecture by cultural historian Carolyn Dean, titled "The Social Body and the Regulation of Female Sexuality," and a box set catalogue that featured an artist booklet for each participant.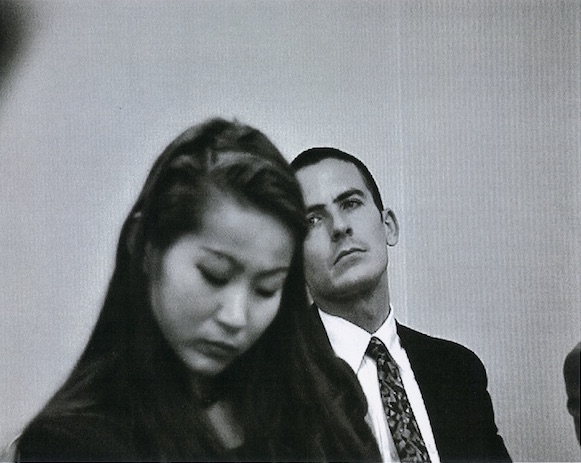 Images: Lutz Bacher, You Know More Than I Know, 1995-95, still (top). Hanspeter Ammann, Couple, 1998, still (bottom).