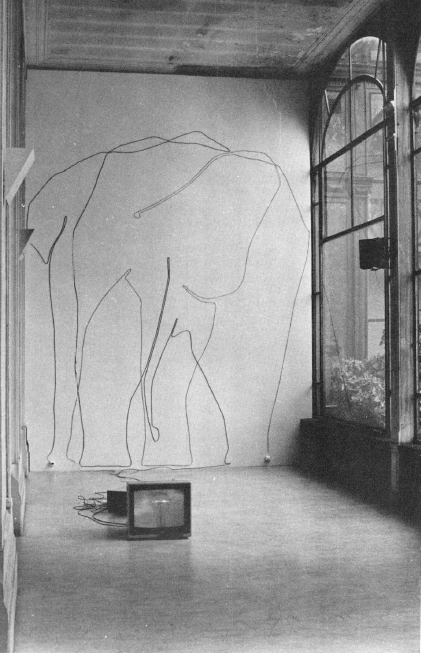 March 2 – March 23, 1989
The first video exhibition mounted at Swiss Institute, Space and Memory featured video installations by two young artists, Marie José Burki and Alexander Hahn. Curated by Swiss Institute director Ziba de Weck, the exhibition explored the titular themes in three works and was particularly invested in the ways in which Burki's studies in literature and the Hahn's studies in psychology, sociology, linguistics, and computer science informed their productions. In the exhibition's catalogue, de Weck wrote, "Video art is a time-based art. Moving into time—past, present, and future—engenders endless possibilities of manipulating space—real or fictive—and dealing with countless recollections and memories." Burki presented two installations centered on the concept that "an elephant never forgets." Operation Edison (1986) recalls Thomas Edison's story of electrocuting an elephant to demonstrate electrical power: two electrical cables, one negative and one positive, created an enormous line drawing of an elephant on the wall. On the floor below it was a monitor playing a video of clouds that transformed periodically into an image of an electric bulb. In Untitled (1986), a monitor displaying images of objects moving at various speeds sat on the ground beside a video player and loudspeakers wrapped in the electrical cables that fed the equipment; the resulting object resembled an elephant paw. Hahn's installation, Urban Memories (1986–87), was composed of three monitors and two players, featuring a tape that moves through architectural structures, hallways, and rooms, which appear and disappear, and then meet, on their recursive trajectories, images of a nuclear war aftermath.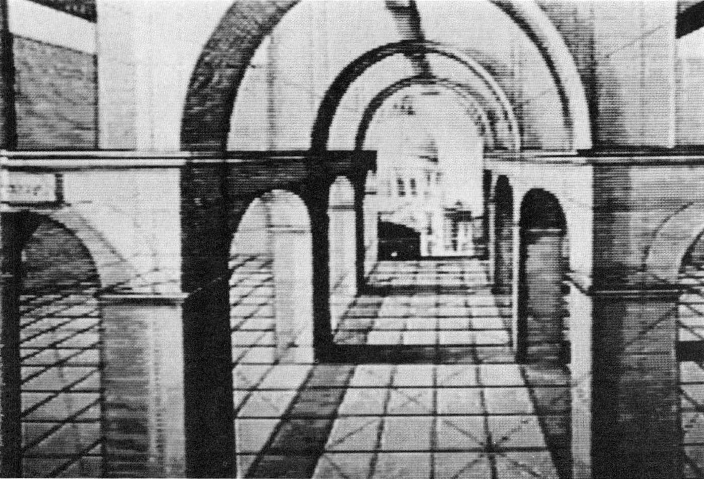 Images: Marie José Burki, Operation Edison, 1986 (top). Alexander Hahn, Urban Memories, 1986-1987 (bottom).