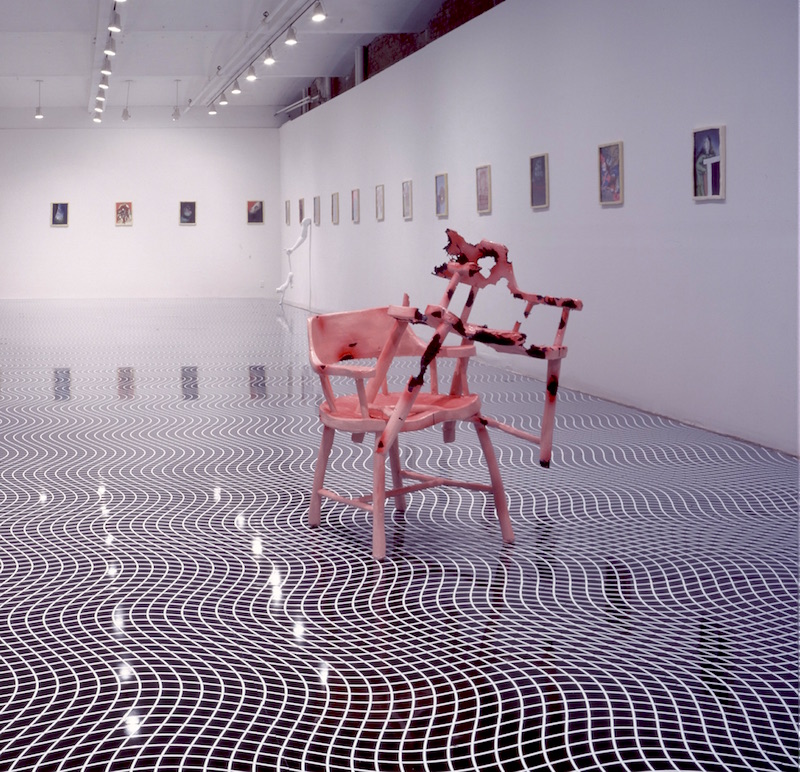 Ugo Rondinone with Urs Fischer and John Giorno
March 26 – May 11, 2002
Continuing our selections from SI's archive, this week we take a closer look at the presentation of Lowland Lullaby, a three-person exhibition at 495 Broadway that brought together Swiss artists Ugo Rondinone and Urs Fischer with New York artist and poet John Giorno.
In homage to collaborations staged in the Cabaret Voltaire, Swiss
artists Urs Fischer and Ugo Rondinone, together with New York–based spoken-word poet John Giorno, presented a surreal, large-scale installation composed of disparate parts produced by each artist. The grounding element of the exhibition was a stainless steel stage designed by Rondinone. With an op art undulating black-and-white wave pattern printed on its surface, the stage housed forty speakers that played a recitation of Giorno's poem "There Was a Bad Tree." The poem, described by Meghan Dailey in Artforum as a "socioecological morality tale about a community that tries in vain to kill an evil tree," was set to "pensive, ultramellow" instrumental music, which matched the melancholic piano music played in A Horse with No Name, an exhibition Rondinone mounted simultaneously at Matthew Marks Gallery. In his first institutional exhibition in the United States, Fischer presented two sculptures which engaged Rondinone's platform: on one end sat a construction of two wooden chairs painted bright pink, and on the other, a cast plaster arm extended from the
wall over the stage, dangling a cat by its tail. Surrounding the scene were around thirty framed collages and drawings by Fischer that might have pictured a blue, headless female nude, a hand brushing an open cranium, a cello, ships, or abstract biomorphic forms.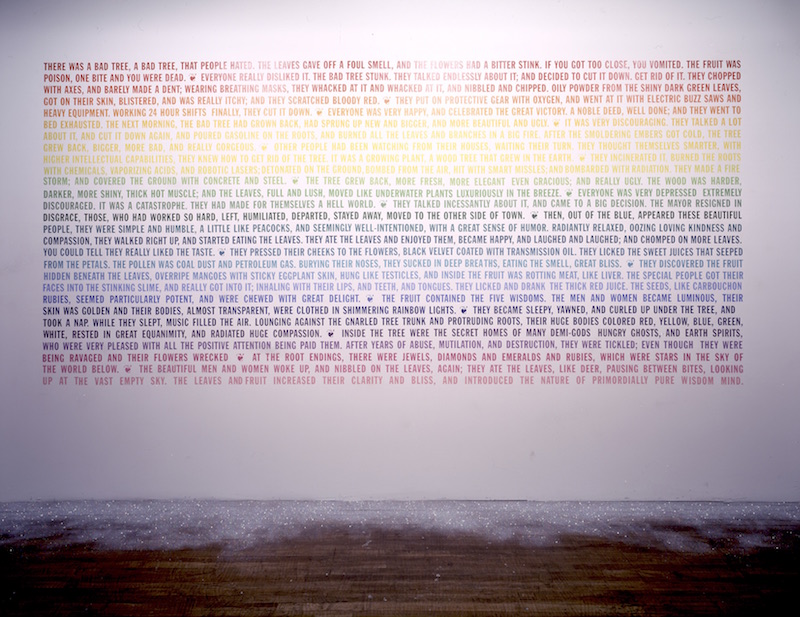 Images: Lowland Lullaby, installation view, 2002.