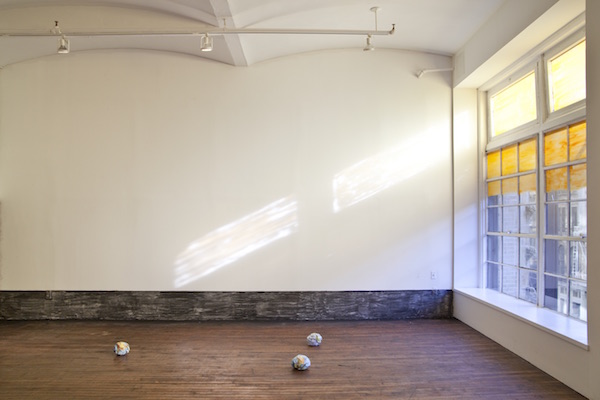 December 1, 2009 – February 14, 2010
Continuing our selections from SI's archive, this week we take a closer look at Movement and Complication, the first institutional solo exhibition in the United States by artist Latifa Echakhch. In 2021, Echakhch will represent Switzerland in the 59th Venice Biennale.
The Switzerland-based Moroccan-French artist Latifa Echakhch uses her identity and experience to question preconceived ideas about nationality, religion, and history. Both rigorous and sensual, her work explores the contours of society in an increasingly globalized world. In her first institutional solo exhibition in the United States, Echakhch presented a new body of work. The site-specific installation, titled Plaintes (complaints), was inspired by an anthropometric scale of proportions developed by the Swiss architect Le Corbusier, which he called the Modulor. Echakhch applied the architect's system of measurements to eight char-
coal wall drawings, which created an obscure pattern throughout the gallery. This work served as a backdrop for a display of small wooden brainteasers on pedestals, titled HLM after the subsidized housing complexes in the French banlieue. In a final gesture, Echakhch painted the gallery's large windows a bright yellow, based on Gaya (E102), a food coloring used as an inexpensive substitute for saffron in Asian cooking. The exhibition's title, Movement and Complication, borrowed terms from horology. In this field, a movement indicates a simple watch. The term complication, however, refers to any feature beyond the basic display of hours, minutes, and seconds. The more complications (e.g., a moon calendar), the more difficult it is to design, create, assemble, and eventually repair the watch. Echakhch applies these terms to question urbanism and social movement.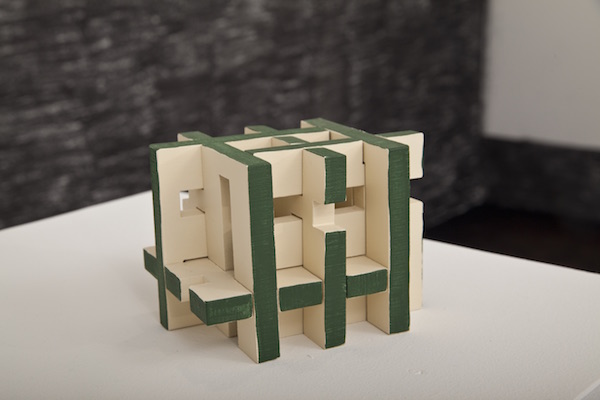 Images: Latifa Echakhch, Movement and Complication, Installation views at Swiss Institute. December 1, 2009 – February 14, 2010.