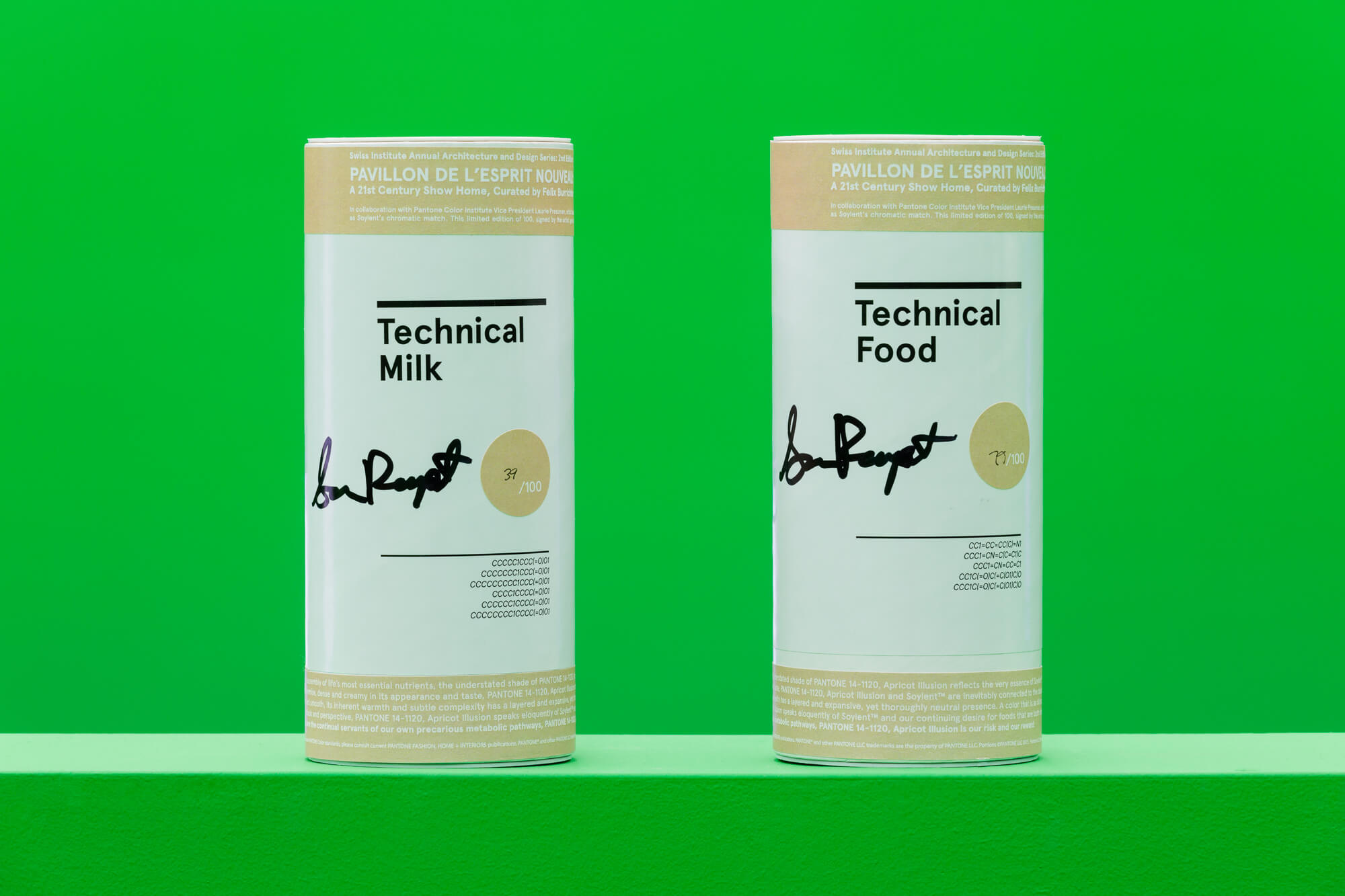 CCCCC1CCC(=O)O1
CCCCCCC1CCC(=O)O1
CCCCCCCCC1CCC(=O)O1
CCCC1CCCC(=O)O1
CCCCCC1CCCC(=O)O1
CCCCCCCC1CCCC(=O)O1
(Technical Milk)
2015
Gamma-octalactone, gamma-decalactone, gamma-dodecalactone, delta-octalactone, delta-decalactone, delta-dodecalactone
Provided at approximately 0.1% in Soylent(TM) vehicle
CC1=CC=CC(C)=N1
CCC1=CN=C(C=C1)C
CCC1=CN=CC=C1
CC1C(=O)C(=C(O1)C)O
CCC1C(=O)C(=C(O1)C)O
(Technical Food)
2015
2,6-dimethylpyridine, 3-ethylpyridine, 5-ethyl-2-methylpyridine, furaneol, homofuraneol
Provided at approximately 0.1% in Soylent(TM) vehicle
On the occasion of the PAVILLON DE L'ESPRIT NOUVEAU: A 21ST Century Show Home, Swiss Institute is delighted to release a special edition flavor of nutritional solution Soylent by artist Sean Raspet.
Originally, Soylent contained a blank or nondescript flavor, in line with its functional, practical intentions–breaking food down into its essential nutrients. The two artificial flavors created as part of this project, Technical Milk and Technical Food introduce an aesthetic layer on top of this functional formulation. The flavors are the result of abstracting myriad existing molecules found in food and milk into small sets of analogous molecules–a synthetic "food in general" and "milk in general" flavor, condensed and simplified.
In collaboration with Pantone Color Institute Vice President Laurie Pressman, artist Sean Raspet identified PANTONE® 14-1120 Apricot Illusion as Soylent's chromatic match. This limited edition of 100, signed by the artist, goes to benefit Swiss Institute's exhibitions and programs. On the occasion of the exhibition, Pressman authored the following text:
"A rich assembly of life's most essential nutrients, the understated shade of PANTONE 14-1120, Apricot Illusion reflects the very essence of Soylent™. Open and transparent in its packaging and premise, dense and creamy in its appearance and taste, PANTONE 14-1120, Apricot Illusion and Soylent™ are inevitably connected to the classic tastes of simple and healthy eating. Soft and smooth, its inherent warmth and subtle complexity has a layered and expansive, yet thoroughly neutral presence. A color that is as old as time itself, and still completely modern in outlook and perspective, PANTONE 14-1120, Apricot Illusion speaks eloquently of Soylent™ and our continuing desire for foods that are both efficient and nourishing. If we are the continual servants of our own precarious metabolic pathways, PANTONE 14-1120, Apricot Illusion is our risk and our reward."
Click here to purchase the edition.
Related