PAVILLON DE L'ESPRIT NOUVEAU: A 21st Century Show Home | PAMONO
Oct 20 2015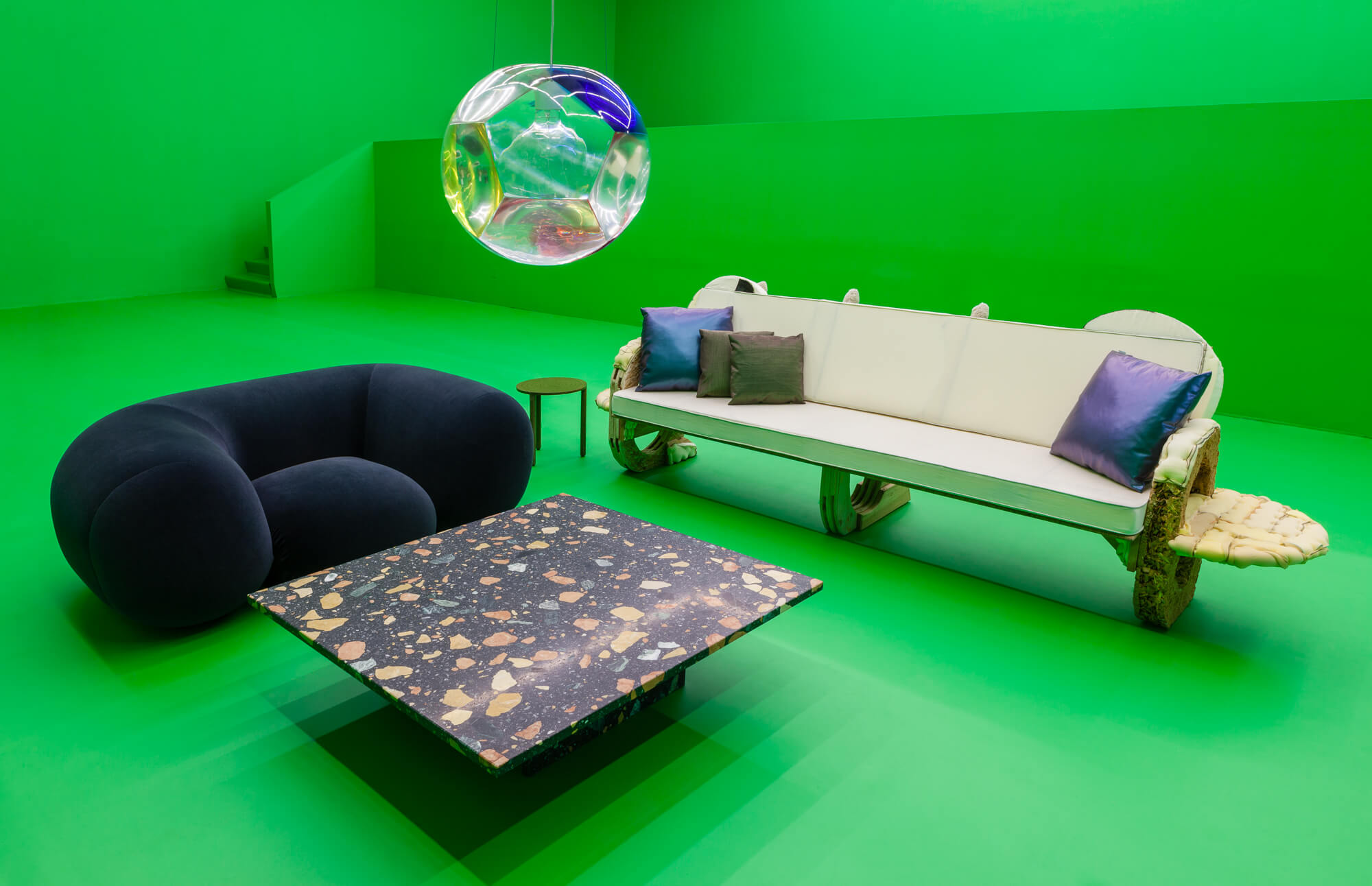 With the fall culture season in full swing, a lot of excellent shows are popping up these days in urban centers across Europe and the US. If you're in New York, though, do yourself a favor and be sure to check out the visual (and intellectual) feast on offer at Soho's Swiss Institute. Curated by PIN–UP Magazine's founder, editor, and creative director, Felix Burrichter—one of the contemporary design world's most in-demand stewards—the exhibition features new and recent work by an impressive assembly of designers, including some of our long-time favorites like Konstantin Grcic, Joris Laarman, Max Lamb, Philippe Malouin, Jasper Morrison, Leon Ransmeier, Guto Requena, Robert Stadler, Elisa Strozyk, Patricia Urquiola, and Bethan Laura Wood, to name a few. Objects by over thirty vanguard talents are installed within an electrifying, green-screen environment, delivering delicious food for thought on the future of design production.
Pavillon de l'Esprit Nouveau: A 21st-Century Show Home, as the exhibition is called, represents the second edition of the Swiss Institute's Architecture & Design Series, which aims, according to the non-profit center's Director, Simon Castets, "to foster the most contemporary forms of cultural discourse by not only including innovative designers and artists, but also re-contextualizing canonized works in a productive way." In this case, Burrichter's exhibition revisits Le Corbusier's prophetic architectural space of the same name, which was appointed with the Swiss architect's own minimalist furniture and proved a game-changer for modernist design when it debuted at the landmark Exposition des Arts Décoratifs in Paris in 1925. Burrichter set himself the challenge to present a body of contemporary work that holds the same potential for paradigm shifts in 21st-century domestic living, highlighting current design tendencies "where craft coexists with computational expertise."
The show's been open for a few weeks and has already received some great reviews. Castets couldn't be more pleased: "The response has been fantastic thus far. The show is accessible on many levels. When you visit the exhibition, you see lots of people taking selfies, trying Soylent [a special edition of a nutritional solution by artist Sean Raspet], lying on the RO/LU bed. There's an immediate, sensual pleasure. There are elements of the show that many consider dystopian, which is completely valid insight, but it's also quite interesting to witness the joy the exhibition brings viewers—that tension between delight and angst is exciting."
Castets explains that Burrichter was invited to curate this year's show because, after years of freindship, Castets knew Burrichter would approach the show with the "unique spirit of the magazine,"  "a sense of experimentation," and a "characteristic blend of wit, precision, and irreverence." We recently reached out to Burrichter to learn more.
Wava Carpenter: I read that this was your first experience in the role of curator? Is that right? I find that surprising. Can you tell us a little about your experience creating this project and how it compared with your experience as an editor/creative director?
Felix Burrichter: I've curated other exhibitions, for example in 2013 an exhibition about independent magazines for the Haus der Kunst in Munich. Or smaller installations, as part of collaborations between PIN–UP and a gallery or an exhibition space. But this Swiss Institute show is indeed my first proper job as a curator for a design exhibition. It's been an exceptionally rewarding experience to prepare it together with Shawn Maximo, who was responsible for the exhibition design. And of course the Swiss Institute team was also a dream to work with—super competent, fast, and fastidious. It almost didn't feel like work.
But in a way, curating an exhibition isn't that big of a jump from putting together an issue of a magazine. It's about weaving together disparate threads to create a whole; a puzzle that once put together is hopefully more than just a sum of its parts. Especially when there are over 30 different artists in a show, or the same amount of different writers and photographers for an issue, it's important to maintain the conceptual and logistic overview; to have a clear vision of what you want to say beforehand and to remind yourself of it throughout the process. In an ideal situation, the final outcome then even surpasses what you had in mind in the first place. In the case of the Swiss Institute, it was largely thanks to the invaluable contributions of Shawn Maximo and Simon Castets.
WC: Can you tell us a little about your research, selection, and commissioning process?
FB: The idea for the exhibition started as early as the fall of 2014, when I had the first meetings with the Shawn Maximo and Simon Castets. The goal was always to create a "show home" environment, somewhere between the conceptual precedents of the early 20th-century architectural avant-garde and an IKEA-style show room. We quickly settled on Le Corbusier's original Pavillon de l'Esprit Nouveau, which was part of the 1925 Exposition des Arts Décoratifs in Paris, and which was so influential for the decades after in the way it introduced concepts of mass-production and industrial materials into the domestic realm. In keeping with Corbusier's signature hubris, we decided that the Swiss Institute exhibition and the pieces shown therein should be just as genre-defining for our era as the ones shown in the Paris exhibition in 1925.
For the exhibition design, this meant re-thinking the act of physically building a "stage" for the furniture to be shown in. Rather than building something physical, Shawn Maximo and I decided that it would be far more poignant to create digital environments to exhibit the furniture. Shawn created six virtual spaces, or zones, loosely based on the concepts of what we consider a living room, a dining room, a study, a kitchen, and a bedroom. To allow for projecting the physical design pieces into these digital environments, the entire space of the Swiss Institute was painted in chroma-key green. After all, the white box of the 21st century is the green screen.
In keeping with Corbusier's signature hubris, we decided that the Swiss Institute exhibition and the pieces shown therein should be just as genre-defining for our era as the ones shown in the Paris exhibition in 1925.
For the selection of design pieces, the goal was to select objects that aren't necessarily futuristic-looking in the conventional sense, but that feature key elements in either fabrication or material that highlight industrial progress made in furniture design since the year 2000, such as laser-cutting, 3D-printing, advanced LED-technology, non-woven textiles, and ultra-light carbon-fiber. I was also looking for a generational cross-section of contemporary designers working today—from those that are just starting out (i.e. Nanu Al Hamad, Josh Bitelli, Katie Stout) to a young generation of designers that have already left their mark on the industry (i.e. Leon Ransmeier, Philippe Malouin, Bethan Laura Wood), to the more established ones (i.e. Jasper Morrison, Konstantin Grcic, Patricia Urquiola).  And—as redundant as it may sound—women are still underrepresented in the contemporary design scene. So it was important for me to also present a good balance between male and female designers.
Finally, given that the Swiss Institute is normally a space for contemporary art, rather than design, it also seemed fitting to include work by artists who straddle the threshold between art and design, and to not create such a clear-cut division between the two worlds, not least because some of the participants don't even make that distinction for themselves. As a result there are some very important contributions by artists such as Jessi Reaves, who created the sofa; Sean Raspet, who especially for the show created a special flavor of Soylent, the meal replacement beverage; Paul Kopkau, who customized a Piero Lissoni lounge chair into a pontoon rocker; Marlie Mul, whose puddle "rugs" are part of the terrace zone; or the video artist Julika Rudelius, who made a special piece for the bedroom, which uses the "home story" as contemporary status symbol in popular culture.
WC: The exhibition references the paradigm shift in design and architecture advanced by Le Corbusier in the '20s (and beyond). Do you feel that the design world is currently experiencing another shift, or are we prime for one? How would you characterize this moment in design vis-a-vis where we came from and where we're going?
FB: A lot of the exhibition explores the idea of hybridization, whether it's between work and living space, between art and design, between inside and outside, between the physical and the virtual, between the artisanal and the high-tech. I think all these things are important markers of our contemporary life, from the way we work and live to the way we spend our free time, the things we do to entertain ourselves, and the things we do that make us feel safe (i.e. surveillance).
We live in the post-industrial, service-oriented era, and our daily lives have been completely infiltrated by gadgets and other technological advances that are designed to enhance our living experience. The hope is that the exhibition playfully highlights some of the dichotomies that come with that, both positive and negative. All of this doesn't necessarily make our lives any easier to navigate. And yet, despite all that has changed in the 90 years since the original Pavillon de l'Esprit Nouveau, people still love to have a comfortable home filled with "nice" things.
WC: By way of example, can you pick a few pieces from the exhibition and tell us how they reflect the currents you've highlighted?
FB: Ideally, the exhibition really works as an ensemble, where each piece plays off of each other. There are two exhibits however that, to me, really underscore the concept of the hybrid in contemporary life and in the contemporary home. One is the Sarco Shelfby Shawn Maximo. The Sarco is made from an unlikely mix of materials: African Sapele wood, plastic marble laminate, dichroic glass, and refrigerator shelving. And yet they form a beautiful, elegant whole. The other is the MedBar by Nanu Al Hamad, one of the pieces in the exhibition that takes elements from medical equipment and incorporates it into the domestic realm. It's a process that until now we were more used to seeing happening the other way around, where medical equipment was made to look more "homelike." So to celebrate the reverse is at first a little jarring, and yet it's a reality that so many people in an increasingly aging society already live with.
WC: How has the response to the exhibition been?
FB: Judging from all the positive reactions and reviews it has received, from the record number of visitors so far, and from the number of posts on social media, I get the sense that we have succeeded.
WC: What are you working on next?
FB: We just put the new issue of PIN–UP to bed, which will be on newsstands in early November. The issue's theme is "The Great Indoors" and it will also feature a beautiful photo story of the exhibition at the Swiss Institute. We're also working on a line of limited-edition sunglasses in collaboration with Shawn Maximo and the Italian eyewear manufacturer RETROSUPERFUTURE. Those will be in stores in early 2016, and I'm beyond excited that we were able to secure legendary architect James Wines as the model for the campaign. We're also in the early stages of preparing for our next book, which will be a collection of portfolio stories from PIN–UP, and which will most likely be released later in 2016 with powerHouse books, who already published our first book, Interviews, back in 2013. And finally, we're talking about taking the Pavillon de l'Esprit Nouveau exhibition concept to more destinations around the world. So stay tuned!
Good luck Felix! Looking forward.
Related Exhibitions