PAVILLON DE L'ESPRIT NOUVEAU: A 21st Century Show Home | Curbed
Nov 02 2015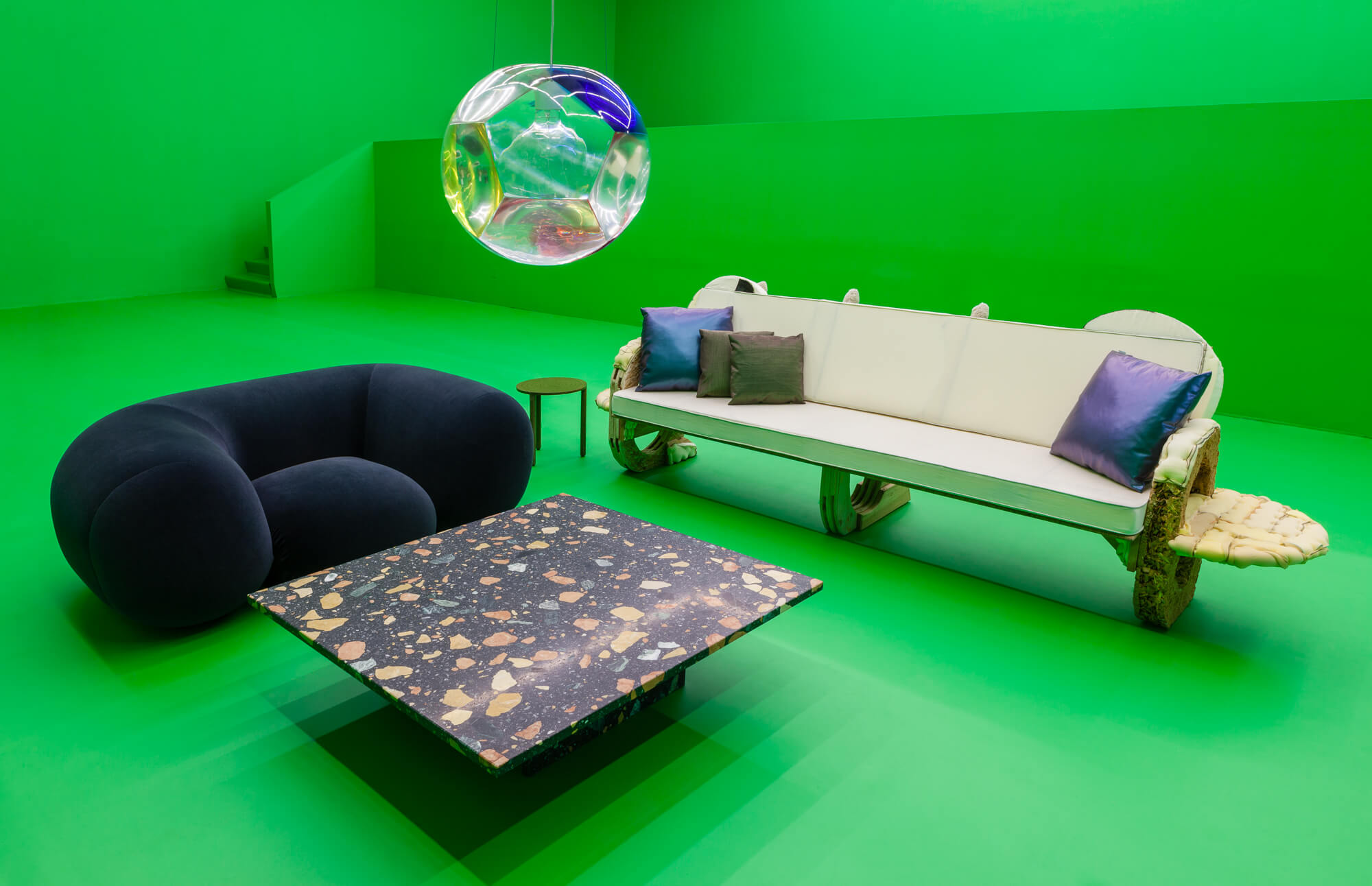 It's a challenge to predict the color combinations and trends that will be popular years from now, but a new design show at the Swiss Institute in New York has a bold prediction: bright green, as in the color of green screens. The gallery's new design and architecture show Pavillon de l'Esprit Nouveau: A 21st Century Show Home, offers a digitally native take on décor, complete with a green screened interior that projects guests onto an array of animated scenes and scenarios. Including so much screen time in the show may seem disruptive, a comment on our increasingly tenuous sense of place. But it doesn't take away from the furniture pieces on display, a mixture of sly references, material experiments and social commentary from more than 30 international designers that do justice to the source material.
The exhibit takes inspiration from Le Corbusier's 1925 show of the same name, a scandal at the time filled with modernist ideas that challenged the predominant Art Deco aesthetic, such as open plans and double-height ceilings (the original show featured a tree growing through the roof). "So much of what he presented there was so influential," says Felix Burrichter, the organizer of the Swiss Institute's exhibit. "So many of those ideas have trickled into the mainstream over the course of the 20th century. I tried to figure out what the white boxes of the 21st century would be, and decided that would be a green screen."
During a tour, Burrichter explained the focus on hybrid design and new materials as a means to try and forecast what will become common décor after this key, early 21st century turning point we find ourselves in. Every piece is firmly grounded in technology that has been adapted in the last decade, and the exhibit serves as a showcase of 3D-printing, LED technology, new textiles and carbon fiber designs. Max Lamb
's Marmoreal Coffee Table is made from waste from a marble quarry set on slabs and reused, and the bed sheets were made from a futuristic artificial fabric created by Konstantin Grcic. The room displays offer a further dose of futurism via green screen technology, with those walking the gallery floor finding themselves and the furniture projected into surreal environments, such as a desert wind farm, broadcast set of flat screens. It's a slightly chilling look at what's to come, occasionally sterile and often comical, in the case of the hybrid gym-office with executive hand weights, or the stylish conical cane designed by Leon Ransmeier.
Home shows have always offered new ways to envision domestic life, and Burrichter's assembly of current designers offers plenty to think about in terms of technology's impact on socialization, surveillance and our sense of place. As an essay in the show's program suggests, there's a deep paradox in today's contemporary, wired life: "to be inside is to be outside, to be at home is to be at work."
Related Exhibitions