Nieves and Innen Zine Library | V Magazine
Sep 02 2016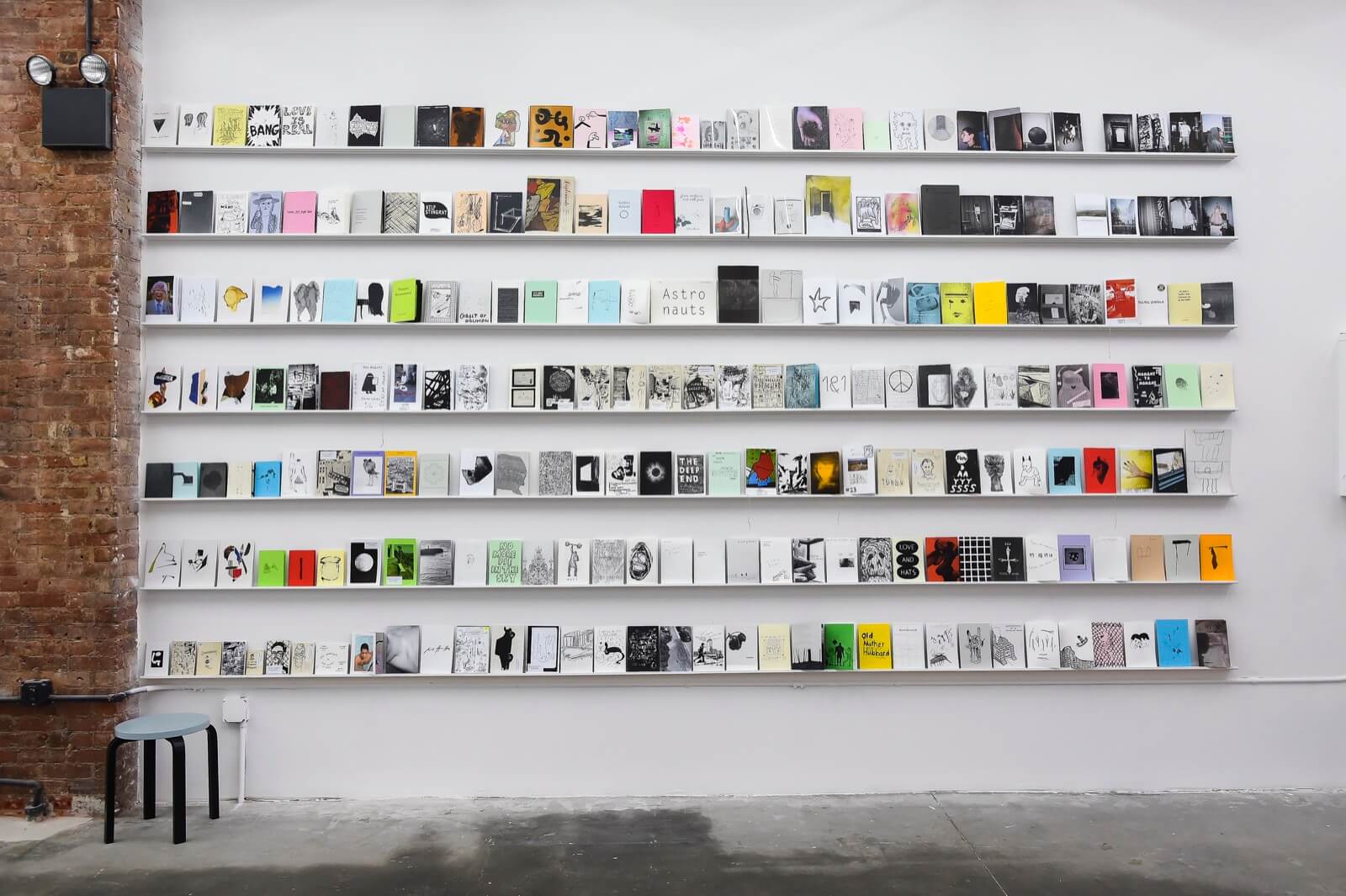 Last week, in conjunction with the current exhibit-cum-reading room Nieves and Innen Zine Library, the contemporary gallery Swiss Institute held a fanzine-making workshop inside Tribeca's Swiss in Situ (an avatar gallery spawned by the original Swiss Institute's ongoing relocation from SoHo). While it's not every day that two-dozen New Yorkers sit down for an hour of unadulterated arts and crafts, the big draw of the seemingly no-frills evening was the instructor, Susan Cianciolo, godmother of nonconforming fashion.
Zine-making, a pet project Cianciolo shares with her daughter Lilac in between her busy career at a visual artist, suggests her practice hasn't changed noticeably since her rogue clothing line Run went big in the mid-1990s. Like many zines, her clothes were collage-works of miscellaneous materials, catching the eye of emerging fashion risk-taker Chloë Sevigny, and later becoming a strong reference point for some of today's most buzzed about designers (Eckhaus Latta, whose idiosyncratic runway shows often emphasize non-conforming models, are such big fans of Cianciolo's that they had her close out the Fall 2016 collection).
It was around the time of Run's launch that some of the most notable contributors to the Nieves and Innen library were first creeping onto the scene. In addition to several of Cianciolo's own zines, works by fellow members of the 90s avant-garde like Kim Gordon, Daniel Johnston and Larry Clark are on display and free for flipping through. While neither the show nor Cianciolo herself are defined by a certain decade, both seem to preserve the scruffy, freeform expressionism that arose in the pre-Y2K New York underground.
"The point is just that anything goes. That's my belief system," offered Cianciolo to the class just before the safety scissors went flying. On its face, this motto offered encouragement to the assembly of aspiring authors (ziners? fanz?). More deeply, it reflects the unfiltered self-expression that makes zine-making so counterculture, especially in the paperless digital age.
While the typical 90s-obsessed fashion follower (born post-Y2K, recently grew out of glitter glue and into Instagram) might be shaken to the core by this display of unplugged merrymaking, the exercise perfectly embodied Cianciolo's radical roots in underground fashion scene: delicate yet subversive, and quietly enduring. Despite our failure to produce a zine by the end of the workshop, Cianciolo agreed to take our questions.
This is a pretty un-New York event.
Yeah, I like it when it's just about getting in there and making a mess. I try to promote that.
How did the workshop come together?
Benjamin [Sommerhalder], the Editor in Chief of Nieves, wrote to me and said, "We're doing this show. We want to include you." I was in Portland giving a workshop when he asked me and I had a show there at Yale Union. The closing day of my show I gave a kimono patchwork workshop. It was inside my exhibition so the greatest thing was that we trashed the whole space, and everyone was like laying on top of my artwork. I thought this was interesting because it's so different to [do that kind of thing in New York]. I like to see New Yorkers get messy, dirty, and just mix together.
Why did you start making zines?
I feel it's very therapeutic. If I'm doing this—my daughter and I are making books everyday, basically—that it's like a therapy for anxiety or for staying busy. There's something about it that's a part of our daily activity. It might be replacing other things I might be doing like smoking cigarettes. Or, who knows what? It's a healthy activity.
It started off me doing it with artist friends and skaters and we'd probably drink a forty, smoke some marijuana, and make a fanzine. And now it's like, do yoga, meditate, hang out with your daughter and make a fanzine. So it kind of goes whatever level your lifestyle is.
How does it relate to your previous work?
One of my zines is a cookbook, and I've done a lot of restaurant-related projects. I had an exhibition in 2001 called Run Restaurant, which was a month-long pop-up restaurant at Alleged Galleries. I recreated the whole space and was very much inspired by Japan. And then in 2008, 2009, I did a restaurant called Mobile Run restaurant and it traveled to private events and I cooked for 25 people at a time. We'd dress in costume. So cooking is a big part of it.
Do you keep in touch with Chloë Sevigny? She's reportedly a fan of your work.
I remember when I made my first collection, she bought some pieces… but then after I think the first couple seasons we lost touch. You never know, because my style changes and other people's style changes. So I never like to quote who was my fan, because, who am I to put that on someone?  Especially now that I don't make clothes anymore, I feel more shy to be in that world. But she's such an incredible style icon that, who am I to say, oh she wears my clothes, because I don't want to show off.
What is next for you?
I have a solo exhibition opening in London in March at Stuart Shave Modern Art, and then six months after that I have a solo exhibition opening in New York at Bridget Donahue gallery. So that's a very full program with six months in between and they're both solo. And I'm really doing my best to say no to everything else so I can give that my all.
Related Exhibitions