Mathis Altmann: Foul Matters | Artforum
Oct 01 2016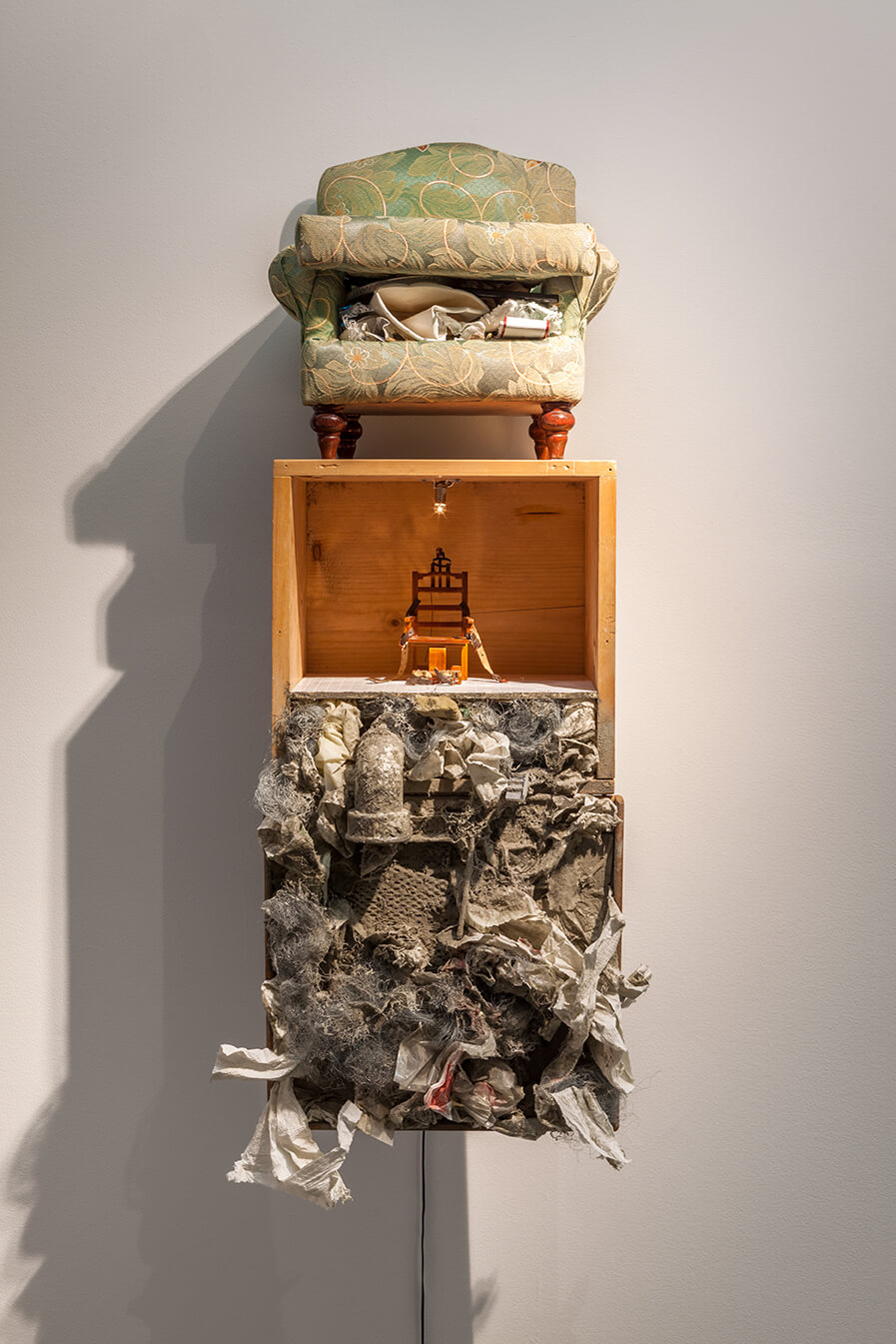 I had seen a few of Mathis Altmann's works online– spooky things hanging in darkened rooms, made out of lots of junk and schmutz, nothing if not weirs– so I went to the Swiss Institute prepared to see some grody riff on Halloween aesthetics by an artist in Zurich who had gone deep inside his head. (As the art world gets ever more globalized, meshing more and more with corporate culture, a surprising number of artists are responding by plumbing the depths of "interiority.") Lined up in the basement gallery were eight little models of architectural spaces, more or less hung at eye level; a big brown sofa was propped up against the opposite wall, coated with mealworms– weird, but also somehow neat– which had the effect of turning the gallery into a kind of model itself.
Most of the works offered cutaway views of some sort of room and a gunky world beneath, the contents of which occasionally swelled to the top. There was one with a wooden floor, some kind of early-twentieth-century storefront. a knockoff Adidas sneaker plopped in the middle, and a macabre scene of gray nastiness festering below. Another work consisted of a wooden box housing an electric chair– perfect for a Barbie collector keen on capital punishment– with more of the ashen underworld haunting it; this one also has a tiny armchair stuffed with trash above. Most of the work had a fecal feeling, and some of it was downright scatalogical (a little sculpture contained two beds, each with its own turd). Since all the sculptures basically double as dollhouses, it was hard not to think of them as stages for the artist to play with his own shit (at least metaphorically, of not literally).
The use of the model has a rich history, and a bunch of thoughts ran through my head while looking at these things: I remember Daniel McDonald's exhibition of maquette, "Bohemian Monsters," displayed at Broadway 1602 in 2008, but that project had a specificity to it, keyed to economic transformations in New York and the threats they posed to artistic life. I also thought of Isa Gengken's Fuck the Bauhaus (New Buildings for New York), 2000, and any number of works by Dan Graham, including his seminal Alteration to a Suburban House, 1978. In these works, the model is used to critical effect, portraying the impoverishment of the present by picturing a world that cannot take place on terra firm: It has to scale down, get on a pedestal, and do its incisive work in the mind. By contrast, Altmann's contributions to this history appear as mental spaces avant la lettre, but they try to tithe space of the psyche back to the body, and from there to a larger system of infrastructure that is almost gothic in its state of decay. For him, the model is neither a place apart nor an allegory, but a diffuse, haunted version of our own patchwork present: the world seen through (or as) a wicked-out teenage brain. These were nonsense for vague minds.
Altoona's work paired interestingly with a concurrent exhibition by artist Sam Lewitt in the gallery above. For his part, Lewitt created an installation that hooked up to infrastructure quite literally: Using a flexible material that can be found in any number of advanced technologies, he crafted a series of transportable heaters that siphoned off the power typically used for lighting and maxed out the institutions electrical load. (In the already hot summer months the work's presence was all but oppressive.) If Altmann's work is invested in representation, Lewitt's trades in the real, but both betray a desire to feed some kind of darkness back into the system, if only to mark its end. If Lewitt meshes phenomenology with the techniques of the present, however, Altmann tells a ghost story about the world at large. The only thing is that it isn't very scary– it's just "weird."
Related Exhibitions