Karen Lamassonne: Ruido / Noise | Art in America
Jan 04 2023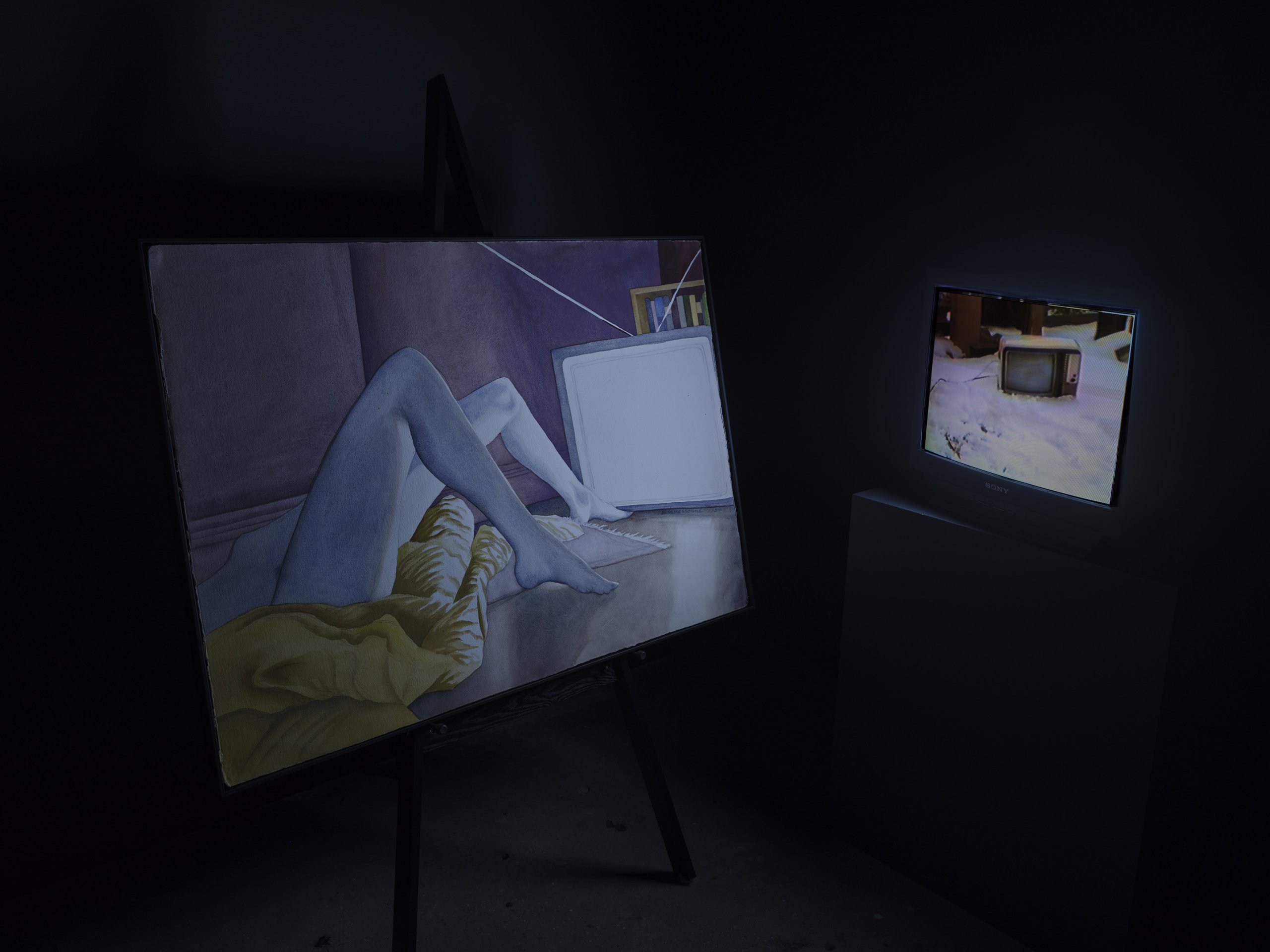 In an early watercolor series by Karen Lamassonne—a Colombian American artist with a survey spanning five decades at the Swiss Institute in New York—an anonymous female figure is shown in closely cropped domestic interiors: standing nude at a bookshelf, sitting on a floor, stepping out of a tiled shower. In many of these works (all part of the series Baños, from 1978–81), a mirror becomes a secondary frame within the image, with its reflective surface appearing almost as a precursor to the iPhone screen. Whether their presence is visual, literal, or merely implied, screens and monitors are a recurring motif across Lamassone's work in mediums including drawing, painting, photography, and cinema. While living in Colombia in the 1980s, she became involved with a collective of filmmakers known as the Cali Group, notably making the storyboard and working on art direction for Pura sangre (1982), a film directed by her then-partner Luis Ospina that employs B-movie tropes to explore the real-life horrors of murder and capitalist greed in Latin America. Lamassone's Baños series and her storyboards for Pura sangre are included in "Ruido / Noise," a survey of her work on view at the Swiss Institute through Jan. 8 before traveling to the KW Institute for Contemporary Art in Berlin and the Medellín Museum of Modern Art. A.i.A. spoke with Lamassone (who is now based in Atlanta) about the cross-pollination between mediums in her work and the influence of her lifelong love of film and television.
Your survey includes work in many mediums. How did you become involved in multiple creative fields?
When I got out of high school, I took a painting class and an etching class at a community college. Later, when I lived in Colombia, I did some etching while working in the workshop of an Italian printmaker, and some of the friends I met in the workshop began making films. This was in Bogotá, Colombia—a small world, in a way—and I got exposed to all these different mediums and started dabbling in some of them. I think I was also kind of a different creature for them because I grew up in the US in the '60s; in Bogotá in the very early '70s, women were different than I was. I was very independent and lived on my own. I stood out.
This is when I connected with the Cali Group and Luis Ospina, and we lived for a while in Paris. On that trip, during an exhibit I did in Berlin, I exchanged a painting for my first camera. I did some photography in Europe, and then when I got back to Colombia, I made the storyboard for Pura sangre (1982). I did the art direction and worked in editing as well. With Luis I was exposed to all these different phases in the production of a feature film: how you need a general shot of the whole scene, and then you have inserts with pans or close-ups—all these technical terms for how you put a film together. It affected my work, and I started working more in photography that tells a story, or in sequences of photographs. Then I worked in video. It was like a snowball effect.
What you said about being a different kind of young woman at the time evokes your Baños series (1978-81), in which you're depicting a kind of intimacy—not with another person, but with yourself. How might that connect with your sense of independence and self-possession?
I think it has precisely everything to do with independence and self-possession. When I left my parents' home and got my own place, I could turn the light off or on at whatever time I wanted. I started painting a lot when I had a pile of watercolor paper my uncle had given me and a little box of watercolor paints, and I started using the mirror to paint self-portraits. I was coming to terms with my independence and my sensuality in life. Sometimes I think that painting is kind of like a sublimation of all that, a sublimation of sex. It's a desire to exist. I like to feel turned on by my compositions, which are fragments of reality, almost like a film.
How about the recurring images of mirrors or screens in your work: the mirrors in the bathroom paintings, the real TV screens in your Ruido (Noise) installation (1984/2022)?
I watched a lot of TV and films as a young girl with my siblings, so I've always had that square in front of me. Watercolor paper is a square. The canvas is a square. Maybe I feel comfort there, in that square and that light. I always loved the light that television gives off. The Ruido video is being shown for the first time ever in this survey, almost 40 years after I made it, and it was really important to me that the whole installation is lit solely by light from the TVs. In the video, the image quality doesn't have to be great—that's the whole idea. It has to have that static and color, that noise.
How do genre conventions figure in your work, like the B-movie tropes from horror and sci-fi: the 50-foot woman, or vampires?
I readily accept all those influences. I always say Bela Lugosi was my first love. We watched a lot of horror films, and my mother turned us onto Hitchcock. There are also scary things they tell you about as a child growing up in South America, a lot of boogeyman-like creatures. Imagine hearing all those stories as a child, then watching Dracula or Attack of the 50-Foot Woman on TV. A genre is a gender, in a way. Women or men could become vampires. It's also a story about power: there's life and death, blood. I was also really into film noir and gangster films. I identified with those bad leading ladies, power over life and death. Maybe that gave me the courage or the impetus to fragment my body, to give the human body that power.
Some of the recent work is very collage-based, like the Correspondence series (2020–present), in which you've been mining your own archive. Could collage be a metaphor for the ways in which you've worked across so many mediums?
A life is like a collage. If I go into my archive, I have photographs, books, correspondence—so many things that represent who I am. In my photographic archive, I have many negatives that I never printed. I would take some great photographs, but then I would get a job on a film or something and think, "I'll do this later." But later is now. Now is the moment that I had saved all this for. I can integrate these things into the collage that is my work, which is also my life.
Related Exhibitions