Alfatih: Day in the Life
Jan 25 -
Apr 23 2023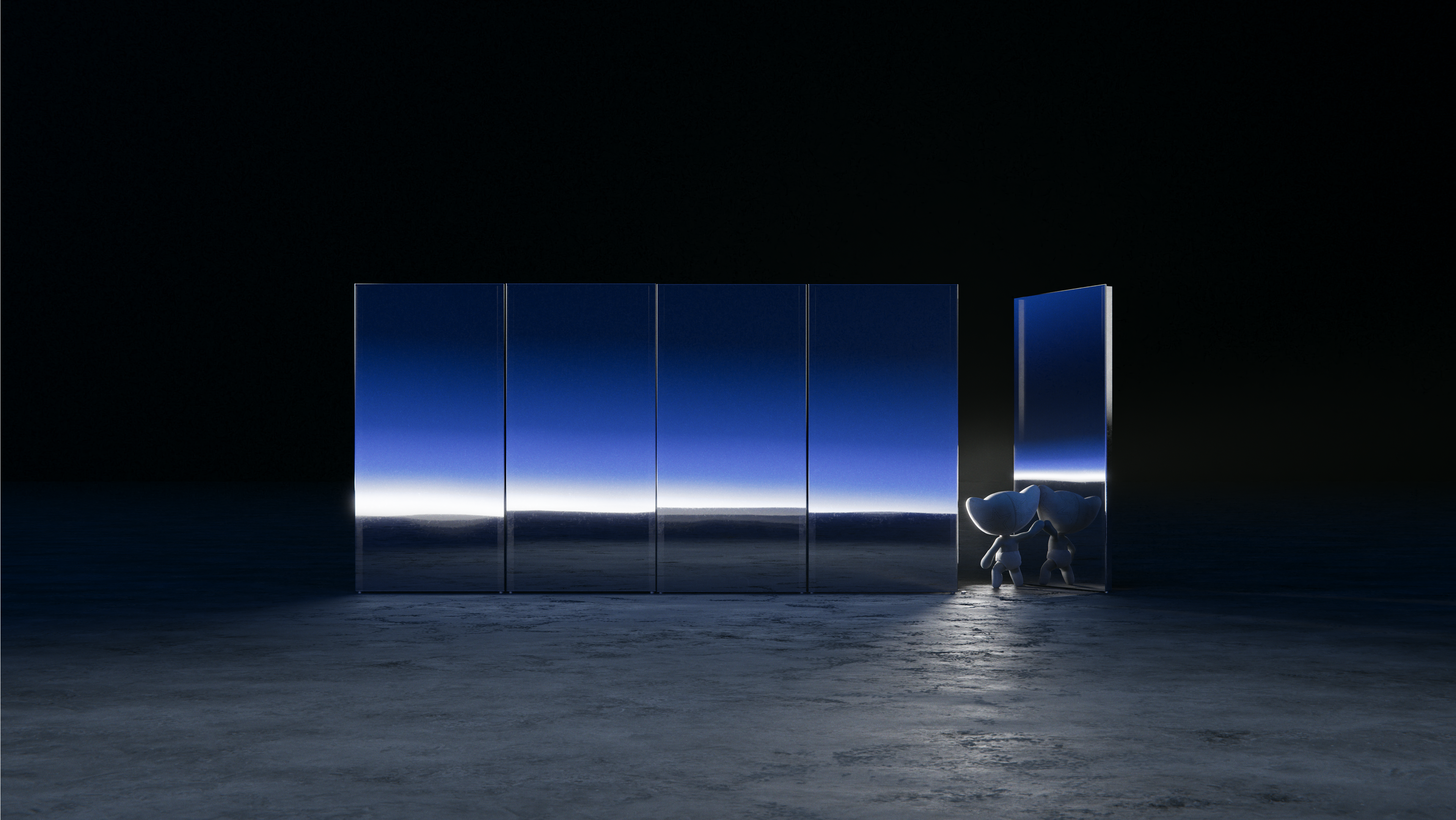 Download Press Release and Checklist
Swiss Institute presents Day in the Life, the first exhibition in the US by Swiss artist Alfatih, which features a newly commissioned CGI animation film that shows a day in the life of a grown-up baby.
The exhibition space is split with a one-way mirror wall. On one side, visitors encounter a projected video reflected against the mirrors. On the other, there is a window through which to view the film and the space where it is projected. Access to each side of the gallery is possible either from SI's front staircase or the back hallway via the back staircase or elevator. These two separate environments enact a divide: observer and observed, gamemaster and player.
In the film, scripted by AI with prompts from the artist and scored by musician and theorist Tapiwa Svosve, over the course of a narrated, abridged 24 hours, we watch the baby move through its daily routine and rituals including sleeping, drinking coffee, working on a laptop, reading, and playing the piano. Observing the baby as it passes the time with different actions and choices, we may feel a sense of satisfaction, our own urge to be productive satiated as it swiftly grows and learns. Time stamps demarcate each recurring action of the mundane day, revealing the quiet melancholy of this solitary life. In a constantly looping performance of adult activities, the baby demonstrates a desire to be seen, and we watch.
Alfatih wishes to thank: Tapiwa Svosve, Alison Coplan, Christine Egaña Navin, Theodoulos Polyviou, Samira Osman, Mohamed Almusibli, Deborah Joyce Holman, Iacopo Spini, Johanna Odersky, Damián Navarro, and François Kohler.
This exhibition is organized by Senior Curator and Head of Programs, Alison Coplan.
Alfatih (b. 1995, CH) lives and works in Switzerland. He has presented interactive, installation and video works in institutions and spaces such as Kora Arts Center, Castrignano (IT); Musée cantonal des Beaux-Arts, Lausanne (CH); Fri Art Kunsthalle, Fribourg (CH); Swiss Institute, New York (US); Haus der Elektronische Kunst, Basel (CH) and Swissnex, San Francisco (US).
Alfatih, day in the life, 2022. Digital image.
Press