Dec 14 2022
These Seasons | Mimi Park: Murmuring in blue kaleidoscope with Anthony Sertel Dean
Wed | 6-8PM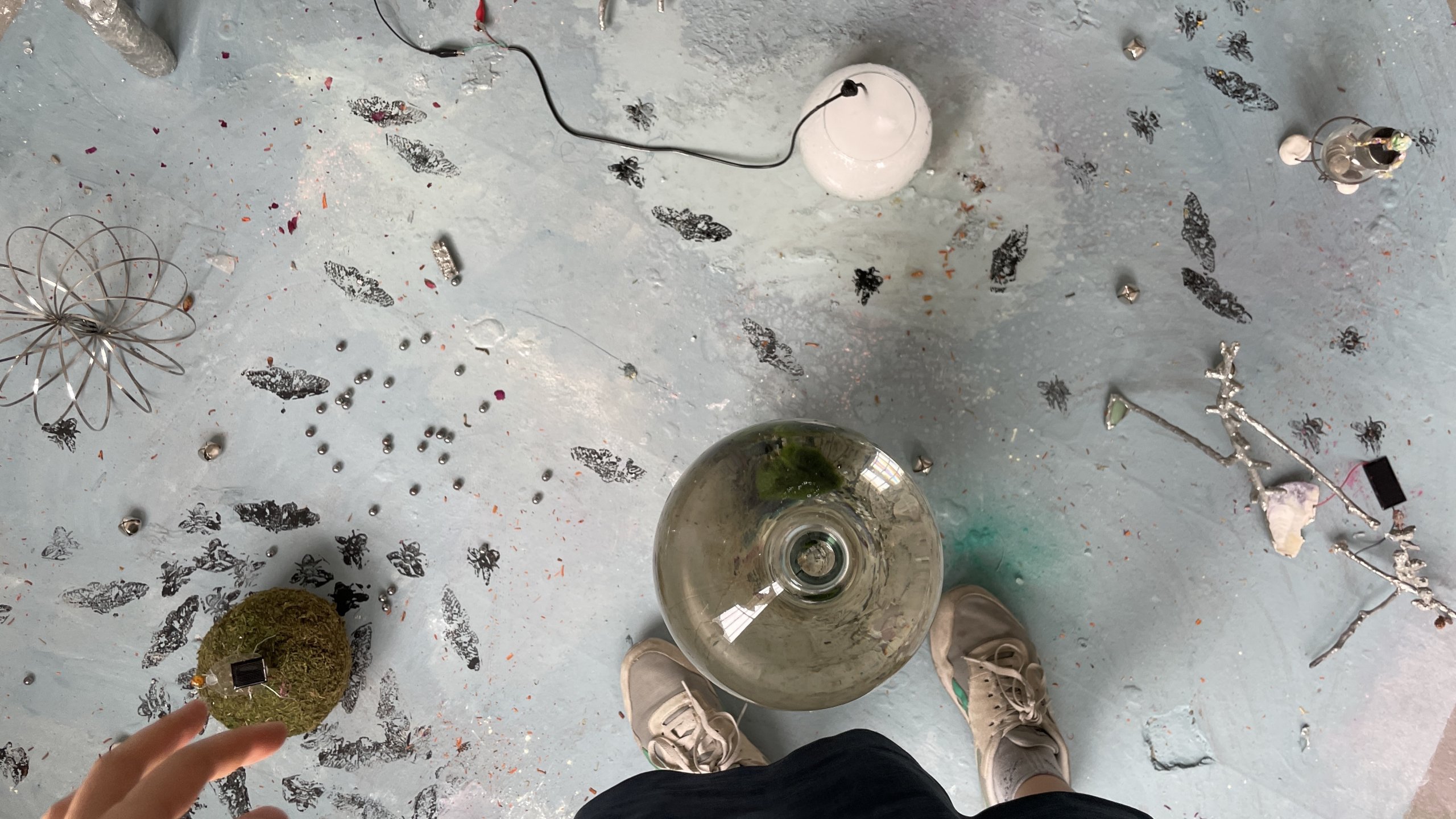 Please note the performance begins at 6:30PM.
Swiss Institute is pleased to present Murmuring in blue kaleidoscope, a temporary sculptural installation and improvised musical performance by New York-based artist Mimi Park, developed in collaboration with Anthony Sertel Dean. 
An intricate spread of natural and engineered matter spans SI's 2nd floor. Amongst soldered twigs adorned with handmade glazed ceramics, mist-emitting orbs, stones and bells sits a cast of "Coplees," small mechanized creature-devices that flutter and crawl when powered by electric circuits and the sun's rays. Park arranges the scene in correspondence with the astral map directly above SI. A tuning fork's crystalline chime signals the beginning of this entropic ballet, in which the Coplees are set in motion. As they approach and pass an array of theremins, the room swells with sound. An impromptu concerto fueled by hybridized solar and electrochemical energy, the movement of the audience and the inanimate objects, acted upon by external forces, ebbs and flows, ending only when the Coplees lose their charge and come to rest. Where they lie will dictate the installation's final form.
The relation between the duration of a life and the duration of a lifeform's total decomposition is of interest to Park, who here orchestrates an enchanting study of decline, expiry and what literally lies beneath when life ends, be it a built structure or raw earth. The action at SI unfolds atop an expanse of cardboard stamped with laser-cut images of Park's sculptures, as well as images of fossils sourced from digital archives. What is preserved, absorbed and transformed by the terrain of this planet is repeatedly represented by Park's stamps. In this way, afterlives are omnipresent in Murmuring in blue kaleidoscope. When living things stop living, they begin the interminable process of becoming energy once again. 
Please RSVP to rsvp@swissinstitute.net.
Mimi Park (b. 1996, Seoul, South Korea) lives in New York. She is an interdisciplinary artist who makes site specific installations of kinetic sculptures. Park primarily takes inspiration from life's various cyclical patterns, which include microcosms, soft circuitry and beyond, in order to build diminutive yet fantastical new worlds. She has exhibited internationally with recent shows including
Dawning: dust, seeds, Coplees
at Lubov Gallery in New York and
High Jump
at New Works Gallery, Chicago. She was included in the group exhibition
A Drawing: A Secret
at Projektraum145, Berlin. Her work has been featured in publications such as
Art in America
,
The Art Newspaper
and
Artforum
.
Anthony Sertel Dean is a sound artist, educator and media maker focused on telling stories of community and self. Their work, much of which is generated collaboratively, pulls from practices of electroacoustic composition, oral history and experimental performance, utilizing skills as a creative technologist to build environments for communal understanding. Anthony's work can be heard in theater (Kennedy Center, New Victory Theater, Public Theater, The Kitchen), film (Film at Lincoln Center, Busan International Film Festival), radio (WNYC, Night Vale Presents), and gallery installations (Fridman Gallery, Half Gallery, Lenfest Center). They have spoken at Oberlin College, Wesleyan University, multiple NYC public schools, Materials for the Arts, and on panels about the future of theater design and contemporary indigenous performance. Their most consistent artistic output is as the technical director for The New York Neo-Futurists and creator of the podcast Hit Play. Anthony holds an MFA in Sound Art from Columbia University and is an Assistant Professor of Sound Design at Wesleyan University.
Photo courtesy of Mimi Park.