Nov 30 2018
Screenings and Lecture | Biennale de l'Image en Mouvement: The Sound of Screens Imploding, Day One
Fri | 7PM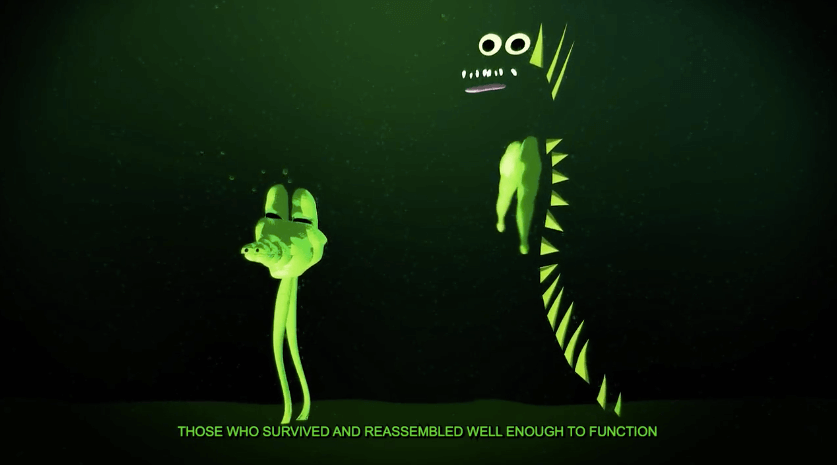 Swiss Institute is delighted to present a selection of screenings and lectures included in this year's Biennale de l'Image Mouvement (BIM): The Sound of Screens Imploding. Having opened at the Centre d'Art Contemporain in Geneva from November 8-10, BIM 2018 centers upon the fundamental notion that moving images often dwell outside of the screen. The screenings and performances of BIM 2018 will travel to various institutions around the world, adapting accordingly to each site. 
For information on Day Two, click here.
Program
Meriem Bennani, Party on the CAPS, (single channel version)
Tobias Madison, O Vermelho do Meio-Dia
Elysia Crampton, two carceral depictions in the chapter on Inka justice in the New Chronicle and Good Government, a live lecture that inaugurates ORCORARA, an audio installation available for listening at the front desk throughout the weekend
Please RSVP to rsvp@swissinstitute.net. Please note: Please note: events at Swiss Institute are limited capacity, and entry is on a first-come, first-served basis.
About the artists
Meriem Bennani's (b. 1988, Rabat, MA. Lives and works in New York, US) multimedia practice questions contemporary society and its fractured identities, gender issues, and ubiquitous dominance of digital technologies. Mixing the languages of reality TV, advertising, documentaries, phone footage, and high-end commercial aesthetics, she explores the potential of storytelling through magical realism and humor.
Tobias Madison (b. 1985, Basel, CH. Lives and works in New York, US and Zurich, CH) takes the isolated artistic process and expands it to include cooperative practice. He shuttles between refusal and participation, withdrawal and exposure, community spirit and calculated outsourcing. In doing so, he works his way at the edge of found formats: the work, the exhibition, as well as the figure of the "young" artist.
Elysia Crampton (b. 1985, Barstow, US. Lives and works in US) is an American Indian musician and artist currently living in the United States. Her work is known for taking heavy detail in bringing light to questions of sovereignty, queerness, and Aymara resistance. Crampton's sounds emerge between the horizon of West Coast (post)minimalism and Andean autochthonous and country music.
About Biennale de l'Image en Mouvement
The Biennale de l'Image en Mouvement was founded in 1985 in Geneva and was reinvented in 2014 as a platform for producing new works. A unique hybrid event—at the crossroads of a film festival, a plethora of solo exhibitions, performances and a platform for research and production—the BIM brings together visual artists, performers, musicians and filmmakers. The latter engage in a dialogue with the curators throughout the production process of a new work, financed or co-financed by the Centre d'Art Contemporain Genève and premiering in Geneva. The Biennale de l'Image en Mouvement in Geneva has therefore become a full-fledged production platform, with each edition presenting only new works.
About the curators
Andrea Bellini is the director of the Centre d'Art Contemporain Genève since 2012. Prior to this, he was the co-director of Castello di Rivoli, the director of the art fair Artissima, curatorial advisor at MoMA PS1 and editor in chief of Flash Art International. Andrea Bellini holds a degree in Philosophy (1996), and a postgraduate diploma in Archaeology and History of Art, University of Siena (2002). In 2014, he launched a new version of the Biennale de l'Image en Mouvement and transformed it into a production platform for moving image works.Bellini has lectured internationally at academic and art institutions, and has directed various publications. He is also a member of various comities, such as the CERN's Cultural Advisory Board, the Scientific Committee of ARCOLisboa, ARCOMadrid, Emerge Prize, Museo d'Arte Contemporanea Donnaregina (MADRE) in Naples, the Acquisitions Committee of NMNM Nouveau Musée National de Monaco, the Advisory Committee of Arthub, Shanghai and the academic council of HEAD in Geneva.
Andrea Lissoni, PhD, is Senior Curator, International Art (Film) at Tate Modern since 2014. He has a background in art history, holds a degree in Modern Art history (University of Pavia) and obtained a PhD from the University of Udine/ Université Paris 1. Lissoni was Professor of the History of Contemporary Art at the Academy of Fine Arts of Brera, Milan (2001–13), taught at Bocconi University, Milan (2007–13), sits on the Board of Film London and is Board Member of the EYE Prize, Amsterdam. Formerly curator at HangarBicocca, Milan, the cofounder of the independent network Xing and codirector of the international festival Netmage in Bologna (Live Arts Week since 2011), in 2012 he cofounded the online cinema Vdrome. At Tate Modern he launched in 2016 a yearly Cinema Programme conceived as an exhibition unfolding throughout the year, the 2017 and 2018 BMW Live Exhibition, and curated the Hyundai Turbine Hall Commission 2016, Anywhen by Philippe Parreno as well as the expanded exhibition Joan Jonas (2018).
Image: Meriem Bennani, Party on the CAPS, still. Courtesy of the artist and SIGNAL, New York.