May 09 2019
Screening | Alain Guiraudie's Sunshine for the Poor and That Old Dream That Moves, with an introduction by Bruce Benderson
Thurs | 7PM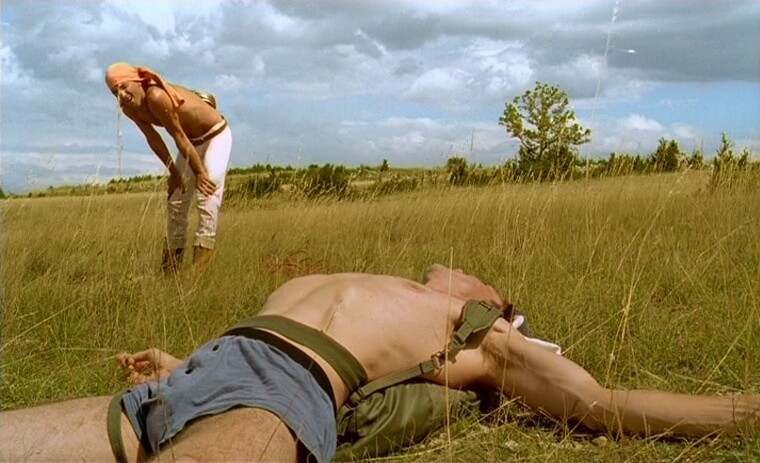 This event will be held at Quad Cinema (34 W 13th St, New York, NY 10011). You can purchase tickets here. 
On the occasion of Shahryar Nashat's solo exhibition, Swiss Institute and Quad Cinema are delighted to present a double feature of films by Alain Guiraudie: Sunshine for the Poor and That Old Dream that Moves (both 2001). The films will be introduced by writer and translator Bruce Benderson.
"Alain Guiraudie knows how to film desire. When asked about the role of desire in his films, he simply said that it is something mysterious that pushes us against each other. His movies illustrate this sentiment. Alain Guiraudie's characters, settings, and objects are always multivalent. No one is ever just one thing. For Guiraudie, an embrace hides a chokehold, an enemy becomes a partner, and a stare can be both a warning and an invitation. Alain Guiraudie's films portray a world where people are driven by the need to be close to one another. The technician named Jacques in Guiraudie's Ce vieux rêve qui gouge (That Old Dream That Moves) at one moment says, 'When I want someone, I want someone.' Which is all to say that if he gives up on desire, then he gives up on everything else.  I hope you enjoy the screening." – Shahryar Nashat
Sunshine for the Poor (Du soleil pour les gueux)
France, 2001, 55m, 35mm
Roaming a pastoral landscape, a cast of characters resembling figures from Alice in Wonderland contemplate their burdens, past failures, and mundane lives as they search for a mythical vampire-sheep hybrid—with Guiraudie himself as a shepherd. A verdant, gently existential romp.
In French with English subtitles
Followed by:
That Old Dream That Moves (Ce vieux rêve qui bouge)
France, 2001, 51m, 35mm
A young man arrives at a factory about to be demolished. As he begins to dismantle the machinery, his fellow workers develop a curious attraction to him. Ever attuned to everyday social exchange and the unknowability of desire, Guiraudie's fixed, unobtrusive camera and eye for lush landscapes convey a deep empathy for the working class, as the sinuous storytelling surprises moment to moment. Jean-Luc Godard anointed it the best movie in Cannes in 2001.
In French with English subtitles.
Bruce

Benderson is an award-winning novelist, essayist, and translator. His long memoir, The Romanian: Story of an Obsession, won the French literary prize, the Prix de Flore, in 2004. Other publications include the essay collection Sex and Isolation, the novels Pacific Agony and User, and the story collection Pretending to Say No. He has also written for The New York Times, Vogue Hommes, The Wall Street Journal, and countless other magazines and newspapers. He is the translator of fifteen books from the French. His story collection Urban Gothic is forthcoming from Itna Press.
Related Exhibitions