Feb 26 2022
Performance and Launch | Belly of the Wail: A Score and Duets
Sat | 4-8PM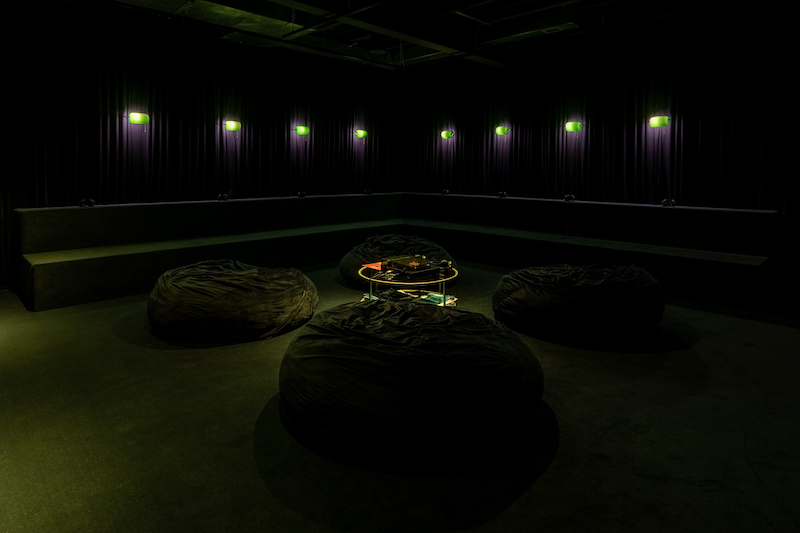 With Tariq Al-Sabir, Atheel Elmalik, Freddie June, Rachell Morillo, Sable Elyse Smith and more
Swiss Institute invites you to join us for an afternoon and evening of musical performances and readings held on the occasion of Beneath Tongues, curated by Sable Elyse Smith.
The event will feature two live performances of Belly of the Wail: A Score, a musical composition conceived by Smith, composer Tariq Al-Sabir, and vocalist and artist Freddie June. Within Beneath Tongues, the triadic composition functions as another text, a B-side to the exhibition's forthcoming catalogue, that draws from principles of improvisation and looping to create capaciousness. Its three segments ("The Storm," "The Belly" and "The Reemergence") consist of a freedom song written by Freddie June that is continuously stretched and reshaped. The score looks to the essence of wailing, shouting, screaming, inhaling and exhaling, "those things we do with the breath," writes Smith, that make the unspeakable corporeal, that make life rather than noise. June and Al-Sabir will be accompanied by a trio of vocalists and an ensemble of musicians.
Two performances of the score will bookend a series of readings from Duets, a newly published booklet of seven texts commissioned for Beneath Tongues. Featured writers Atheel Elmalik and Rachell Morillo will read their contributions alongside the artworks that inspired their words. Designed by Rin Kim, Duets is available to take from the gallery or download from SI's website, free-of-charge.
Schedule of events:
4PM: Opening performance of Belly of the Wail: A Score
5PM: Selected readings from Duets with Atheel Elmalik, Rachell Morillo and Sable Elyse Smith
7PM: Encore performance of Belly of the Wail: A Score 
To RSVP, please email rsvp@swissinstitute.net.
Tariq Al-Sabir is a composer, vocalist, music director and producer based in New York with a command over many styles including classical, gospel, jazz, pop and musical theater. He has premiered works at the Shed, Lincoln Center, National Sawdust, Joe's Pub at the Public Theater. He has been featured as a soloist with the Baltimore Symphony Orchestra, National Symphony Orchestra, Lincoln Center's Mostly Mozart Festival, Resonant Bodies Festival, Hilary Hahn's Tsunami Relief Concert, D.C. Jazz Festival, Anacostia Jazz Festival, and the Kennedy Center's Conservatory Project.  Al-Sabir served as music director for the Off-Broadway run of Black Light at the Public Theater and Greenwich House Theater. In 2019, Al-Sabir made his LA Philharmonic debut in the cast of Meredith Monk's, ATLAS under the direction of Yuval Sharon. He is currently collaborating with Monk on her new evening-length performance, Indra's Net.
Atheel Elmalik is a writer and filmmaker committed to the work of rendering black and African diasporic life on screen with specificity. She is interested in exploring liberated relationships of people to land and one another through stories of movement and migration, queerness, intergenerational healing, and connection to the sentience of the more-than-human world. Atheel comes to this work from a background in anthropology, and a career in curatorial positions at art institutions such as the Museum of Modern Art in New York, and Yerba Buena Center for the Arts in San Francisco. After spending the last 2 years managing artist Arthur Jafa's art studio in Los Angeles, she is currently developing her first narrative film through Jafa's newly formed film studio, SunHaus.
Freddie June, also known as Shala Miller, was born and raised in Cleveland, Ohio by two southerners named Al and Ruby. At around the age of 10 or 11, Miller discovered quietude, the kind you're sort of pushed into, and then was fooled into thinking that this is where she should stay put. Since then, Miller has been trying to find her way out, and find her way into an understanding of herself and her history, using photography, video, writing and singing as an aid in this process.
Rachell Morillo is a Black feminist writer, educator, and artist from the Dominican Republic. Her writing has been published in Hyperallergic, SEEN Journal, Intense Art Magazine, and the Art Momentum as well as the Studio Museum's Black Refractions and Fictions catalogues. Rachell's creative practice includes photography, ceramics, bookmaking, and poetry. Guiding both her writing and making processes are interests in Black queer theory, critical fabulation, and embodiment as knowledge production. Rachell earned a B.A. in Sociology & Anthropology from Swarthmore College and is currently Assistant Educator for Community & Access programs at the Museum of Modern Art where she crafts conditions for individuals to practice self-determination and create new possibilities.
Sable Elyse Smith (b. 1986, Los Angeles, California) points to the carceral, the personal, the political and the quotidian to speak about a violence that is largely unseen, and potentially imperceptible. Sable Elyse Smith was included in Marking Time: Art in the Age of Mass Incarceration at MoMA PS1, New York, NY; Grief and Grievance: Art and Mourning in America at the New Museum, New York, NY; and Climate Changing at the Wexner Center of the Arts in Columbus, OH. Most recently, her work was on view at the MIT List Visual Arts Center in Cambridge, MA as part of Colored People Time, which traveled from the ICA Philadelphia. Her work was included in Great Force at the ICA at Virginia Commonwealth University, and solo shows include the Queens Museum in New York, NY and the Haggerty Museum in Milwaukee, WI. Smith was a 2018/2019 artist-in-residence at the Studio Museum in Harlem which culminated in an exhibition at MoMA PS1. Her work has been included in numerous group exhibitions including the High Line, New York, NY, for which she also curated an event at The Kitchen, New York, NY; the Contemporary Art Museum, Houston, TX; SITE Santa Fe, NM; Brooklyn Academy of Music, New York, NY; the New Museum, New York, NY; the Studio Museum in Harlem, NY; Socrates Sculpture Park, New York, NY; and El Museo Del Barrio, New York, NY.
Related Exhibitions