Jan 14 2015
Performance | Alexandra Bachzetsis: From A to B via C
January 11-14, 2015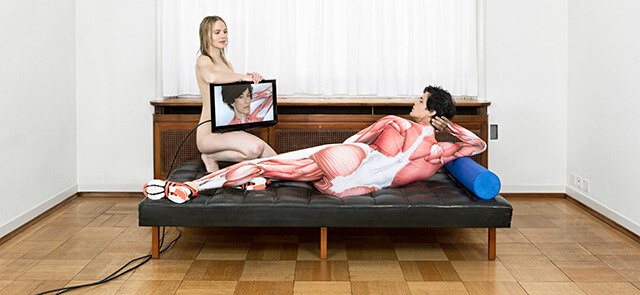 SWISS INSTITUTE AND PERFORMANCE SPACE 122 PRESENT ALEXANDRA BACHZETSIS'S FROM A TO B VIA C, AS PART OF PS122'S 2015 COIL FESTIVAL
Performance: January 11 at 5pm and January 14 at 7pm
Media Installation: January 12 & 13 from 12-6pm
FREE with reservation at ps122.org or 212-352-3101
As part of the tenth edition of the COIL festival, Swiss Institute and Performance Space 122 present Swiss choreographer Alexandra Bachzetsis with the U.S. premiere of From A to B via C. Bachzetsis has been exploring the various provinces and domains of 'mainstream' popular culture – hip-hop, fashion, strip-tease, movies – and extracted the signature vignettes and ensemble pieces from it that have come to define her choreographic, performative practice.
Inspired by Diego Velázquez's seminal rendition of Venus at her Mirror (1599-1600), From A to B via C opens with three bodies moving from and towards each other, acting as each other's mirror image – mediated and unsynchronized. Complex scenes of nudity, gazing and instructional scores reflect on our common desire to communicate our own identity through the identities of others.
From A to B via C has unfolded in different versions and iterations this Fall -premiering in a proscenium theater at Kaserne Basel (Switzerland), online through Tate Museum's BMW Tate Live video platform (England) and now through this gallery exhibition and installation with Swiss Institute and PS122. Between the different platforms on which the performance is presented, common spaces emerge.
From A to B via C is choreographed by Alexandra Bachzetsis and features performances by Bachzetsis, Anne Pajunen and Gabriel Schenker. The creative team also includes Hendrik Folkerts (research curator), Cosima Gadient (costume design), and Tobias Koch & Dan Solbach (sound design).
From A to B via C will take place January 11–14 (see schedule above) at Swiss Institute. The event is free and open to the public during the above hours. For more information visit ps122.org or call 212.352.3101.
Commissioned and developed in collaboration with Tate Modern, London, Biennale of Moving Images, Geneva and Fundatión Jumex Arte Contemporáneo, Mexico City. Co-produced with Kaserne Basel and Theaterhaus Gessnerallee, Zürich. Swiss Institute programming is made possible with public funds from Pro Helvetia, Swiss Arts Council. Swiss Institute gratefully acknowledges Kurimanzutto for their support.
About the Artist
Alexandra Bachzetsis (born 1974 in Zurich) is an artist, performer and choreographer based in Basel and Zurich.  Her professional background includes a wide range of disciplines: theatre, dance and visual arts. She studied and graduated at the Zürcher Kunstgymnasium (CH), the Dimitrischule in Verscio (CH) and the Performance Education Program at the STUK arts center in 
Leuven (BE). She then continued to post-graduate level at Das Arts, the Advanced Research in Theatre and 
Dance Studies center in Amsterdam (NL). During her training years, she began to work as a dancer in contemporary dance and performance 
context, collaborating among others with Sasha Waltz & Guests in Berlin (D) and 
with Les Ballets C. de la B. in Gent (BE), where she worked with Christine De Smedt and Koen Augustijnen. Since 2001, she has been working independently, producing and presenting her own work in theatres and contemporary art venues.
Her work constitutes an inquiry into genres of performing arts, techniques of choreography and forms of scenic behavior. Bachzetsis' main interest lies in codes that govern gestures, both in everyday life and on stage. Her choreography scrutinizes the mutual influence between the use of gesture and movement in the 'low', 'commercial' genres – such as romantic comedy, TV soap, or hip-hop video-clip – and in 'arts', such as ballet, modern dance and performance. Bachzetsis arrives at new ideas in dance performance inducing a productive crossing and translation between the hitherto isolated or even mutually exclusive cultural fields. In her performances, Bachzetsis takes on stereotyped modes of representation of female body in contemporary popular culture, show business and sex industry. She diverts clichés of commodified femininity and idolized masculinity to use them as building blocks in a new, consistent formal language that becomes tool of self-reflection and means to empowerment.
As a choreographer and (sometimes solo) dancer/performer, Alexandra Bachzetsis authored and co-authored Perfect (Antwerp, 
2001), Showing (Berlin, 2002), Karen Eliot (in collaboration with 
Eva Meyer-Keller and Uta Eisenreich, Zurich, 2003), Show Dance
(Brussels, 2004), Best Of (in collaboration with Anat Stainberg, Amsterdam 2004), Murder Mysteries (in collaboration with Danai
 Anesiadou, Brussels, 2004), Gold (Zurich, 2004), Secret Instructions (in collaboration with Julia Born, Amsterdam, 2005), Handwerk (Amsterdam, 2005), Undressed (Zurich, 2005), Musical
(Gent 2006), Mainstream (in collaboration with Yan Duyvendak, Zürich
 2007), ACT (in collaboration with Lies Vanborm and Tina Bleuler, 
Dresden 2007). This side up (single-channel video and text print in collaboration with Julia Born, London, 2007), Soirée (in collaboration with Lies Vanborm and Tina Bleuler, Zurich, 2008), Dream Season (Zurich, 2008), Dancing (with participation of students of Rietveld Academy, Amsterdam 2009), Bluff (Zurich, 2009), Rehearsal (Ongoing) (two-channel video, Glarus, 2010) and A Piece Danced Alone (Zurich, 2011).
In 2007, Bachzetsis received the Migros Kulturprozent Jubilee Award. In that same year she
co-founded the artists collective 'Company' together with Lies Vanborm and Tina Bleuler. In 2008 she took part in the 5th Berlin Biennial for Contemporary Art and had a major solo exhibition SHOW, curated by Adam Szymczyk at the Kunsthalle Basel, where she premiered a new performance Dream Season. In 2009 she received a grant for choreography of the city of Zurich and 2010 an award for performance Bluff from the culture department of canton Basel-Land. In 2010 Bachzetsis presented her work in a group exhibition Performative Structures. New Existentialism, Part 1, curated by Alexandra Blättler at Alte Fabrik in Rapperswil (CH) and the performance Secret Instructions as well as new video work Rehearsal (Ongoing) were shown in her individual exhibition Play at Kunsthaus Glarus (CH), within the framework of the project Performative Structures, curated by Sabine Rusterholz. She won the Swiss Art Award 2011 and was nominated for the DESTE Prize 2011 in Athens, Greece. In 2012 she won the Swiss Performance Prize and her work Etude was included in dOCUMENTA (13). Her piece The Stages of Staging, 2013 was presented among other places at Stedelijk Museum Amsterdam, at Fondation Beyeler, Riehen and at Seralves, Porto.
"From A to B via C", 2014 has been commissioned by Tate Modern, London, Jumex Museum, MexicoCity and the Biennale of Moving Images in Geneva.
About Performance Space 122
Performance Space 122 (PS122) provides incomparable experiences for audiences by presenting and commissioning artists whose work challenges boundaries of live performance. PS122 is dedicated to supporting the creative risks taken by artists from diverse genres, cultures and perspectives. We are an innovative local, national and international leader in contemporary performance.

Beginning in 2011, PS122 embarked on one of the most unusual and potentially radical shifts in its history, including a re-structuring of artist support, a business model overhaul, and the renovation of our building. As PS122's East Village home undergoes a much-needed interior renovation supported primarily by the City of New York, DCA and DDC, PS122's core activity continues to be providing audiences with contemporary live performance.
For over 3 decades, Performance Space 122 has been a hub for contemporary performance and an active member of the cultural community. Under the curatorial vision of Vallejo Gantner (Artistic Director 2005 – present) PS122 has developed a set of programs designed to re-establish the value of live performance, provide singular experiences for audiences that inspire critical thinking, and sustain the creative process for artists throughout their career. Largely in partnership with peer organizations, PS122 currently presents artists in all disciplines in spaces all over the city during an annual fall & spring season and COIL festival in January.
In addition to the commissioning and presenting of artists from NYC across the US, and around the globe, PS122 has increased our activity off the stage to provide audiences with a variety of access points and context for the work on stage. These activities include both talkbacks with the artists as well as in depth conversations that bring together luminaries from non-arts disciplines to discuss a variety of topics including everything from religion, to migration, to queer real estate and cultural diplomacy. PS122 encourages the asking of questions and debate of contemporary society's issues in both artistic practice and audience experience.
For more information please contact Clément Delépine:
clement@swissinstitute.net, 212 925 2035

Performance | ALEXANDRA BACHZETSIS: FROM A TO B VIA C from Swiss Institute on Vimeo.
Related Exhibitions