Nov 02 2023
Performa | Jenna Sutela: Midden (LIVE)
Thurs | 7PM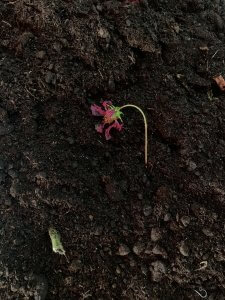 On the occasion of Performa 2023, Jenna Sutela will present Midden (LIVE), a newly commissioned performance work that builds upon the sounds and messages produced by Vermi-Sibyl, 2023, a sculpture currently installed at SI. The performance and sculpture take their point of departure from a figure in the Muppet universe: a matronly trash heap named Marjory. Because everything from vegetable and fruit scraps to coffee grounds and organic leftovers is deposited in her, Marjory the Trash Heap has seen it all and knows all; she is an oracle. The sculpture Vermi-Sibyl takes the form of a receptacle into which staff deposit their compostable materials, that are processed by approximately one thousand worms inside. Garnering the electrochemical reactions in the soil as an earth battery, the vermicompost powers an AI-generated sound installation installed on SI's rooftop, and transmits oracular messages to the East Village.
Sutela grew up knowing the Finnish version of the Marjory Muppet as Tunkio, which translates in English to "midden," meaning a domestic refuse heap. The term is also used to refer to a mess, a muddle or chaos. For Midden (LIVE), Sutela will collaborate with a choir of voice actors and the saxophonist Tapiwa Svosve, who will respectively ingest and read out Vermi-Sibyl's divinations and play a musical score. Through this embodied materialization of the formerly AI-based content, which in turn was trained on original vocal and sound recordings, Sutela's performance touches on themes of translation while addressing post-humanist amalgamations of organic and non-organic life.
Special thanks to Everybody.World for their in-kind contribution.
To RSVP, click here: https://www.tickettailor.com/events/performa/1023406.

Jenna Sutela is a Finnish artist based in Berlin who works with words, sounds, and other living media. Sutela's work has been presented internationally at Haus Der Kunst, Munich; MIT List Visual Arts Center, Massachusetts; Guggenheim Museum Bilbao; Museum of Contemporary Art, Tokyo; Liverpool Biennial 2021; the 13th Shanghai Biennale; and other locations. Past projects include Pond Brain, an instrument and fountain presented at Helsinki Biennial and at Copenhagen Contemporary in 2023; nimiia vibié, an audio piece composed of machine learning sounds and interspecies communication, released in summer 2019 on the record label PAN; and the audio-visual work nimiia cétiï, completed as part of a residency at Somerset House Studios, London in early 2018. Co-commissioned by Moderna Museet, Stockholm and Serpentine Galleries, London in 2019, I Magma is a community of blown glass lava-heads and a mobile app that explore the notion of an oracle through alternative forms of intelligence and the application of machinic and chemical processes.
Tapiwa Svosve (b. 1995) is a saxophonist and electroacoustic musician living and working in Zurich and London. He has released work through Graham Dunning's Open Sound Group net label and Raw Tonk Records, and was part of "The Tomorrow People" exhibition at the Elevator Gallery in 2013. He is especially interested in the relations between sound and space and the electronic and/or physical manipulation and abstraction of acoustic sounds, creating different overlapping layers of small electroacoustic systems.
Image: Detail of Jenna Sutela Vermi Cell, 2023 at Fragile, Berlin. Photo by Vanda Skácalová.