Apr 27 2016
Panel | How Many Miles?: The Future of Travel with Clare Pelly, Justin Ross Lee, Julia Tcharfas and moderator Sean Monahan
Wed | 7pm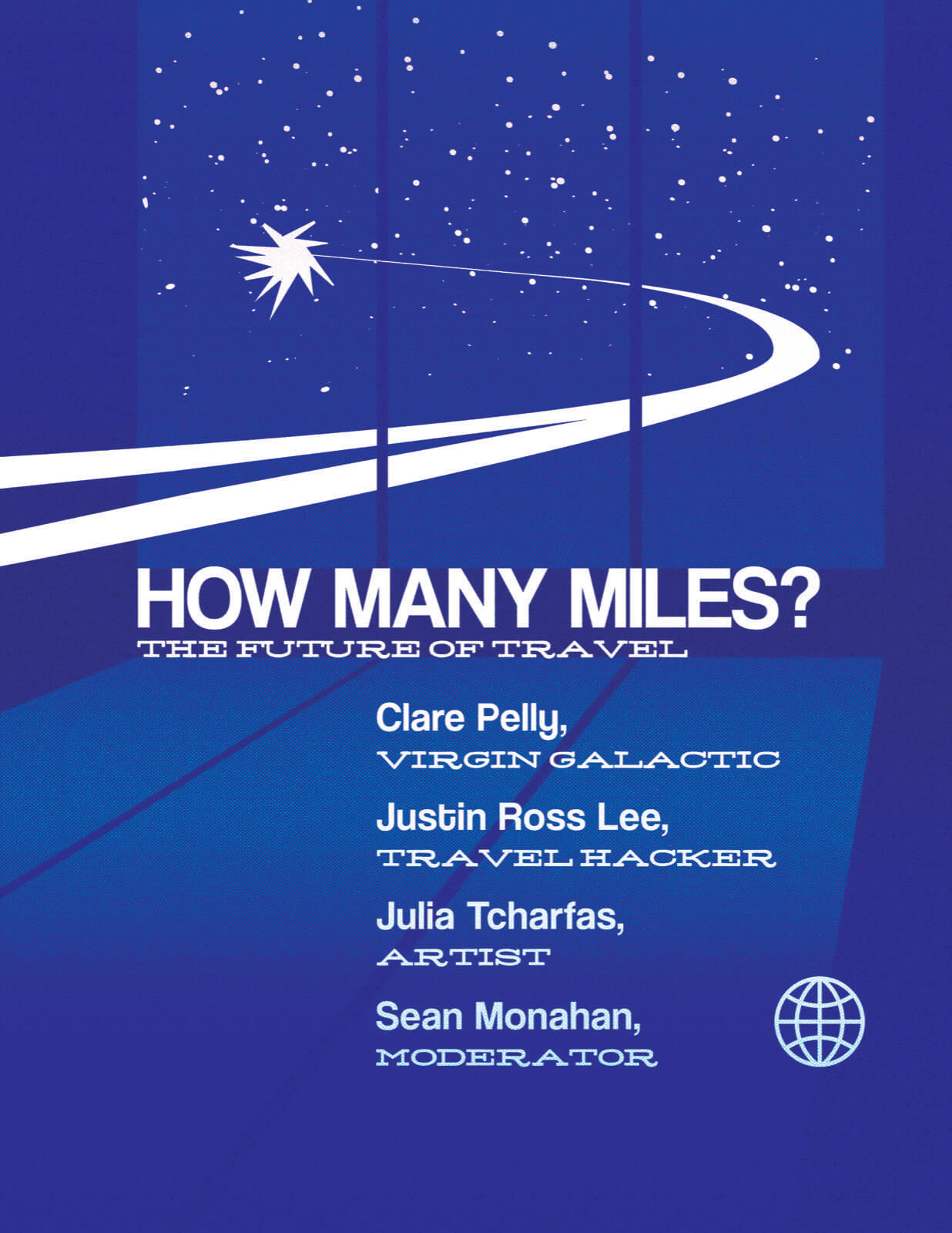 Everyone wants to travel. No one wants to be a tourist. The traveller is culturally adept, discerning, undeterred by risk; the tourist unnuanced,  gullible, afraid. The history of tourism has always been technological in nature: an invention undermining the scarcity of one experience, and forcing the industry to innovate another. Railroads flooded the Grand Tour. Deregulation gave us Budget Air Travel. The difference been a world traveller and a tourist is always a negotiation between luxury palates and mass appeal. With the advent of space tourism and mileage program hacking (in Internet parlance, the Hobby) a new form of ambient orbital tourism is emerging—albeit at different levels of the atmosphere. Artist and trend forecaster Sean Monahan will be joined by Clare Pelly of Virgin Galactic, travel hacker Justin Ross Lee, and artist Julia Tcharfas to discuss the near future of travel in space.
Please RSVP to rsvp@swissinstitute.net.
Sean Monahan (b. 1986 Homer, AK) is an artist and writer based in Los Angeles. He is a founding member of K­HOLE, a trend forecasting group that explores the plausible limits of corporate and consumer strategy. Most recently, K­HOLE was a commissioned artist in the 2015 New Museum Triennial. In 2015, Fast Company named him one of The 100 Most Creative People in Business.
Clare Pelly is the Head of Astronaut Relations at Virgin Galactic. Managing the 700 strong community of Future Astronauts signed up to fly to space, she runs a communications and engagement strategy to ensure their journey to space is as exciting as their spaceflight. Before Virgin Galactic, Clare worked in Management Consulting at Deloitte and on the 2012 London Olympic Games.
Justin Ross Lee (b. 1983 Scarsdale, NY) is a world-renowned travel expert who flies over 250,000 miles per year. He has been featured by the New York Times, has appeared on The Late Show with Stephen Colbert, and ABC News, who called his controversial travel hacks "equal parts ingenious and outrageous".
Julia Tcharfas (b. 1982 Donetsk, Ukraine) lives and works in Los Angeles, California. Recent projects include Cosmonauts: Birth of the Space Age, Science Museum, London;Interspecies Communication, Transformation Marathon, Serpentine Gallery, London; Systems Thinking From the Inside, Chisenhale Gallery. Recent publications include 'Science of Rehearsal', Cosomonauts exhibition catalog; 'Through the Lens of a Space Tourist', Science Museum Group Journal; 'The Contest', Living in the Future magazine; 'A new start in space', Flash Art.