Nov 11 2018
Book Launch | The Omnibus Even, presented with Motto Books
Sun | 4-6:30PM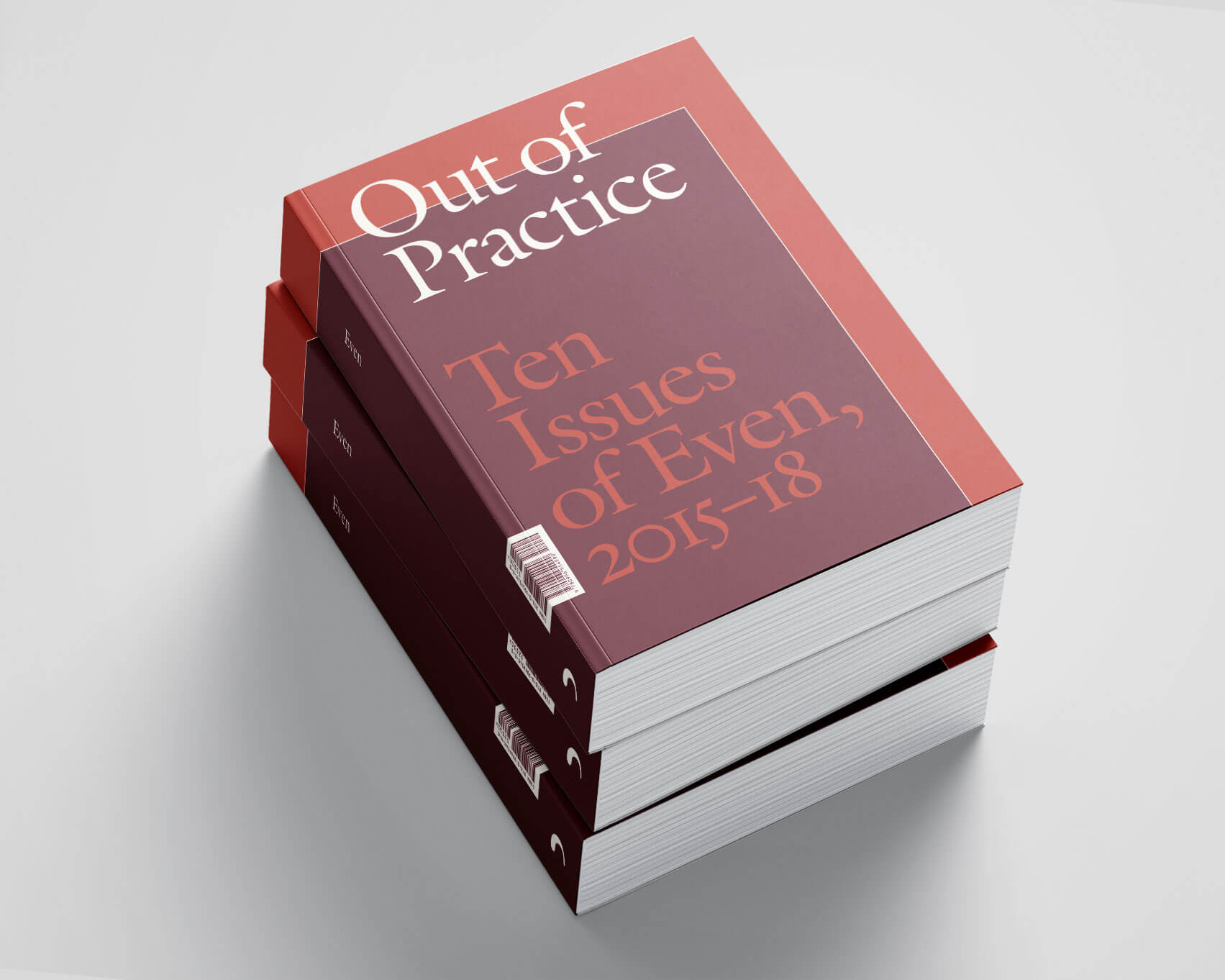 Please join us for an afternoon of programming to celebrate the launch of the anthology Out of Practice: Ten Issues of Even, 2015-2018, presented alongside a pop-up bookstore by Motto.
Program
4:00PM | History is Contemporary — A panel discussion on one of the major themes in Even: how history resonates within new institutions.
Featuring:
Frederick Deknatel, author of Even's story on rebuilding Syria
Kanishk Tharoor, author of Even's story on the Louvre Abu Dhabi
Moderated by Rachel Poser
5PM | Screening: Brune Renault (2009) by Neïl Beloufa, the French artist and filmmaker interviewed in Even No. 3.
5:30PM | Technology is Personality — A panel discussion on the most current of Even's major themes: how technology is changing the performance of personality.
Featuring:
Robert Horning, author of Even's story on Instagram and the museum
Camille Henrot, artist interviewed in Even No. 8
Moderated by Jason Farago
Motto Books will present a temporary bookstore held in the Swiss Institute library. For this occasion, Motto will offer a selection of titles which resonate with the wide range of themes discussed in Even, from artists publications to art theory and critical discourse.
Please RSVP to rsvp@swissinstitute.net. Please note: events at Swiss Institute are limited capacity, and entry is on a first-come, first-served basis.
****
Frederick Deknatel is senior editor of World Politics Review and a former Fulbright fellow in Syria.
Camille Henrot's diverse artistic practice combines film, drawing, and sculpture. She lives and works in New York.
Rob Horning is an editor at Real Life. He lives in New York.
Kanishk Tharoor is the author of Swimmer Among the Stars, published by Farrar, Straus and Giroux, and the presenter of the BBC series Museum of Lost Objects. He lives in New York.
Motto is a book distributor and publisher based in Berlin. Bridging international distribution, exhibitions, and publishing, Motto continues to collaborate with art institutions, artists and independent art spaces from all around the world. Motto Books' own publishing catalog consists of more than 150 entries ranging from zines to artists books, journals to catalogs, as well as multiples. In their most recent collaborations, Motto has established partnerships with the Curatorial Research Bureau along with CCA; a project hosted by Yerba Buena arts Center, San Francisco.