Sep 03 2015
Book Launch | No Internet, No Art, A Lunch Bytes Anthology with Melanie Bühler and Kari Altmann
Thurs | 7pm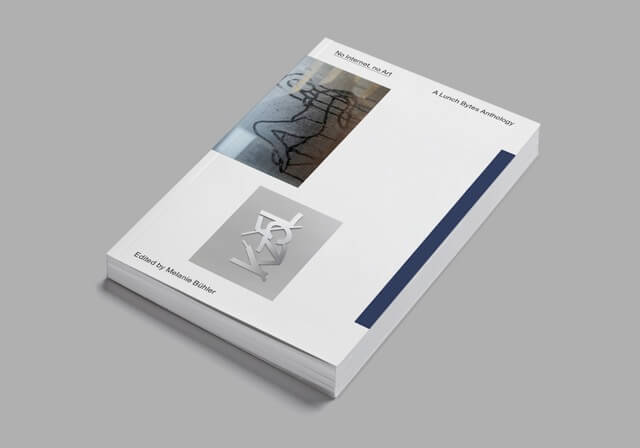 Today it has become increasingly difficult to find a person or an object without some kind of connection to the internet. No Internet, No Art, is dedicated to exploring what this situation entails with respect to one cultural field in particular: art. This anthology forms both the culmination and a continuation of a series of public events entitled Lunch Bytes – Thinking about Art and Digital Culture, held in Washington, D.C., which invited artists and experts from different fields to discuss their work in relation to this overarching theme. By opening up the often narrowly defined discursive field of "post-internet," artistic practices are examined thematically within the larger context of digital culture. As such, the anthology offers valuable new contributions to the fields of art history, media studies, philosophy, curatorial studies, and design.
The event will be introduced by Melanie Bühler and will feature a presentation by Kari Altmann, followed by a Q&A and wine sponsored by the Consulate General of Switzerland in New York. Freek Lomme, director and founder of the publishing house Onomatopee will be present as well.
Please RSVP to rsvp@swissinstitute.net
No Internet, No Art, A Lunch Bytes Anthology
Edited by Melanie Bühler, published by Onomatopee, designed by Hannes Gloor
With contributions by:
Philipp Albers, Kari Altmann, Karen Archey, Aram Bartholl, Michael Bell-Smith, David M. Berry, Natalie Bookchin, Andreas Broeckmann, Melanie Bühler, Harry Burke, Adam Cruces, Michel van Dartel, Annet Dekker, Niels van Doorn, Raffael Dörig, Claire L. Evans, Kenneth Goldsmith, Joel Holmberg, Paul Kneale, Katja Kwastek, Monica Lam, Geert Lovink, Pierre Lumineau, m-a-u-s-e-r, Greg Niemeyer, Nicolas Nova, Jaakko Pallasvuo, Christiane Paul, Daniel Pinkas, Domenico Quaranta, Jon Rafman, Rafaël Rozendaal, Cornelia Sollfrank, Jenna Sutela, Douglas Thomas, Mark Tribe, Brad Troemel, UBERMORGEN, Ben Vickers, Bernadette Wegenstein, Peter Weibel, Elvia Wilk
Melanie Bühler lives and works in Amsterdam as a freelance curator. She is the founder and curator of Lunch Bytes (www.lunch-bytes.com) — a project on digital art and culture which includes talks, discussions and an online platform for which she collaborated with institutions such as Art Basel; CCA, Glasgow; ICA, London; and the Hirshhorn Museum and Sculpture Garden, Washington, D.C. among others. As a curator, her most recent projects include Inflected Objects #1: Abstraction – Rising Automated Reasoning at Swiss Institute Milano (2015), Surface Poetry at Boetzelaer/Nispen Amsterdam (2014) and BRANDS – CONCEPT/AFFECT/MODULARITY at S.A.L.T.S. Basel (2014). Her writings have appeared in the exhibition catalogues such as Kasia Klimpel. The Grand Tour (Roma Publications, 2015), Megarave Metarave (les presses du réel/Kunsthaus Langenthal/WallRiss, 2014), and Run Computer, Run (Link Editions/CRUMB, 2014). Most recently she contributed a series of texts for the Fotomuseum Winterthur's research platform Still Searching (blog.fotomuseum.ch).
Kari Altmann is an American artist, musician, curator, and producer. She has done projects for and with Art Dubai, the Goethe-Institut, The New Museum, Serpentine Gallery, Fade to Mind, Dis Magazine, Nero Magazine, Mixpak, and many others. Altmann's first major solo exhibition, Xomia, occurred this year at Ellis King Gallery, Dublin. Another solo project, Hitashya, is currently featured as part of the Biennial of the Americas and is primarily performed through live sets. Her series of essays and images, Soft Brand Abstracts, was one of the earliest commissions in the Lunch Bytes series and was a formative part of the show BRANDS: Concept/Affect/Modularity, curated by Melanie Bühler for S.A.L.T.S. in Basel.